USC Football Drops Out of Coaches Poll After Alabama Loss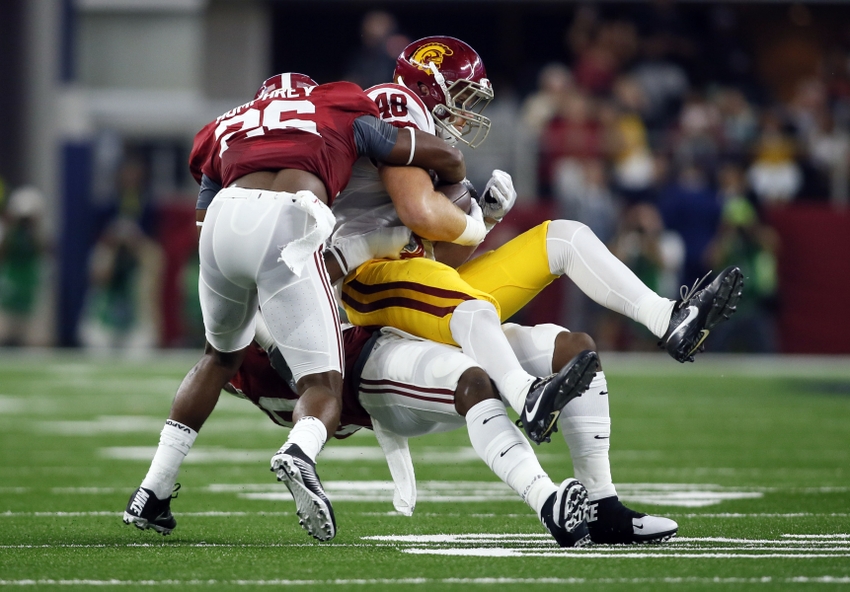 USC football dropped out of the Amway USA Today coaches poll following the 52-6 drubbing at the hands of Alabama this weekend.
The coaches were not kind to teams who lost their opening game of the 2016 season, including USC football which was kicked out of the Top 25 after losing to Alabama on Saturday.
The Trojans had been ranked No. 17 to start the season, but the embarrassing loss to the Crimson Tide was enough to see all but six voters take USC out of the rankings completely.
The fall was well deserved as USC's offense was completely shut down by Alabama's stout defense, failing to score a touchdown or even enter the redzone more than once in the entire game.
Defensively, the Trojans held their own in the early goings, but Alabama's offense and quarterback Jalen Hurts eventually got the better of USC, using big plays to secure the lopsided score.
Now that head coach Clay Helton is 0-3 in his last three games as the permanent USC head coach, he and the Trojans will need to bounce back this coming weekend against Utah State at the Coliseum.
Unsurprisingly Alabama retained their No. 1 ranking with all but two first place votes.
Stanford rose two places to No. 5 thanks to losses by Oklahoma and LSU, who plummeted to No. 13 and No. 22 respectively.
Notre Dame suffered a similar drop thanks to their Sunday night loss to Texas, moving from No. 9 to No. 21, just behind the Longhorns.
Washington also benefited from all those losses, jumping seven places to No. 11.
Had UCLA also started the season with a win they might have experienced similar movement. Instead they fell in overtime to Texas A&M and were booted from the Top 25.
Meanwhile, Oregon got no credit for its win over FCS UC Davis, dropping one place to No. 23.
That leaves the Pac-12 with just three ranked teams entering Week 2, while Utah, UCLA, USC and Colorado received votes.
This article originally appeared on