USC Football: Defense Comes Full Circle in Shutdown of Oregon Ducks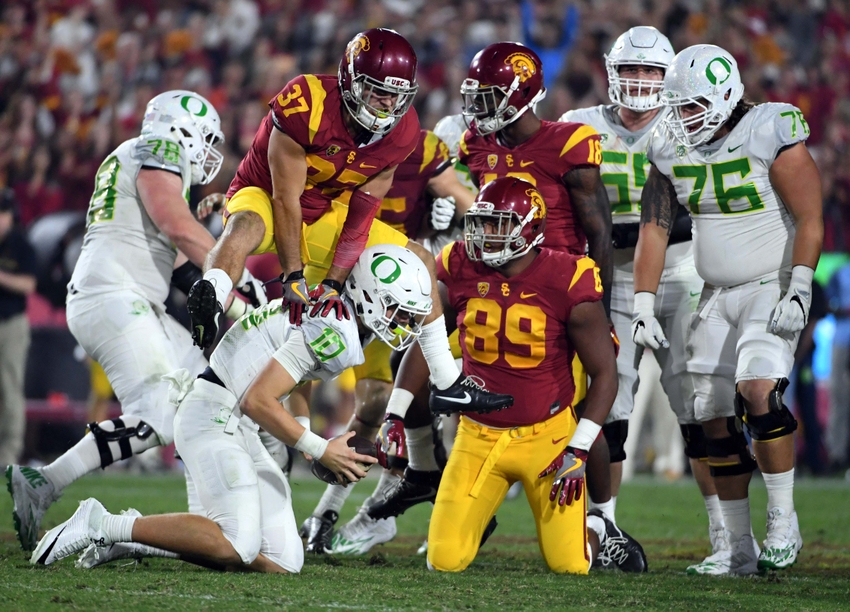 Clay Helton's USC football team got their fifth-straight win on Saturday, but it was the impressive performance by Clancy Pendergast's defense that turned heads vs. the Oregon Ducks.
Less than a year after being blown to smithereens by Vernon Adams in Eugene, USC got their revenge with a near total shutdown of Oregon at the Coliseum, in what wound up being a 45-20 win.
The Trojans' first-team defense allowed just 13 points, and the Ducks' previously 9th-ranked offense in S&P+ had just two drives spanning longer than 36 yards.
"One of the things Coach Pendergast does an unbelievable job of is focusing on taking away the strength of a team," Helton said. "To stop [Oregon] in the run game to 85 yards and 2.8 per carry is just a tremendous effort by our defense."
In fact, the Ducks' 85 rushing yards and 2.83 yards per carry average were their lowest since 2013.
Back then, Oregon's season was derailed in an upset loss to a dominant Stanford defense. Saturday night, a USC defense that entered the season in shambles, made shiny-helmeted Oregon look like an off-brand supplement.
The Trojans did it by applying a boatload of pressure on freshman quarterback Justin Herbert, containing the perimeter and locking up receivers down field to collapse the Ducks' offense into a box.
"We talked about getting penetration to stop the run and set the edges," Helton said. "Because you look at this offensive run team, and a lot of is lateral and it gets outside with that speed by Royce [Freeman] and Tony [Brooks-James]."
The only success the Ducks had with any sort of regularity was a third quarter string of slip screens to negate the USC blitz.
But even after a Sam Darnold interception gave Oregon life and a short field down 31-13, the Trojans weathered the storm to hold on both third and fourth down, like they had all game. Ronald Jones sealed the game with a 66-yard touchdown run moments later.
"To get off the field was really the difference in the game," Helton said of the Trojans' holding Oregon to just 5-of-16 on third downs. "You looked up at halftime and I think it was 28 total plays for them, which is way under their number."
The result was the Ducks settling for a season-high eight punts, their most since losing to Stanford in 2012.
For the Trojans, the dominance with which they shut down Oregon is most impressive when put into the context of the season's arc to date.
USC allowed 52 points to Alabama in Week 1, and enabled Utah's Troy Williams to lead a valiant second half comeback with three final drives totaling 253 yards.
Saturday, the Trojans held Oregon –yes, Oregon— to 288 yards total. The same Oregon team that hung 54 points and 696 yards on 93 plays a week ago against Arizona State.
And it was the same USC defense that has turned in defensive percentile performances of 95 and 97 percent against Arizona and Cal according to Football Study Hall, up from just 8 percent against Stanford in Week 3.
---
Having trouble? Listen on Soundcloud, iTunes, Google Play or Stitcher.
---
The offense gets the glory and the praise for the Trojans' dramatic midseason turn around, with Sam Darnold's record-breaking start to his career at quarterback, but the progression of the defense has been momentous.
From sieve to stalwart, Pendergast's defense now gives USC its best chance for redemption, going into Seattle next week against undefeated and 4th-ranked Washington.
What's changed to put it all together? Confidence.
Confidence which cornerback Adoree' Jackson credits to Pendergast, along with overall maturation of a unit stocked with young players.
"I think we were loose in the beginning, but it's now about us more understanding each other and our roles and what everyone's got going to the left and to the right of us," Jackson said. "We don't have to worry about our brother making a play, and try to make his play. We understand that he's going to do his job."
Looking back at September, it explains the breakdowns in the USC's defense which led to big plays by Alabama and Stanford.
These days, the Trojans are instead pushing offenses around, and capping off their rapid turnover with a dominant win over Oregon. The only thing left to do now, is to show out against a nationally relevant team like Washington, a playoff contender.
If USC's defense can make Jake Browning and Myles Gaskin look as immovable as they have the likes of Justin Herbert and Royce Freeman, look out.
This article originally appeared on