USC Football: 4 Takeaways vs. Oregon and What They Mean For Washington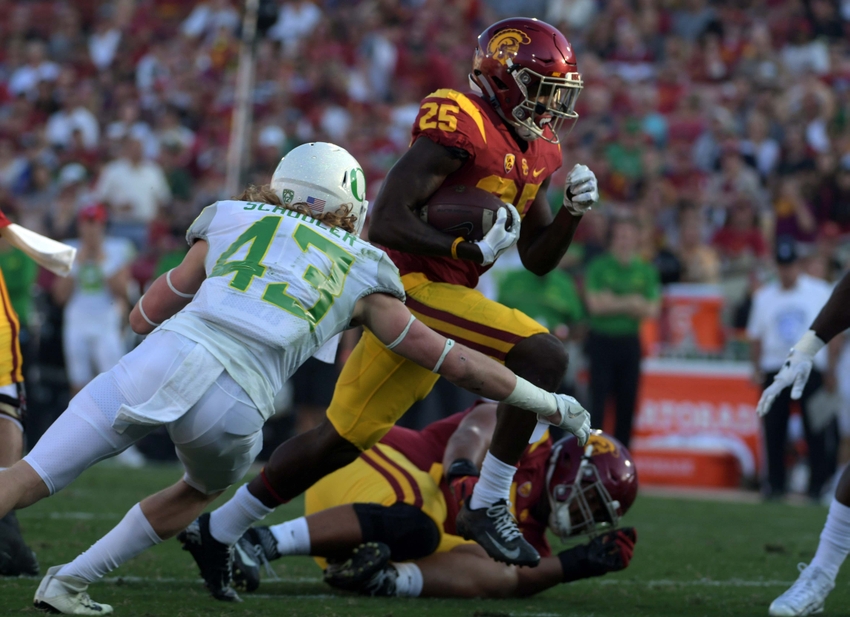 Clay Helton's USC football team won their fifth-straight game on Saturday against Oregon. What can the Trojans take away from it, with No. 4 Washington looming next?
The Trojans took care of business against Mark Helfrich's Oregon Ducks at the Coliseum, winning a 45-20 game with a dominant defensive performance and an offensive outing that got plenty of players involved.
But this week's opponent –9-0 and 4th-ranked Washington– is a steep upgrade from the now 3-6 Ducks.
Here's four things we learned from USC's win over Oregon and what they mean going into Saturday's game in Seattle…
Outside Linebackers Shine
It's been an up-and-down season for USC's outside linebackers. On the one hand, Uchenna Nwosu has had a breakout year, thriving in his new position. On the other hand, opposing offenses have found joy running to the outside, exploiting the Trojans on end-arounds and the like.
And that's not to mention the slate of suspensions which have hit the position.
On Saturday, the Trojan outside linebackers were the stars of the show, particularly Porter Gustin, who put in one of the best performances of his career with 1.5 tackles for loss and two critical pass break ups.
Both Gustin and Nwosu were disruptive forces for USC. They were on top of the Duck rushing game and took their chances pressuring Oregon QB Justin Herbert.
What does that mean for Washington?
Washington has allowed just 42 tackles for loss this season, second best in the Pac-12 behind USC. They also have a quarterback who has been calm under pressure –not that many teams have been able to get to Jake Browning, who has been sacked just 16 times this season.
Since USC relies on the outside linebackers to provide pressure, both Gustin and Nwosu will need to be locked in to help disrupt a Washington passing offense which has victimized opposing offenses on downfield throws.
Trojans Can Shut Down Elite Rushing Attack
Two weeks ago, Clancy Pendergast showed exactly how the Trojans can shut down an elite passing attack. This past week, the defensive coordinator came prepared to handle one of the top rushing offenses in the Pac-12 and prevailed.
Oregon was averaging 248 yards per game on the ground going into Saturday. At the Coliseum, USC limited the Ducks to a paltry 85 yards with an average of 2.8 yards per carry, their lowest since 2013.
Neither Royce Freeman nor Tony Brooks-James were allowed to have an impact, averaging 3.8 and 3.1 yards per carry, respectively.
What does that mean for Washington?
Since letting Christian McCaffrey run rampant at Stanford Stadium, USC's defense has tightened considerably against opposing ground games. It started by limiting Utah to 186 yards — one of their worst rushing performances of the year — and has continued with sub-100-yard outings against ASU, Colorado and Oregon.
The timing is perfect for USC's defense to be hitting their stride at this point of the season as Washington is the Pac-12's top rushing offense.
The Huskies average 231 yards per game and an impressive 5.92 yards per carry. If USC has hopes of sticking with Washington in Seattle, they'll have to replicate the top level performance up front.
USC Football Has a Running Back Conundrum
The oft-repeated question after the first month of the season, "Where is Ronald Jones II?" seems a distant memory after two consecutive standout performances for the sophomore running back.
Once again filling in for the injured Justin Davis, Jones made his mark by leading all players in rushing with 171 yards and tying a school record with four touchdowns against the Ducks.
And so unsurprisingly, there's a new question floating around Jones now that Davis has been cleared to return to practice, "Should RoJo remain the starter?"
During his Sunday conference call, head coach Clay Helton indicated that USC would figure out the rotation depending on how well Davis' holds up after a week of practice, but there's definitely a running back conundrum set up if the senior gets back to 100% before Saturday.
What does that mean for Washington?
It's easy to forget the exceptional season Davis was having before his injury. Averaging 6.43 yards per carry on the year, Davis was particularly electric in the three game stretch from Utah to Colorado, when he sprained his ankle, totaling 341 yards on just 37 carries.
Getting him back in that form would give USC a dangerous duo to utilize against a stout Washington rushing defense.
In fact, Washington will be the third-highest ranked opponent USC has faced this year when it comes to rush defense, behind Alabama and Colorado according to S&P+, advanced statistics which adjust for opponent strength.
The good news? USC was able to rush for 190 yards on Colorado, even after losing Davis shortly after half time.
The not-so-good news? The Trojans haven't nailed down a running back rotation capable of getting the most out of both Jones and Davis at any point this season. That's the task this week.
The Winning Streak Continues Despite Problem Areas
USC has won five games in a row to turn its season around after starting 1-3. But it's not just that the Trojans have been winning.
During this stretch USC has outscored opponents 200-95, raising their scoring average from 14.3 points per game vs. Power 5 teams in September, to exactly 40 per game since.
They've done it with sound defensive play, with a defensive percentile performance averaging 85.6 the past five games, up from 21.7 against Power 5 teams in September.
Such improvement has enabled amble time for USC's offense to grow and fight through some issues, including the budding maturation of Sam Darnold, an injury to Justin Davis at tailback and a propensity to string together drives that stall out, creating a mid-game offensive funk.
Saturday, that included three-straight punts after jumping out to a 17-0 lead. Two weeks ago against Cal, it meant spotting the Bears 10 points off of turnovers, after opening a 21-0 lead.
Every game has had its own wrinkle, from turnovers against Colorado and Cal, to penalties and an inaccurate Darnold missing on throws and putting USC behind the chains against Oregon.
Without a stout defense, those struggles could prove to be glaring issues. But through a soft portion of the schedule, it's a realization that the Trojans are still in the process of improving and maturing collectively. They're not a finished product, despite five wins on the bounce.
What does that mean for Washington?
This is just the second time since 2008 USC has won five consecutive games in a single season. Should they find a way to knock off Washington on Saturday, the Trojans would win their sixth straight for the first time since that Rose Bowl-winning season.
But it'll only come to fruition if they can weed out the mistakes.
USC's 26 penalties for 254 yards the last two weeks are the most in a two-game stretch since at least 2008, the furthest year on record at CFBStats.com.
And with Darnold's most recent interception coming against Oregon, the Trojans are now in the red on season-long turnover margin, at minus-1. They're minus-2 in conference play.
As for Washington? The Huskies have the fewest penalty yardage per game in the Pac-12 at just 44.8 yards, and their plus-15 turnover margin is tops in all of FBS. Moreover, UW has a turnover margin of plus-2 per game this year at Husky Stadium.
Mistakes may have been manageable against the likes of Oregon and Cal, but Washington is an entirely different beast.
This article originally appeared on