Urban Meyer Will Push Young Buckeyes This Month, Except for One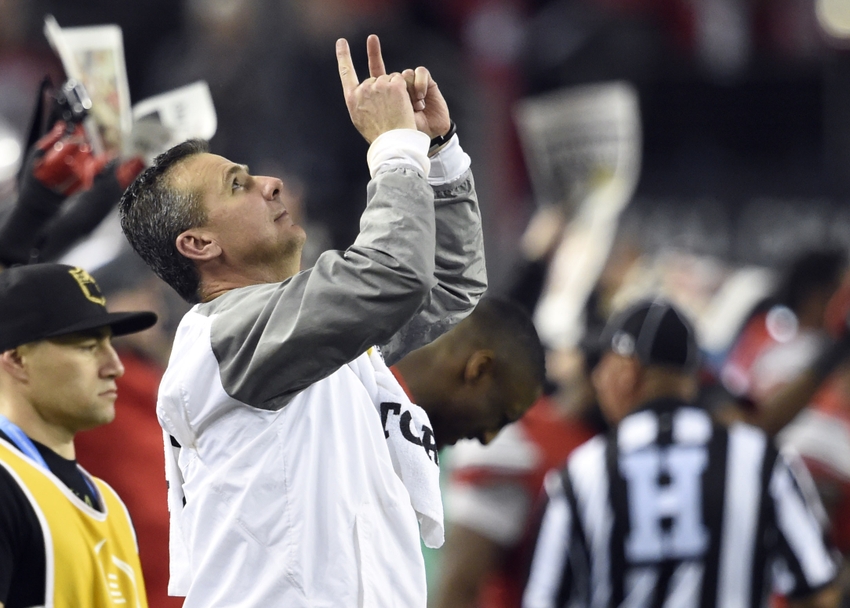 Coach Urban Meyer will definitely play favorites.
Urban Meyer will be taking one of the youngest teams in college football into the playoff. All of his young Ohio State Buckeyes are about to experience more intense preparation they ever have before. Well, except for one.
First, let's look at the ones who will. Ohio State has three freshmen starters and six more listed in the two deep on offense. The main focus here will be getting wide receivers K.J. Hill and Binjimen Victor more involved in the offense.
The redshirt freshman Hill had five catches in two games down the stretch in the regular season. True freshmen Victor showed signs he could be effective in the red zone using his 6-4 frame as well. The two could be important players for the Buckeyes in the playoff. You know Urban Meyer will push them to become those kinds of players before Ohio State takes on Clemson.
The key to the Buckeyes being effective on defense is the line play, especially in the interior which is loaded with freshmen. Dre'mont Jones, Davon Hamilton, Jashon Cornell, Robert Landers and Nick Bosa have all played well this season. Urban Meyer and coach Larry Johnson will be pushing these young guys hoping they will be as effective as the group in the 2014 championship run.
More from Scarlet and Game
In the defensive backfield, freshmen backups Damon Arnette and Jordan Fuller will be drilled constantly on their keys while preparing to play against the explosive Clemson passing attack. Each of the two have been key players this season, playing significant minutes in nickel and dime packages… Now the one young Buckeye who can do whatever he wants.
At 5:30 this morning,  Nikki Meyer Dennis gave birth to her son Troy. Urban Meyer is now a grandpa.
The coach who is always in control of everything, watched the College Football Playoff Selection Show from the maternity ward on the fifth floor of Riverside Hospital. Just guessing Troy is in control of things now.
The other young Buckeyes will be attempting to do everything correctly in practice to keep their coach happy leading up to the playoff game. Troy will just do whatever he wants and Urban Meyer won't even care. In fact, if he falls asleep while Urban is talking to him, the head coach will probably just smile.
Anyway, congratulations to the young Buckeyes who have done such a great job and provided so much excitement for Buckeye fans this season. Making the playoff with such a young team is quite an accomplishment.
And congratulations to coach Urban Meyer and his family for their newest addition to their Buckeye family.
This article originally appeared on