Urban Meyer And His Not-So-Secret Weapon Are Lethal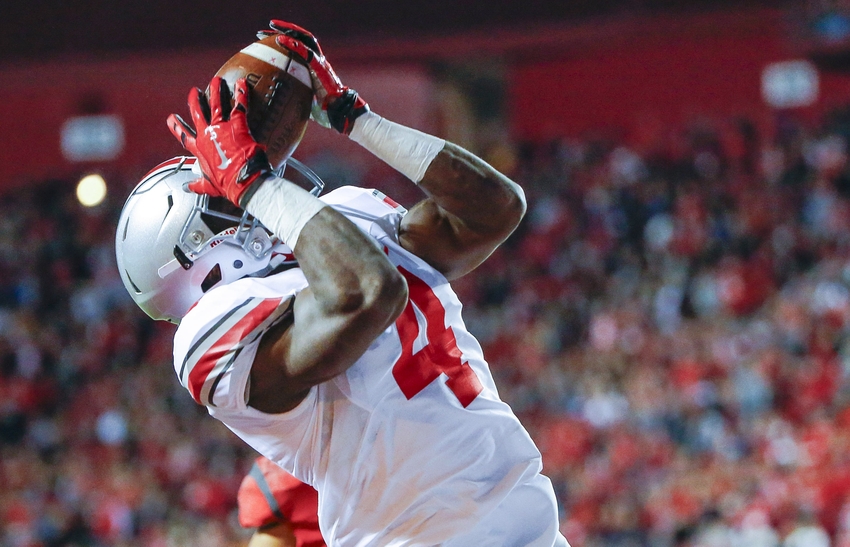 Urban Meyer was finally able to unleash Curtis Samuel, his new lethal weapon.
Urban Meyer has been searching for the ideal hybrid back for his Ohio State offense since he took over as head coach of the Buckeyes. One who can make an impact whether he is running with the football or catching it. He finally has found that player in Curtis Samuel, and Saturday the young man was lethal.
Against Bowling Green, Samuel had 84 yards rushing on 13 carries and 1 touchdown. He also caught 9 passes for 179  yards and 2 scores.
It was the first time in his Ohio State career where Samuel was really able to play the position(s) he was recruited to play. With the logjam at the hybrid position his freshman season, he was primarily used as Ezekiel Elliott's backup at running back. He played wide receiver last season out of necessity.
But with his experience at playing multiple positions, Samuel can now be used in a myriad of ways. And with his talent, that makes the young man absolutely lethal.
Even though it's only one game, it's worth comparing Samuel with Christian McCaffrey, the outstanding multi-purpose back from Stanford. McCaffrey finished second in the Heisman Trophy race last year and is off to a great start this season.
McCaffrey had 126 yards rushing on 22 carries and another 40 yards on 7 receptions against Kansas State. The 166 yards in total offense against Kansas State was under his per game average during the 2015 season. With McCaffrey's return yardage he totaled 210 all-purpose yards for the game.
It's only fair to point out that McCaffrey, one of the frontrunners to win the Heisman this season, was targeted by the Wildcats in an attempt to slow him down. And Kansas State has a stronger defense than Bowling Green has as well.
More from Scarlet and Game
But while McCaffrey played most of the game, Samuel did his damage against the Falcons in about three quarters. Each of their performances were impressive to say the least.
The two players may be the best all-purpose running backs in the nation. McCaffrey broke Barry Sanders record for total yards in a season in 2015 with 3,496. He had 2019 rushing yards and 8 touchdowns rushing and 645 yards on 845 receptions and 5 scores. He also had over 800 yards as a kickoff and punt returner.
Coach Urban Meyer has proven he intends to use Curtis Samuel often this season by giving him 22 touches in the first game. If he continues to use him in much the same way, Samuel may be able to put up similar numbers to McCaffrey.
In any event, I think it will be fun to follow these two players throughout the season. Who knows, if Samuel continues to play at something close to the level he did in the first game, and has similar numbers to McCaffrey, he may be in the Heisman Trophy discussion.
Now that Urban Meyer has unleashed his not-so-secret weapon, I will start calling Samuel his new "lethal weapon". I have a feeling he could be just that.
This article originally appeared on