Upset Watch: Possible Week 8 Mid-Major and FCS Upsets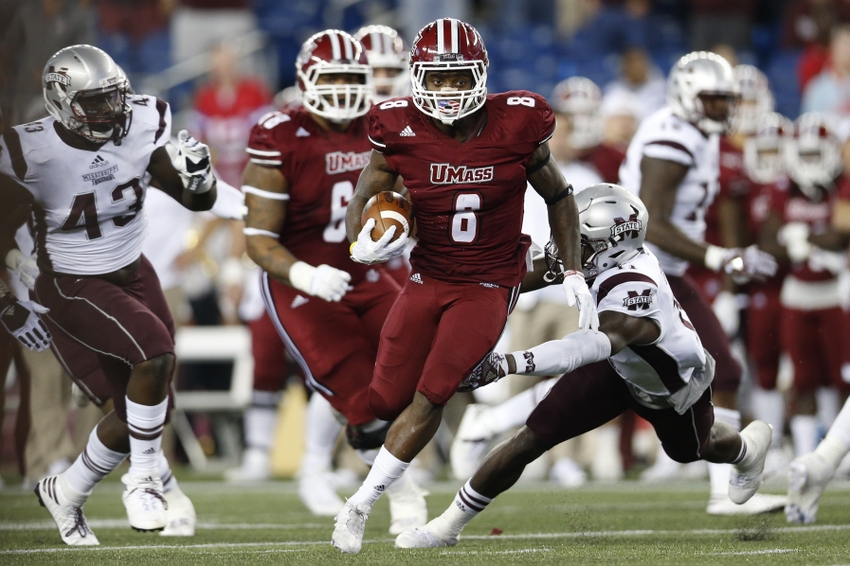 Last week neither Georgia Southern nor Southern Miss could pull off a mid-major upset. Who has the chance to pull off a surprise in Week 8?
This time of year there are not many opportunities to see David take down Goliath in an upset, so we have to take everything we can get. In Week 7 there were only two such opportunities, but Georgia Southern was toppled by Georgia Tech and Southern Miss had no chance against LSU. The Eagles lost by 11, while the Golden Eagles fell by 35.
There are three more chances to see a Cinderella story this weekend — one featuring a Group of Five team, one featuring an independent mid-major, and a third with an FCS team playing Power Five competition. All three take on SEC opponents that have hardly been the class of their conference this season. So let's examine each of the three further in this week's Mid-Major/FCS Upset Watch. (All kickoff times listed are Eastern.)
Massachusetts at South Carolina (Saturday/12:00 pm)
The Minutemen left the MAC last year after a mutual agreement to end its football-only membership. So Massachusetts is now playing out this season as an independent, though they still fall well within the scope of mid-major for the purposes of this exercise. (Remember, we have to take everything we can get this time of year.) They are currently 1-6 against a schedule that has already included two SEC schools and an ACC opponent.
That makes South Carolina their third opportunity to upset an SEC opponent. After keeping things closer than expected against both Florida and Mississippi State this is their last and best chance to get a statement win. The Gamecocks rank dead last in the FBS in scoring, averaging just 14 points per game. The Minutemen aren't much better, but they do get five more points per outing. The hosts have a better defense… but anything is possible.
Middle Tennessee at Missouri (Saturday/4:00 pm)
The Blue Raiders are definitely still in the hunt to claim a wide-open C-USA East race. Should they win the conference, a victory over a Power Five team will help bolster their bid for the automatic Group of Five bid to a New Year's Six bowl. Middle Tennessee fell woefully short at Vanderbilt, but they could still have a chance against the team currently sitting seventh out of seven in the SEC East standings.
Missouri has fallen off the ledge over the past few years after a decent start to life in the SEC. The Tigers are still a top-20 passing team, and they score a touchdown more than they allow per game. Yet Missouri is just 2-4, with their only wins coming against Eastern Michigan and FCS Delaware State. Barry Odom's team has looked listless in his first season at the helm, and an upset could be in the cards in Columbia against a team with a much better offense.
FCS Tennessee State at Vanderbilt (Saturday/7:30 pm)
Speaking of Vanderbilt, the Commodores have already fended off two upset attempts by Conference USA teams. In addition to their 47-24 win over Middle Tennessee, Vanderbilt barely survived a trip to Bowling Green, Kentucky. Against Western Kentucky the Commodores needed overtime and a stopped two-point conversion attempt to prevail 31-30. This week the opposition is ostensibly easier, though this FCS opponent could have the best upset chance of the trio.
Tennessee State is currently 5-1 and ranked in both the FCS Coaches Poll and the STATS FCS Top 25. The Tigers are currently a game back in the Ohio Valley Conference standings after losing on the road by one point against Eastern Illinois. But Tennessee State ranks in the top 20 in both passing efficiency and passing defense.
They score 17 more points per game than the Commodores, while the Tigers defense allows on average only two more points per outing. Could the third time be a charm as an FCS powerhouse comes to Nashville?
This article originally appeared on