University of Washington ready to cook with Budda Baker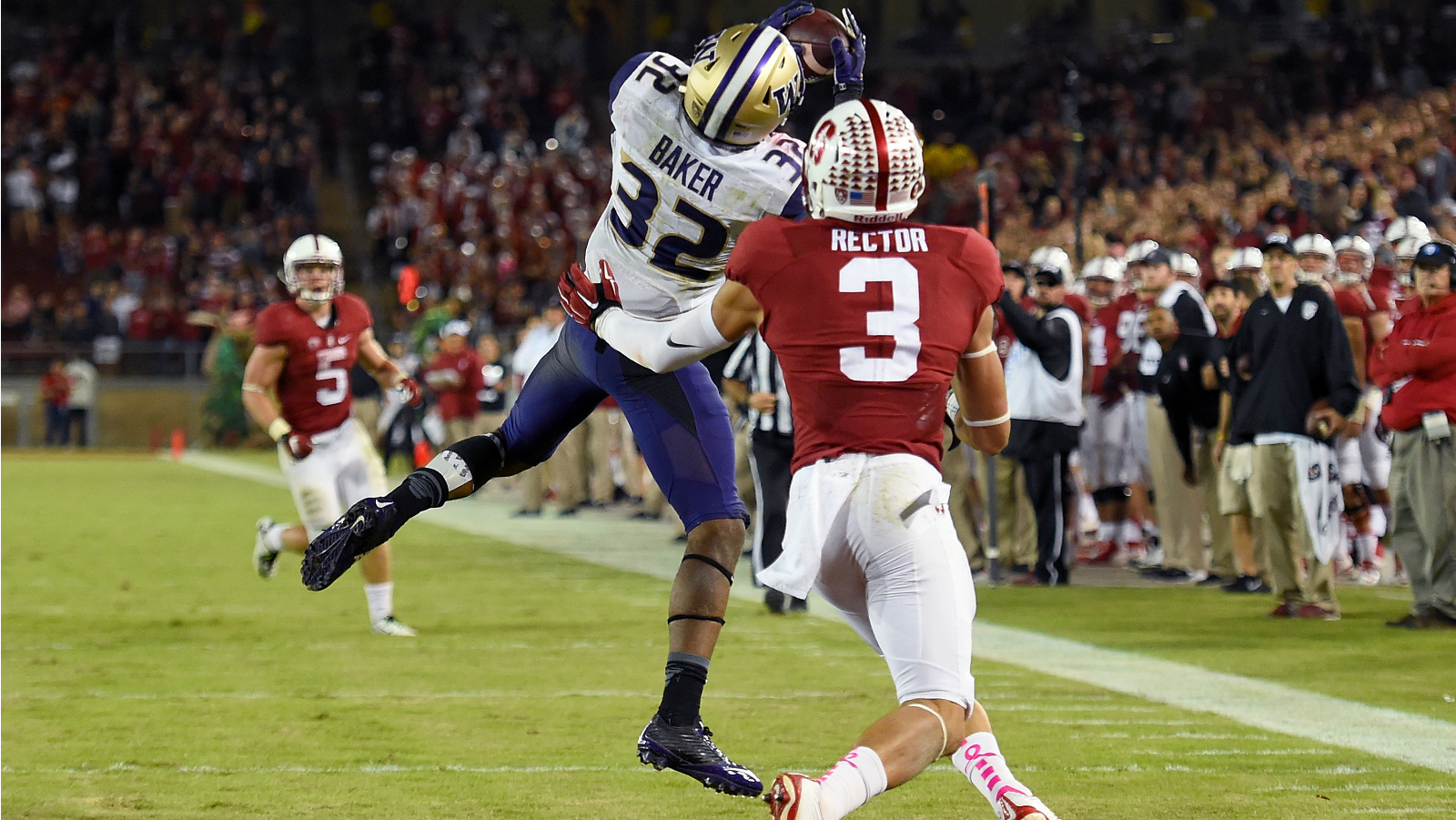 SEATTLE — Chris Petersen's never been one to gush. But if you really want to get him going, ask him about Budda Baker, Washington's version of the Energizer bunny.
Both the coach and his star defensive back have been at Washington for two seasons, and Petersen said he's never seen Baker not finish first in any gasser or conditioning drill. Last month as part of a team-building exercise, Petersen's staff loaded their players into busses after a 6 a.m. Friday leg workout that was heavy on squats. The players had no idea where they were headed until they were handed "the death waiver" sheets to sign.
"That's when they figured it out, 'Oh this is Space Needle,' Petersen said. The mission: see who could get to the top of the 52-story structure the fastest among their position groups.
"I took the elevator and I'm waiting to see who finishes first, and then after about only six minutes, out pops Budda. And, I was like 'I should've known,'" Petersen said, shaking his head. It took Baker about six minutes to race up the 848 steps. The next DB came through about 30 seconds later. Baker's time was far off the fastest time anyone's made racing up the Space Needle and he did his after that grueling leg workout.
"That's just Budda. He's such a competitor and he can run all day long," Petersen said. "That guy just goes. He does not want to lose."
He's such a competitor and he can run all day long. That guy just goes. He does not want to lose."
Chris Petersen
In 2015, Baker — despite playing almost the entire year with a high ankle sprain — was one of the keys to what proved to be the Pac-12's top defense, a group that improved from the previous season despite losing four players who were taken among the top 44 picks of the NFL Draft. Those around UW are expecting an even better season from the guy who was Petersen's first big recruit at Washington after coming over from Boise State. The Huskies look primed to go from a 7-6 squad loaded with freshmen and sophomores in their starting lineup to Pac-12 title contender.
Petersen went a staggering 92-12 in eight seasons at Boise, but some skeptics wondered how well he'd recruit in the Pac-12. Landing Baker, an Oregon commit who was the top-ranked player in the state of Washington, helped squash some of that chatter.
"Oh, it was big," Petersen said. "Everybody make it like that — The Get — like we took him from somebody but I don't think of it like that. He just fit us. I think he fits our university and our program and the things we're all about. He fits us to a T. We talk about the OKGs-Our Kinds of Guys. That's what he is. He's just a really good dude who is a big-time player."
Playing for Petersen was a big reason why Baker felt Washington was the right fit but he also wanted to stay close to family, especially since his mom is not in great health. "She has Crohn's disease, diabetes, chronic back problems," he said.
Baker's given first name is actually Bishard. His aunt dubbed him Budda when he was a little kid because "I was short, had a big belly and my eyes are slanted." The nickname stuck. So much so that someone in high school once thought he actually had a twin brother named Bishard. He admits he hasn't done much research into the real Buddha other knowing him as "The Enlightened One."
*****************
Since arriving at UW, Baker has more than backed up in his recruiting hype. Despite playing at about 75 percent health last season due to the high ankle sprain that hindered him from putting any pressure on it, Baker was voted first-team All-Pac-12. He also made honorable mention Academic All-Pac-12.
This offseason, Baker's ankle has continued to heal although he says he still feels it every time he tries to plant into the ground. Despite that, he clocked a 4.35 40 earlier this offseason and told FOX Sports that he's bulked up to 185 pounds after playing last season at 170.
The 5-10 junior has cornerback's size but the head and heart to handle playing safety, too. He envisions himself in the mold of an Ed Reed or Earl Thomas with a little bit of Tyrann Mathieu mixed in.
"Playmakers," Baker says.
"I'd rather play safety. I like to have a wider vision (of the field) as well as being that last line of defense. If you're the safety, you either have to make the play or get scored upon."
Asked to describe what makes the player he is Baker says, "With me, it's like quick-twitch speed. Fearless. I'm not scared to hit anybody even though I was playing at 170 (pounds)."
Petersen's assessment of Baker's gifts is more nuanced: "He's got really good instincts. He also has this great demeanor in how he prepares and practices. He just goes hard. He is always locked in. It's really impressive. He runs onto the field. He runs off the field. No BS. He doesn't take shots on his teammates. He's a good guy. He practices hard."
"He's just non-stop," said UW defensive coordinator Pete Kwiatkowski. "You never see him loaf. He just plays at 100 percent all the time. You can't say that about a lot of guys."
He's just non-stop. You never see him loaf.
UW defensive coordinator Pete Kwiatkowski
That approach also helped Baker as a childhood soccer star.
"When I was 8 or 9, I got mail saying they wanted me to move out to Europe and play soccer, but my mom wasn't having it," he said.
Petersen and Husky fans no doubt are happy about that.