Unit Grades: Iowa Football 40, Nebraska Cornhuskers 10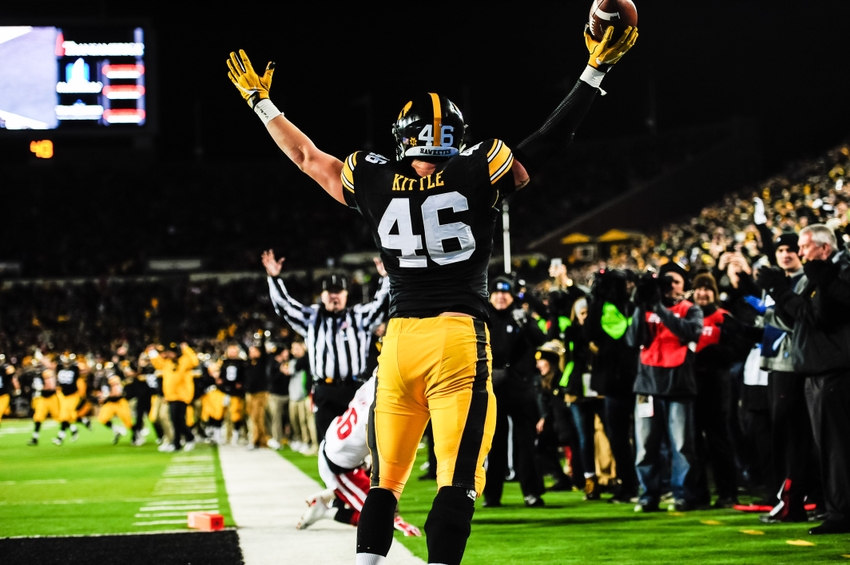 A look at how the Iowa Hawkeyes performed against the Nebraska Cornhuskers
The regular season has concluded, and Iowa football finished the season on a three-game win streak. In a game where many thought Iowa would win, the Hawkeyes demolished Nebraska and beat their second ranked team in three weeks, 40-10.
From the start, Iowa dominated the game. They took a 13-0 lead after the first quarter and scored at least one touchdown in every quarter. For a team who has struggled on offense at times, it's a welcoming sign to see an explosive offense, even if it does come at the last game of the season.
Still, Iowa looked as good as they have all season, making the 16th ranked team in the nation look like a bottom-dweller in the conference.
The Hawkeyes improved to 8-4 on the season and 6-3 in conference play. If Minnesota upsets Wisconsin on Saturday, then Iowa will be in a four-way tie atop the Big Ten West. Wisconsin has already clinched the division, but it would be an impressive feat for Iowa, nonetheless.
Here's a look at how each unit performed during Iowa's dominating win over the Nebraska Cornhuskers on Friday afternoon.
Offense: A+
The offense scored at least 40 points for the fourth time this season but the first time against a winning team. After a year of inconsistent play on that side of the ball, everything clicked for the Hawkeyes, and Iowa looked like the explosive offense many expected to see this year.
To score 40 points against the 23rd ranked scoring defense is a shock, especially when considering Iowa's struggles moving the ball this season. Although, all the problems Iowa has faced this season disappeared this week.
C.J. Beathard completed 10-of-15 passes for 144 yards and three touchdowns. Riley McCarron led the team with five receptions, 108 yards and a 77-yard touchdown — his first 100 yard game of the season. Plus, George Kittle returned from injury to catch two touchdown passes.
As strong as the passing game looked, the run game continued to be Iowa's bread and butter. LeShun Daniels Jr had a fantastic senior day with 158 yards and two touchdowns on 29 carries, which included a 56-yard run.
However, Akrum Wadley had the play of the game. His 75-yard touchdown, in which he juked out multiple defenders, gave Iowa an early 6-0 lead and established the notion that Iowa would run through Nebraska's defense all game. Wadley finished with 105 yards and a touchdown on 11 carries.
As the game went on, Iowa started to win the time of possession battle, however their uncharacteristic quick scores led to Nebraska dominating the clock for most of the game. Still, the Hawkeyes gained almost 200 more yards than Nebraska and converted on all three fourth down attempts.
Iowa needs to be better on third down, as they only converted 3-of-13. That being said, it's a minor flaw in an otherwise amazingly played game by the offense.
For once, the offense carried the load and became just the second team to score 40 points on Nebraska this season.
Defense: A-
Tommy Armstrong Jr played for Nebraska, but it quickly became evident that he was not 100 percent. He didn't move as well in the pocket and only gained 13 yards on six carries. Luckily for Armstrong, despite Iowa holding Nebraska to 2.9 yards per carry, they didn't get a lot of pressure on him.
Anthony Nelson sacked him once, but for the most part Armstrong sat in the pocket and had time to deliver. However, the couple of times Iowa put pressure on Armstrong, he would deliver a beautiful pass to a well covered receiver for a first down.
The Cornhuskers tested Joshua Jackson often. After Manny Rugamba left with a left arm injury, Jackson, a sophomore defensive back, replaced him. Nebraska essentially never looked in Desmond King's direction, rather tried to get the best of Jackson.
Jackson did give up a touchdown on fourth down, allowed a couple of receptions and got called for a pass interference, but for the most part Armstrong struggled throwing his way. Jackson proved to play tight coverage, and Ben Niemann helped, as well.
The defense hasn't played with a big lead very often this year, but they showed why teams don't want to fall behind the Hawkeyes. Sure, Nebraska had a couple of promising drives that penalties killed, but Iowa's defense held them in check for the most part. Once Iowa jumped out to a 13-0 lead, the final result seemed inevitable.
The defense didn't have to play as tense and worried about one costly play. Instead, King and others tried to jump routes to intercept passes and make a highlight play on senior day. However, allowing a mere 10 points is also a very good showing.
Nebraska owns an explosive offense that has topped 30 points four times this year. Armstrong wasn't 100 percent, but he was healthy enough to play, and Iowa held him to 13-of-35 passing for just 3.6 yards per pass attempt.
Simply put, Iowa made a senior quarterback and the 16th ranked team in the nation look like a three-win team.
Special Teams: B-   Coaching: A
The one unit that has consistently been strong for Iowa struggled against Nebraska. Keith Duncan had an extra point blocked in the first quarter. Then, in the third quarter, he shanked an extra point.
The officials called Nebraska offsides, which is a reason why Duncan rushed the kick, but he still terribly missed the extra point, even with the offsides and pressure accounted for. Iowa had a chance to replay the down, but they failed on the two-point conversion.
Ron Coluzzi continued his MVP season, though. He pinned Nebraska inside the 20 three times and averaged an outstanding 41.2 yards per punt. Every time Nebraska looked like they might gain momentum, Coluzzi pinned them back and gave the defense extra help.
Also, Desmond King almost returned a punt for a touchdown. He came close to breaking loose on a couple of kicks, but the senior defensive back is still looking for his first return touchdown of his career.
Kirk Ferentz continued a string of well coached games. Other than Iowa committing seven penalties for 70 yards, there isn't a ton to complain about from a coaching standpoint.
They never took their foot off the gas like other teams do. Partly because their style of play is similar to how teams with big leads play, but Iowa continued to punch Nebraska in the face with their run game. Once they figured out that the Cornhuskers couldn't stop the run, Iowa continuously pounded the rock.
It resulted in a 13-play touchdown drive at the end of the fourth quarter to give Iowa a 40-10 lead. Not to mention Iowa converted two fourth downs on that drive, as well. It showed that Ferentz wanted to make a statement this week against a ranked team and didn't want to play conservative, especially with the struggles in the kicking game.
Iowa found their niche early and played to it the whole game. They've played a lot more aggressive in recent weeks, which is also a promising sign heading into bowl season.
This article originally appeared on