UNC vs. FSU: Nick Weiler celebrates big win with 'chop'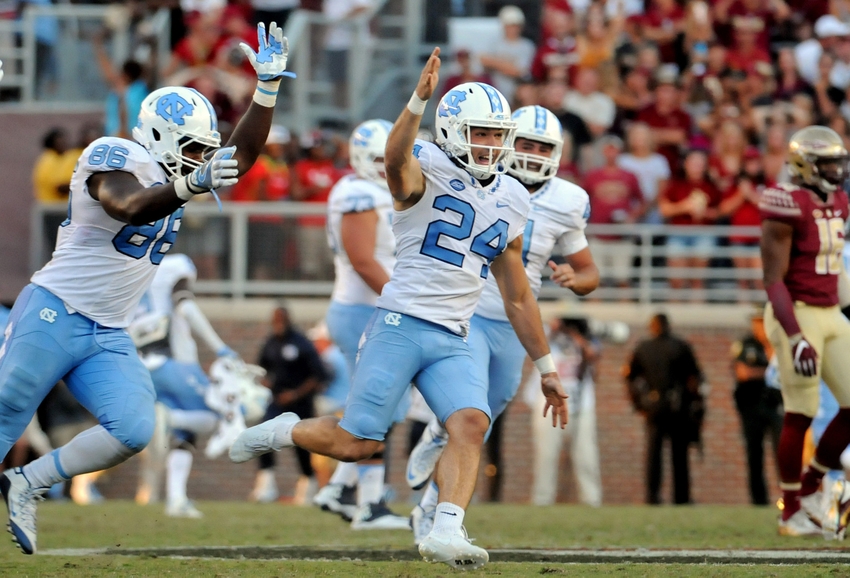 UNC kicker Nick Weiler had an epic celebration following his game-winning field goal that beat the Florida State Seminoles on Saturday
It's been a few hours since the North Carolina Tar Heels defeated the Florida State Seminoles in Tallahassee on Saturday. But the buzz surrounding the win hasn't gone away.
UNC got a clutch 54-yard game-winning field goal from kicker Nick Weieler with no time left in the game to pull off the 37-35 upset.
Weiler had a kick blocked earlier in the game and missed an extra point on the Tar Heels previous touchdown drive.
But that didn't stop him from nailing the second-longest kick in UNC Football history.
Check out the kick below:
The kick was awesome and brought a smile to UNC fans across the nation as they pulled off the upset. As you can imagine, Weiler was pretty happy too.
Watch the kicker have an epic celebration following the big kick:
Unreal.
Weiler runs down the field to give the signature Seminole chop to the crowd and send them home without a smile on their face.
Emotions were running high and Weiler was just in the heat of the moment. Following the game, he also posted outside of Doak Campbell Stadium and gave a shoutout to former UNC QB Caleb Pressley and Barstool Sports:
Love the headband as well.
As we keep celebrating the big win, check back with Keeping it Heel for more on the UNC football team and their upcoming matchup with Virginia Tech next weekend.
More from Keeping It Heel
This article originally appeared on