UNC vs. Duke: Game info, time, prediction and more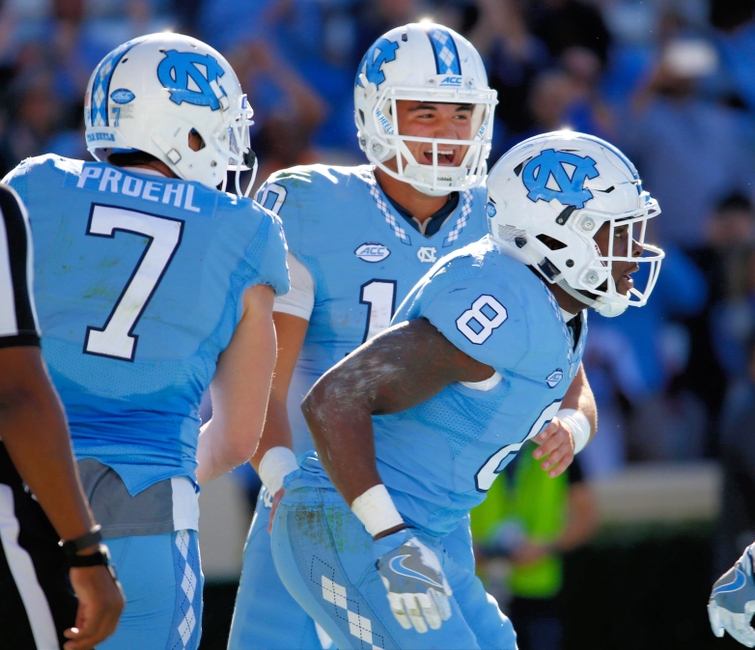 The Tar Heels head to Durham with hopes of keeping pace in the Coastal race.
Thursday, UNC will come into their rivalry game not knowing exactly how to take this Blue Devils team.
Though Duke comes in winless in the conference with a 3-6 (0-5) record, they have played some tough games in ACC throughout the season.
David Cutcliffe and crew gave Louisville all they could handle, eventually losing by 10, and troubled both Georgia Tech and Virginia Tech, losing both games by only 3 points.
Despite the record, they have played head to head with some of the top teams in both divisions of the conference.
With the teams they have beaten, and the ones they have lost to, it's really hard to predict who will show up this week.
But I think they will be ready in their minds to get the Victory Bell back.
It's easier said than done, though.
Duke has given North Carolina back to back losses in Durham, and would love nothing more than to do it again.
With that, they essentially need to win out in order to gain a bowl berth, and this game means everything to them.
Looking at 13th ranked UNC, 7-2 (5-1), you might also say this game means everything to them. Seeing Virginia Tech has the edge in the Coastal via their victory over the Heels, it's impossible to drop a game.
With Hood playing his best game of the season, we can't think he is our only hope at running back. Logan has become a nightmare running and catching out of the backfield. This combination is as great as any duo in the country.
To seniors like Logan, Switzer, Howard, Crowley, and Heck on the offense, and Bart, Lawrence, and Green on defense, this season is their last chance to win an outright ACC crown. We have to note also, that NFL bound Nick Weiler has also done his part.
It's not possible if the Hokies win out, but it's definitely impossible if UNC stumbles Thursday night. Regardless, this is not their week to stumble.
What Duke needs to do to win….
First, Blue Devils must bring in an energy that they have had against Louisville,  Georgia Tech and Virginia Tech.
Secondly, Dave Cutcliffe has to find a way to pull his group together to finish this game against Carolina.
Finally, the Duke defense has to find a way to slow down North Carolina, and give the offense, which is very capable of putting up big numbers, a chance to win.
What UNC needs to do to win…
The Tar Heels must continue to drive on the offense as a team in rhythm, with Trubisky sharp, protection on the line, good routes and hands by the receivers, along with a double punch out of the backfield from Logan and Hood.
The defense must be a rock as they come out Thursday night, building on the strength of heart they have found over the last 4 games. If they do, that will be the difference maker.
What will  be the result?
The game played Thursday will put both teams on the big stage in prime time and emotions will be soaring.
However, After the nerves calm, and the teams get themselves poised, the Duke Blue Devils will give all that they have. It will not be enough.
North Carolina, just as in weeks past, will find a way to stop this Duke offense, and their offense will have their way (through the air or on the ground) with the defense.
North Carolina dominates, keeps the Victory Bell, and continues to wait patiently for a Virginia Tech slip up in the Coastal race.
Here's what you need to know…
WHAT? UNC at Duke
WHEN? Thursday, November  10, at 7:30 p.m. ET
WHERE?  Wallace Wade Stadium in Durham, N.C.
TV? ESPN.
RADIO? Tar Heel Sports Network. Jones Angell (play-by-play), William Henderson (analyst) and Lee Pace (sideline)
WEATHER? 54 degrees and clear at kickoff.
ALL-TIME SERIES? UNC leads 43-22-1
LAST MEETING? UNC def. Duke 66-31
BETTING LINE?  North Carolina  -11
PREDICTION? UNC 48-31
Stay with Keeping it Heel for results on this game, as well as many others concerning Tar Heel athletics.
Give us your prediction in our comment section below.
More from Keeping It Heel
This article originally appeared on