UNC Recruiting Roundup: Updates on football and basketball for 1/17
Blake Cockrum/FanSided via Keeping It Heel

Fansided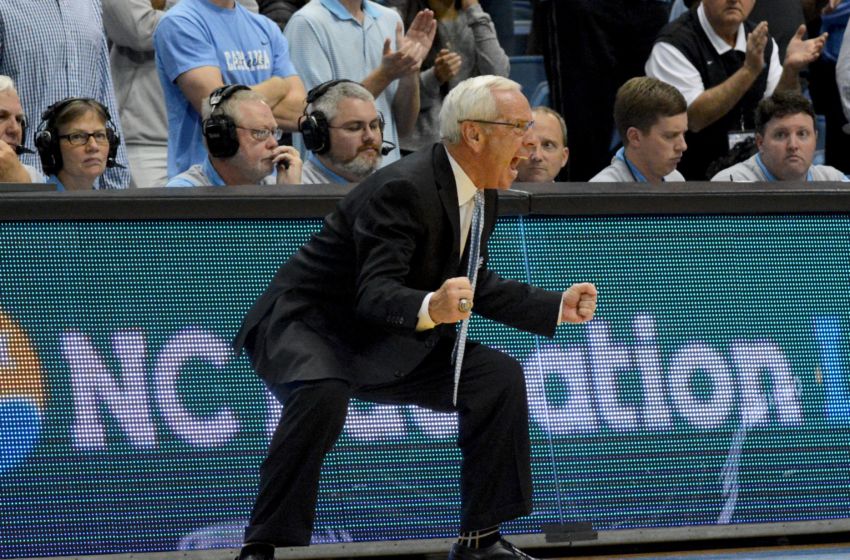 UNC hopes to pick up commitments in what could turn out to be a big week in recruiting
The North Carolina football program just completed one of its biggest recruiting weekends of the season and head coach Larry Fedora is hoping to nail down a few more commitments in the class of 2017.
Roy Williams' squad is 17-3 and just one spot outside of first place in the ACC, but that hasn't stopped him from continuing his seemingly never-ending journey across the country in search of elite talent.
Take a look at Keeping It Heel's latest edition of Recruiting Roundup and get caught up on everything you need to know.
Big weekend in recruiting for UNC football program
Beginning last Friday, Larry Fedora and the Tar Heels football team held its final big recruiting weekend of the 2017 cycle.
Seven of the Tar Heels' top remaining targets were on campus this past weekend, joining a handful of verbal commits for what could turn out to be a very important weekend for the football program.
Beau Corrales, A.J. Davis, Jaquan Henderson, Tim Jordan, Dazz Newsome, Ameer Speed, and Jordan Tucker were all on campus in what could be the last chance for UNC to make an impact and get commitments.
Verbal pledges Brian Anderson, Jeremiah Gemmel, Kayne Roberts, Malik Robinson, Billy Ross, and Caleb Rozar were all on campus as well, doing their best to help in the recruitment of the uncommitted players visiting Chapel Hill.
Tar Heels get commitment from 2017 wide receiver Beau Corrales
Three-star prospect Beau Corrales verbally committed to the University of North Carolina on Sunday during his official visit to the school. He publicly announced his commitment to UNC the following evening.
Corrales, a 6-foot-4, 203-pound wide receiver from Georgetown, Texas picked North Carolina over offers from Arizona State, Indiana, Iowa, Utah, Vanderbilt, and West Virginia. Along with UNC, he took official visits to Indiana and Utah.
Ultimately though, it was North Carolina that caught his attention, thanks in large part to UNC assistant coach Gunter Brewer. Brewer prioritized Corrales in recent weeks and it paid off.
Corrales finished his senior season with 90 receptions for 1,158 yards and 14 touchdowns.
2017 offensive lineman commits to North Carolina
Just a day after his official visit, 2017 offensive lineman Jordan Tucker committed to the University of North Carolina.
Tucker made the announcement on Monday, noting that it was the "family aspect" that he felt at UNC during his recruitment that ultimately convinced him to commit to North Carolina.
Tucker is a 6-foot-6, 320-pound offensive tackle from Roswell, Georgia who also had offers from Louisville, South Carolina, Tennessee and Virginia Tech among others.
He is the fifth and final offensive lineman that the Tar Heels were looking for in the class of 2017. He joins Brian Anderson, Marcus McKethan, Jonah Melton, and Billy Ross.
Three-star running back visits UNC
Timothy Jordan, a three-star running back out of Bartow, Florida was on the UNC campus last weekend for an official visit.
Along with North Carolina, the 6-foot, 187-pound running back also has offers from Illinois, Purdue and Tennessee among others.
North Carolina has a number of running backs from the 2017 class that are already committed, but after losing senior T.J. Logan and junior Elijah Hood, the Tar Heels will need reinforcements in the back field.
The 247Sports Crystal Ball currently shows 100% in favor of North Carolina to land Jordan.
Sage Surratt chooses Wake Forest over North Carolina
Sage Surratt, AP Player of the Year and brother to current UNC quarterback Chazz Surratt, has committed to play football for Wake Forest.
Surratt chose Wake Forest over Duke, Harvard and North Carolina. He had originally committed to Harvard but reopened his recruitment last month.
Surratt finished his senior season with 129 receptions for 2,104 yards and 28 touchdowns in addition to his time spent playing the linebacker position.
In total, Surratt finished his high school career with 366 receptions for 5,924 yards and 80 touchdowns, all high school records in the state of North Carolina.
The Surratt brothers will play against each other in 2019 when North Carolina faces off against Wake Forest in a non-conference game between ACC rivals.
Roy Williams watches 2019 prospect Matthew Hurt
Just hours after North Carolina beat Florida State on Saturday, Roy Williams was back on the recruiting trail to see 2019 small forward Matthew Hurt.
With Williams in attendance, Hurt scored 39 point and grabbed 11 rebounds.
Hurt is a 6-foot-8, 200-pound prospect out of Rochester, Minnesota who Williams has prioritized in recent months, making multiple trips to see him play.
He's a consensus five-star, top-10 prospect in his class and would be a huge boost to North Carolina's 2019 recruiting class.
Hurt currently holds offers from Arizona, Florida, Kansas, Louisville, North Carolina, Oregon and Wisconsin among others. Given how early it is in his recruitment, he's likely to add a number of big name programs to that list before committing.
Roy Williams watches 2018 shooting guard Romeo Langford
On Tuesday, for the second time in as many months, Roy Williams visited 2018 shooting guard Romeo Langford.
Langford is a 6-foot-5, 191-pound prospect out of New Albany, Indiana who is the No. 3 player in the 2018 class according to the 247Sports Composite. He is the consensus No. 1 shooting guard in the class and the top player in the state of Indiana.
Williams has prioritized Langford in recent months and is the latest example of his attempt to address deficiencies that UNC has had at the shooting guard position over the last few seasons.
Talented 2018 guards Coby White and Rechon Black are already committed to UNC and Langford would be a great addition to what should be a terrific back court.
UNC commit Jalek Felton scores 41 at MLK Bash
Just a day after being left off of the McDonald's All-American game roster, UNC commit Jalek Felton scored 41 points and grabbed 10 rebounds in Gray Collegiate's 73-58 victory over A.C. Flora at the Crescent Construction MLK Bash at Eau Claire High School.
"Things happen for a reason, but I just used it to fuel me coming into this game right here," Felton said via The State.com. "My family was always behind and pushed, and told me good things are going to happen."
Felton was one of three Tar Heels nominated for the All-American game and the highest-ranked Tar Heel commit in the 2017 class. It's a bit of a rarity for the Tar Heels, who have had at least one McDonald's All-American in 23 of the last 28 years.
Felton is, in fact, the highest-rated North Carolina recruit during Roy Williams' tenure to not get selected to the McDonald's All-American game.
This article originally appeared on