UNC Football: Things Larry Fedora is thankful for this year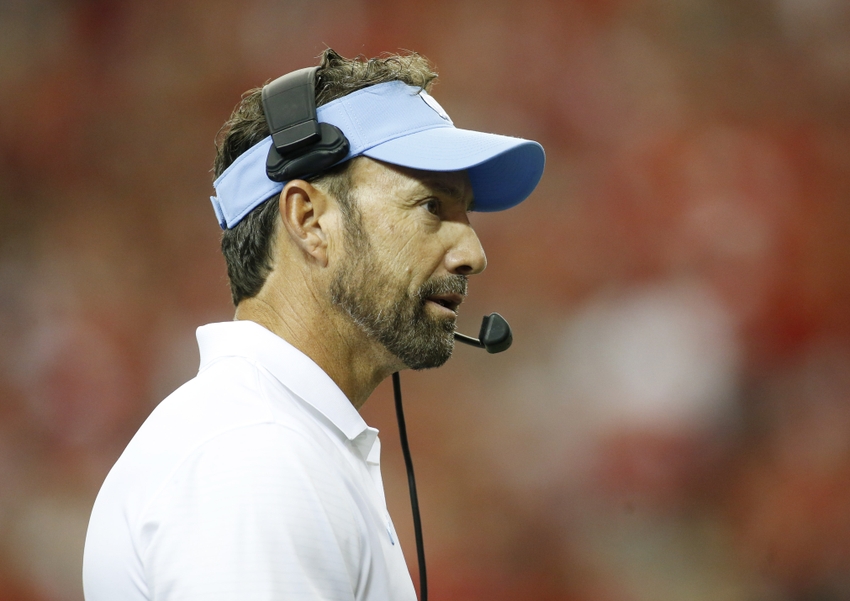 UNC head football coach Larry Fedora has a lot to be thankful for this year
Thanksgiving represents a time to reflect on things that we are thankful for having in our lives.
North Carolina head football coach Larry Fedora has a great deal of things to be thankful for this holiday season.
His Tar Heels are having another strong season and potentially headed for another double-digit win season and a bowl game. What coach wouldn't be thankful for that?
But no coach does it on their own. It takes a whole group of individuals including coaches, players and fans to bring it all together. Here are just a few of the things that Larry Fedora has to be thankful for this year.
Larry Fedora is thankful for…not having to play Virginia Tech again.
When North Carolina played Virginia Tech, they lost to the Hokies 34-3. Some people blamed Hurricane Matthew. Others blamed the coaches and their refusal to change their offensive strategy.
Aside from the blame game, very few people gave credit to Virginia Tech who scored 34 points amidst all the rain.
Both teams were forced to play in the same poor conditions. Unfortunately though, only one team came out and played like they wanted to win. The Hokies battled through the adversity, unlike the Tar Heels who all but folded and relinquished their ACC Coastal lead.
Larry Fedora is thankful for…Mitch Trubisky, Elijah Hood and Austin Proehl
All three of these players are juniors. They have one more year of eligibility. Next season, they will be North Carolina's "big three" on offense.
However, there's a possibility that Trubisky and Hood will bolt for the NFL after this season. Both players are good enough and ready to make the leap to the pros.
There are pros and cons for both players staying in school another year and foregoing their last season. Make no mistake, money and possibility of injuries will be a large portion of the decision-making process for these two guys.
Rest assured, UNC head coach Larry Fedora does not take his time with these players for granted. Let's hope that he has more time with them, though. UNC fans would love to see this trio play together one more year!
Larry Fedora is thankful for…Mack Hollins and Ryan Switzer
In 2016, the best high school football players are known by many people via social media and popular recruiting outlets. In 2013, this was not the case for Mack Hollins, Bug Howard and Ryan Switzer. None of these players were household names as high school recruits.
In fact, Hollins was a walk-on at UNC. He earned his scholarship the "Missouri way", also known as the "Show Me State." He had to show off his skills just to get on the team. Next thing you know, Hollins became a starter and his name is forever etched in the record books at UNC.
Ryan Switzer transformed his game. In high school, he played running back. Several years later, Switzer made a name for himself as a wide receiver and special teams returner. Like Hollins, Switzer's impact on UNC will be felt for a long time.
Both players have the top two longest pass receptions in UNC football history. Hollins has the record for most yards per catch in a season (24.8 in 2015) and for a career (20.9). Before the end of this season, Switzer will set UNC records for career receptions and possibly receiving touchdowns.
Having players like these on the roster illustrates just how good of a recruiter and judge of talent and skill that Larry Fedora is. 
Larry Fedora is thankful for…Nazair Jones, Donnie Miles, Jr. and M.J. Stewart
Currently, Nazair Jones, Donnie Miles and M.J. Stewart are juniors and leaders on North Carolina's defense.
Their leadership will be needed next season for a younger defense in 2017. If they do not leap to the NFL, then the Tar Heels have a good chance of duplicating their successes of the last two seasons.
This defensive trio is key to rebuilding Carolina's defense. Miles is one of the ACC's top tacklers. Stewart is one of the best defensive backs in the conference. Jones ranks as one of UNC's best pass rushers in football history.
If all of them come back next season, Fedora may be giving thanks for them this time next year, too.
Larry Fedora is thankful for…not having to play Clemson or Louisville this season
North Carolina has a 9-3 record. They could have easily been undefeated at this point in the season, though.
If Clemson or Louisville would have been on the schedule, there is a possibility that the Tar Heels would have had two more losses. Clemson and Louisville are two of the best teams in the nation. Despite beating Florida State, North Carolina struggled with Georgia, Virginia Tech and Duke this season.
However, optimistic people might view these two opponents as lost opportunities this year's team to show how good they really  are. Neither are invincible. They're capable of losing games, indicative of their respective losses this season.
Watching Mitch Trubisky duel with Deshaun Watson and Lamar Jackson would have been great entertainment. Trubisky going against two Heisman Trophy favorites and possibly out-playing them would be great.  In addition to that, these games would be a great deal of publicity for Trubisky's Heisman campaign.
UNC will play Louisville during the 2017 regular season, but they won't play Clemson unless they face each other in the 2017 ACC Championship.
Larry Fedora is thankful for…having a great job
In all seriousness, Larry Fedora has the opportunity of a lifetime. He gets to coach a game that kids play for lots of money. Not only that, he coaches for the University of North Carolina. Free Nike apparel, an office and numerous other perks. Who wouldn't love that?
Fedora has the opportunity to mold UNC's football program forever. Many other coaches work in the shadows of their predecessors. Although North Carolina has had other good coaches in the past, none of them continue to be the face of the Tar Heels' football program.
In basketball, UNC head coach Roy Williams had to follow-up Dean Smith. Fedora is competing with himself. The better he does at Carolina, the more his legacy will prevail within this football program.
More from Keeping It Heel
This article originally appeared on