UNC Football: The Tar Heels Humble the Citadel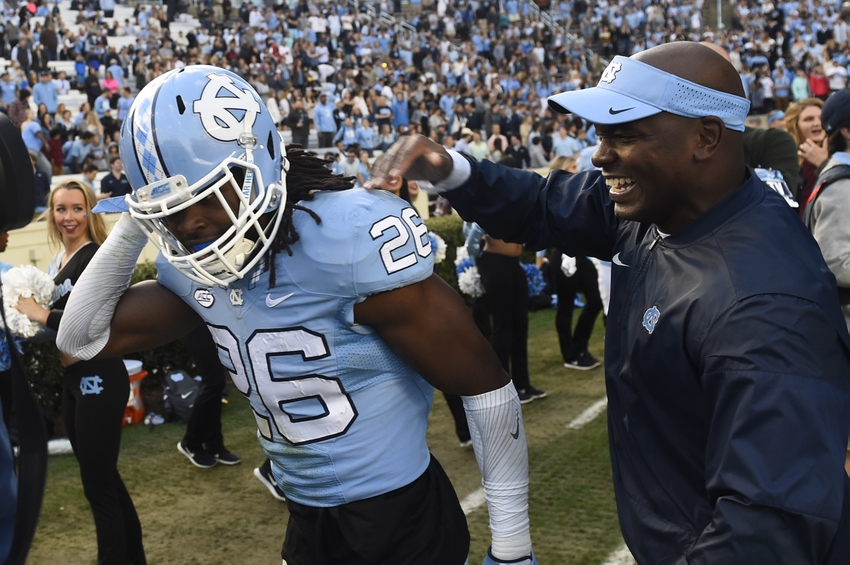 North Carolina came in, made their presence known, and walked away with the victory over the Bulldogs.
UNC played solid on all fronts today in a 41-7 victory over the Citadel.
The offense, the defense and special teams all did their part and each scored touchdowns.
Many wondered if they would have the big letdown, but North Carolina came in and handled business.
The Citadel came out in their expected run option formation on their first drive and marched down into the red zone, only to miss a field goal. UNC came out on the following series and went three and out.
After that, the Cadets were essentially non-existent.
On the next series, Mitch Trubisky hit the finally healthy, Brandon Fritts, on a 19 yard pass for a touchdown to open the scoring up for the Heels at 7-0.
Trubisky then connected two more times in the first half to Ryan Switzer on a 72 yard strike, followed by a 23 yard Odell Beckham style acrobatic catch from T.J. Logan.
Total, the Junior from Mentor, Ohio was 11-20 for 184 yards and three touchdowns, and Elijah Hood rumbled for 83 yards on 13 carries.
All in all, this North Carolina team came out and took control on touchdown after touchdown to finish out the first half with a 31-0 lead.
Logan followed that half by opening the second with a UNC record 100 yard kickoff return.
UNC did not look as swift coming out on offense in the second half, but that may have been the coaching staff trying plays that needed to be tested.
Either way, the pace was considerably slower.
The Citadel did managed to score one touchdown with under ten minutes in the fourth quarter, but to no avail.
The Bulldogs fall to 10-1, and had a difficult practice day that will prepare them for the up coming FCS playoffs. UNC improved to 8-3.
The Bulldogs played decent ball against the Tar Heels today, but it is hard to defend against a pick-six, a 100 yard kickoff return, and several fumbles. No matter, they should do well in the playoffs with the team that they have.
The Cadets will go home and await their seed in the FCS playoffs, while North Carolina will look to a short week in which they will celebrate Thanksgiving, and turn around and play the N.C. State Wolfpack before their food even has the opportunity to digest.
Regardless for both teams, they have a lot to look forward to in the future. UNC will have their hopes on taking care of business once again Friday. With that, they are hoping for a little luck on Saturday as Virginia will try to take down Virginia Tech.
Until then, the Tar Heels will focus on handling State.
The last time the Wolfpack came to town, UNC was eaten alive 35-7. Last year in Raleigh the Tar Heels had a 35-7 lead after the first quarter.
Who knows where they will be Friday. Only time will tell. I have North Carolina at -11, but you know how it goes.
There is a statement that reads like this….
If you lead a good life…
Go to Sunday School…
Say your prayers…
When you die, you go to Carolina.
Stay with us on Keeping it Heel to hear the latest on North Carolina athletics, happenings and other news concerning the Tar Heels.
More from Keeping It Heel
This article originally appeared on