UNC Football: Tar Heels struggle early, outlast Virginia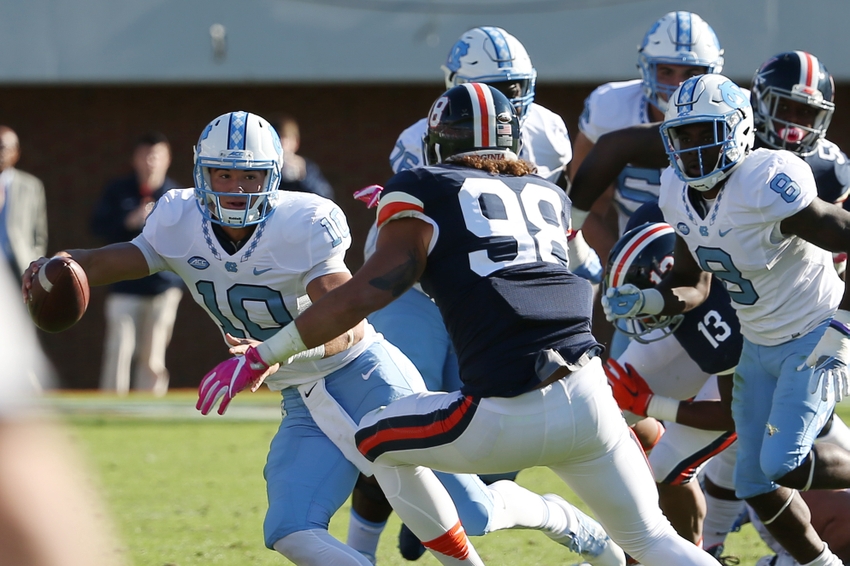 Tar Heels get off to a slow start but eventually put Virginia away
Both North Carolina and Virginia struggled to get going in the first quarter, combining for a handful of punts and just one score.
Virginia had 62 yards of total offense in the first quarter, though time-of-possession was nearly identical to North Carolina.
After multiple failed third down conversions by each team, the Tar Heels got on the board first.
UNC's Elijah Hood put the Heels in the lead with a four-yard touchdown run late in the first quarter, giving the visiting team a seven-point advantage.
The first quarter ended with UNC leading Virginia by a score of 7-0.
After a slow start to the second quarter, the two teams scored on consecutive drives, both using trick plays to do so.
Virginia lined up for a field goal but then broke into a trick play that ended with the backup quarterback throwing a touchdown pass to the center who snapped the ball. On the ensuing drive, North Carolina used a flea flicker to score on a long touchdown pass from Mitch Trubisky to Bug Howard.
At halftime, the Tar Heels held a 14-7 lead.
Midway through the third quarter, the Tar Heels extended their lead on a touchdown pass from Trubisky to Thomas Jackson, making the score 21-7.
Trubisky finished the day 24-of-31 with 310 passing yards and three touchdowns. Elijah Hood rushed 16 times for 107 yards and a touchdown. Bug Howard pulled in seven receptions for 107 yards and a score.
Arguably the turning point in the game came with 3:42 left in the third quarter.
UNC's Mikey Bart recovered a mishandled Virginia snap to give possession back to the Tar Heels, leading by two scores.
The turnover resulted in another North Carolina touchdown, as running back T.J. Logan ran the ball into the end zone from four yards out. With the extra point, the Tar Heels extended their lead to 28-7 over Virginia with just over a minute left in the third quarter.
With nine minutes left in the fourth quarter, Virginia got into the end zone on a 1-yard run by Taquan Mizzell to bring the Cavaliers to within two scores.
Less than a minute later, Trubisky hooked up on a 46-yard touchdown pass to Austin Proehl to put the Tar Heels back in front by three scores. With 8:30 left in the game, UNC led UVA 35-14.
Neither team would score in the late stages of the game and time would eventually run down, ending the game with a final score of 35-14.
With the win, the Tar Heels improve their record to 6-2 overall and 4-1 in the Atlantic Coast Conference. The Cavaliers drop to 2-5 and just 1-4 in conference play.
More from Keeping It Heel
This article originally appeared on