UNC Football: Tar Heels release jersey combo for Duke game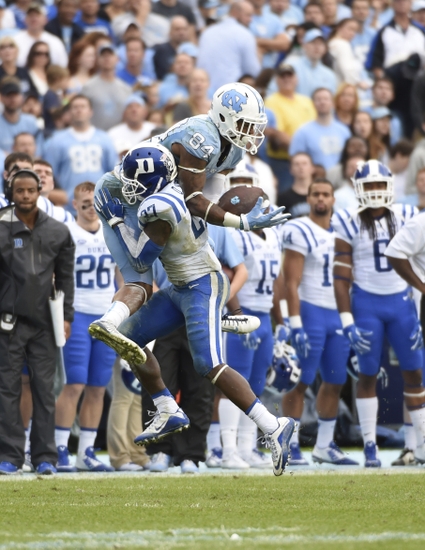 UNC has released its jersey combination for Thursday's game at Duke as they look to keep extending their win streak
The North Carolina Tar Heels are looking for their fourth-straight win this season as they travel just a few miles down the road to Durham.
UNC and Duke will continue their football rivalry on Thursday night with one team in a fight for first place in the Coastal Division and the other in dead last. But throw out the records when these two teams play.
The Tar Heels are coming off a nice win against Georgia Tech, which moved them up in the polls this week.
Duke is coming off a unsuccessful upset bid against Virginia Tech when they had a chance to win it towards the fourth quarter. The Blue Devils are also looking for some revenge after losing to UNC 66-31 in 2015, a game that wasn't close from the start.
As UNC prepares for the game on Thursday, they have officially released their jersey combination via Twitter.
Check it out:
As you can see, UNC is going with the blue, white, blue look as they look to dominate the Blue Devils in Durham. It's the first time all season UNC has worn this combination.
Check out previous combinations:
Kickoff between the Tar Heels (7-2) and Blue Devils (3-6) is set for 7:30 p.m. ET and will be broadcasted on ESPN.
Keep checking back for more coverage on the game both before and after as we break it all down for you.
More from Keeping It Heel
This article originally appeared on