UNC Football: Tar Heels have interest in Malik Zaire?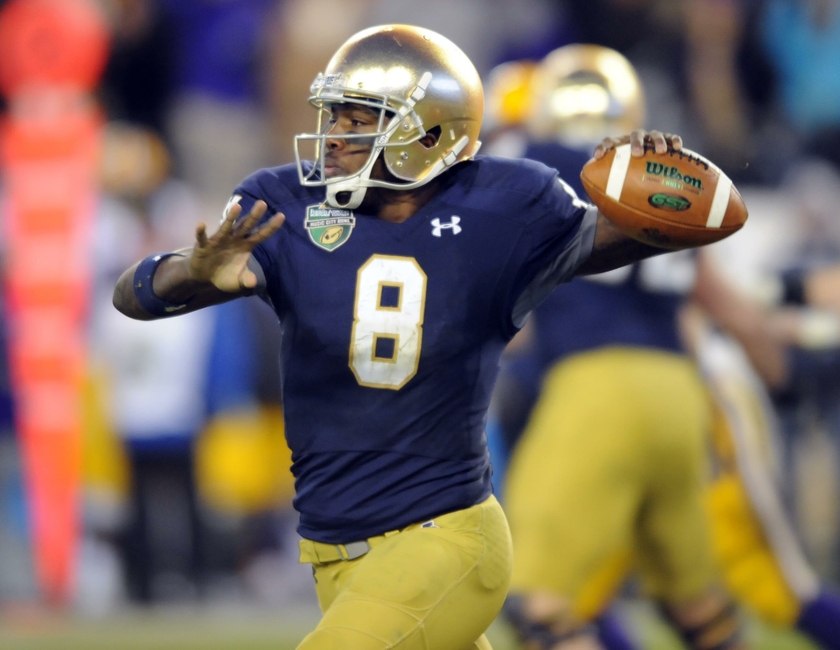 Are the North Carolina Tar Heels in the running for a top quarterback transfer?
While the speculation on whether or not Mitch Trubisky will leave North Carolina for the NFL will continue to grow over the next few weeks, the Tar Heels might have his replacement in a transfer.
That is if he chooses UNC.
Former Notre Dame quarterback Malik Zaire was officially granted his release from the program on Wednesday. Zaire was told that he's eligible to transfer anywhere except to programs that are on the Fighting Irish's upcoming schedule.
The Fighting Irish will play Temple, Georgia, Boston College, Michigan State, Miami of Ohio, UNC, USC, NC State, Wake Forest, Miami (Florida), Navy and Stanford in 2017.
But there is one exception: UNC.
Zaire is able to transfer to UNC despite the Fighting Irish set to play the Tar Heels in the 2017 season.
The quarterback is reportedly interested in Florida, Pitt and Wisconsin. ESPN's Jared Shanker wrote the article on Zaire today not mentioning the Tar Heels. He did however follow up with a tweet regarding UNC and Zaire:
Hmm.
If Zaire does have interest in joining the Tar Heels, then that would likely mean Trubisky will declare for the NFL. Zaire will graduate in December but would be eligible to play right away beginning in 2017.
Now waiting on Trubisky's decision could also impact what Zaire wants to do. If Trubisky comes back, UNC would be out of the running for Zaire.
Either way, the Tar Heels could have another top notch quarterback in 2017 whether Trubisky returns or not.
More from Keeping It Heel
This article originally appeared on