UNC Football: Tar Heels drop out of polls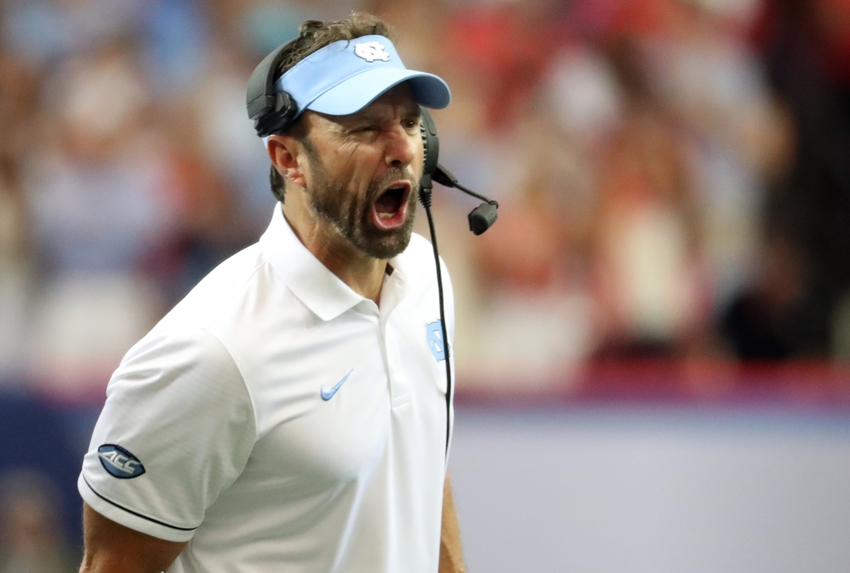 A loss to Georgia dooms the Tar Heels in the latest coaches and media polls
After making the cut for the preseason college football polls, the North Carolina Tar Heels stay there was a short one.
The Tar Heels were dropped out of both the Associated Press Top 25 and USA TODAY Coaches Poll, released on Tuesday. They did receive some votes in the Coaches Poll however, along with fellow ACC team Miami.
A loss to Georgia on a neutral site hurt the Tar Heels ranking, meanwhile the Bulldogs jumped 9 spots in the ranking to No. 9.
The big movers were Wisconsin (No. 10) and Texas (No. 11).
The Badgers beat then top 5 ranked LSU in Green Bay to get into the polls. The Longhorns beat a top 10 team in Notre Dame at Texas to enter the polls. Those jumps have the conversation stirring a little bit on Twitter.
As for the ACC, Florida State jumps one spot to No. 3 after a comeback win over Ole Miss on Monday night. Clemson remains at No. 2 after holding off Auburn and the Miami Hurricanes enter the poll with a 70-3 win over Florida A&M.
The Tar Heels will play Florida State and Miami, currently the only two ranked opponents left on the schedule.
Remember, the AP and USA TODAY polls aren't what get you into the College Football Playoff. That comes later in the year with a separate poll. The Tar Heels have a lot of work to do however.
UNC dropping out of the polls had some reaction from fans on Twitter:
In this week's @AP_Top25 poll, North Carolina falls out of the Top 25, expectedly. UNC was ranked sixth among others receiving votes.

— David Ray Allen (@davidrallenjr) September 6, 2016
Georgia squeaked by #24 UNC and jumped up 10+ spots lol

— Hiroto Suwa (@TruthKills89) September 6, 2016
Georgia moves up 9 spots by beating #22 UNC in a good game and UNC drops out but losing to a team ranked ahead of them ????????????

— The Josh Clark (@THeJoshClark) September 6, 2016
@JarodGee0 UNC dropped out of the rankings after barely losing to a UGA team that's apparently top 10, how does that make sense?

— Jamie (@jamieehudson_) September 6, 2016
So Georgia beats a UNC team now deemed not good enough to be in the Top 25, and is rewarded by jumping from No. 18 to No. 9 in the AP poll?

— R.L. Bynum (@RL_Bynum) September 6, 2016
The Tar Heels did receive 23 votes to get into the poll, ranking sixth among those who earned votes.
UNC's next game comes Saturday, September 10 on the road as they take on Illinois. Check back with Keeping It Heel for full coverage on the game.
More from Keeping It Heel
This article originally appeared on