UNC Football: Mitch Trubisky sets new UNC passing record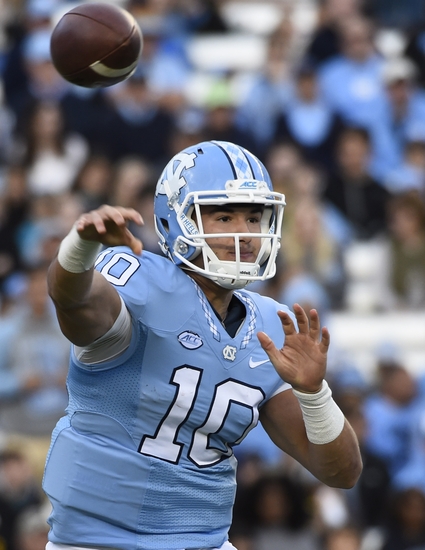 UNC quarterback Mitch Trubisky sets a new record and ties another on one play
Move over Brynn Renner and make room for Mitch Trubisky.
The junior quarterback now holds the single season record for passing yards in school history, passing Renner's mark of 3,356 yards set in 2012.
Trubisky earned the new record with a 48-yard touchdown pass to receiver Bug Howard in the fourth quarter.
The score got UNC right back into the game as they pulled to within 7 points. Check out Trubisky's beautiful throw on the play fake:
In addition to the yards record, Trubisky also tied the single season record for most passing touchdowns by a Tar Heels quarterback. Renner also holds that record with 28.
With a bowl game left in his season, Trubisky could very well break that record as well.
He would also do it next season as a senior if he does return to UNC. However,  the hype around the quarterback continues to build as he's considered one of the best quarterback prospects in the 2017 NFL Draft.
Trubisky will have a big decision to make this offseason as it will be an interesting storyline to follow in the coming months.
More from Keeping It Heel
This article originally appeared on