UNC Football: Larry Fedora takes blame for Duke loss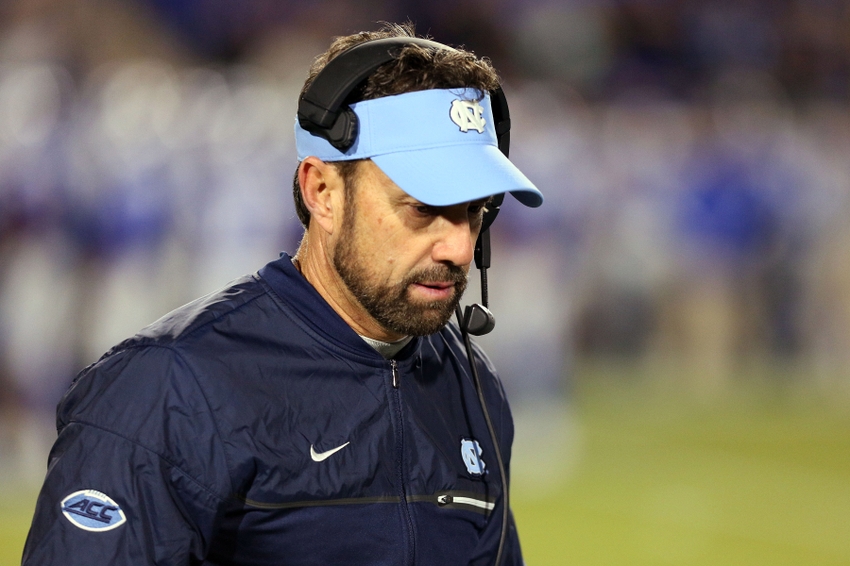 Head coach Larry Fedora took full blame for the disaster in Durham on Thursday night
Any chance at winning the ACC Coastal Division vanished for the North Carolina Tar Heels on Thursday night, and it happened in a disappointing way.
With just two conference games left entering Thursday's game against Duke, UNC needed to win out and get some help in the form of a Virginia Tech loss.
They didn't hold their part of the deal and now they have no one to blame but themselves.
The Tar Heels put together a lackluster effort in Thursday's loss, even after jumping ahead 14-0 early in the first quarter. But they let a Duke team that previously hadn't won a ACC game right back into it and it burned them.
Following the game, head coach Larry Fedora put the blame on himself.
"We got out-coached and we got out-played. That's my responsibility," Fedora said following the game.
The Tar Heels simply couldn't stop the Blue Devils read option attack, highlighted by redshirt freshman Daniel Jones.
Jones finished with three total touchdowns and seemingly had his way with the Tar Heels defense.
UNC could have put the foot on the gas and ran away with it up 14-0, but didn't. They went away from star running back Elijah Hood who finished with just 13 carries.
Quarterback Mitch Trubisky didn't look like his normal self either. The junior threw for 297 yards and 3 touchdowns, but his 2 interceptions ended UNC drives. His last one came on the final UNC drive as he and receiver Bug Howard seemed to be on different pages.
Then there was the penalties.
The Tar Heels had 7 penalties accepted for 65 yards, including two key unsportsmanlike conduct penalties. One extended a Duke drive, rather than make it third and long as the Blue Devils went on to score.
The lack of discipline falls on the coaches.
"I'm not putting it on these guys, this is my responsibility completely," Fedora said. "If you want to blame somebody, you can blame me. It's my job to have these guys ready to play and put them in the best position."
For UNC, their focus now turns to their final two regular season games and a bowl appearance.
The Tar Heels will host The Citadel on Nov. 19 and then North Carolina State the day after Thanksgiving. They will be invited to a bowl, despite it not being a big one as they will likely drop out of the CFP rankings this week.
It's time to finish these final three games strong.
More from Keeping It Heel
This article originally appeared on