UNC Football: Is it time to say goodbye to Larry Fedora?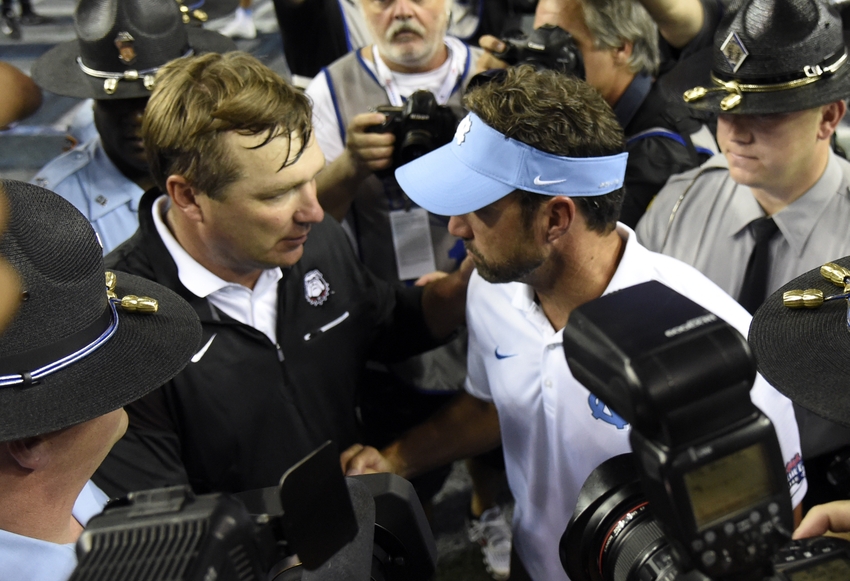 With all the rumors surrounding Larry Fedora, should the Heels be worried about losing him?
It's coaching carousel season.
What's that you ask? Well, it's that time of the year where jobs come open because coaches move to other schools.
Currently, there are only three major job openings (Baylor, Oregon, and Purdue) but that can change quickly as teams finish their regular seasons and conference championships.
One name that continues to pop up on everyone's list is Larry Fedora. The thought that Fedora could leave UNC puts fear into the hearts of many Tar Heels fans.
Since coming to Carolina, Fedora has the second most wins of any coach in his first five seasons with 38 (Dick Crum has the most with 42). He is also one of only three coaches to beat a ranked Florida State team (John Bunting and Butch Davis are the other two).
Fedora also arrived in Chapel Hill when the school was in trouble and stuck around through the bad times. He's also made the Tar Heels relevant in football for the first time since Mack Brown.
So it's obvious why Carolina fans would be worried that he could leave.
But should they be?
Here are three areas where Larry Fedora has struggled.
Though Fedora has had the second-most wins in his first five seasons, he's done it against less than stellar competition.
When those wins get broken down they look much less impressive. Seven of those wins came against FCS schools, four against non Power Five schools, and 18 against ACC schools that finished .500 or worse in ACC play. That means 76 percent of his wins have come against schools that were mediocre at best.
Fedora has also not done well in big games. He is 4-9 against the AP top 25. Only one of those teams, Florida State this season, was ranked in the Top 25 to end the season.
He is 2-6 against Power Five schools. Those two wins both came against Illinois. Finally, he is 1-2 so far in bowl games. When the game has mattered, Fedora has not brought his A-game.
To further emphasize the point, look at Fedora's record in rivalry games.
He is 5-5 against Duke and State. That includes being 2-3 against the Blue Devils. That is the lowest winning percentage for any UNC coach who coached 10 games against those two schools since Carolina joined the ACC in 1953. The next closest is a .563 win percentage posted by Jim Hickey who stopped coaching in 1966.
To put this into perspective, John Bunting and Carl Torbush went a combined 14-4 against those schools in nine seasons with the Heels. Bunting and Torbush were a combined 44-63 while at UNC. Still, even they knew the value of beating one's rival.
One of the selling points for Larry Fedora is that he is an offensive genius.
But is he?
In five seasons at UNC, Fedora's offenses have finished an average of 35th out of 128 schools.
That puts him in the top 30th percentile. That is good, but not great. Additionally, three of those five seasons he has finished 47th or higher, including this season when he had a future first round draft pick at quarterback.
His teams also haven't scored a lot of points, despite all of the yards accumulated. In three of his five seasons, the Tar Heels have failed to crack the top 40 in points scored per game. Again, one of those seasons was this year with a top five pick at QB and a bell cow for a running back.
Speaking of those two, Fedora has not done well managing his talent either. Elijah Hood has played in 25 games over the last two seasons. Only three of those games has he carried the ball more than 20 times. None of those games came this season. There is no reason that Hood should not have 1,00 rushing yards this season, but barring a big bowl game, he will come up short.
Last season, Fedora also refused to pull Marquise Williams even when he was struggling. The one time he did, against Delaware, Mitch Trubisky went off. The sophomore quarterback threw for 312 yards and four touchdowns on 17-of-20 passing; in one half.
Despite all of that, he still left Williams in the game even when he showed he couldn't move the ball against South Carolina and Clemson.
To further this point, Fedora's best team was probably the 2012 Tar Heels. That year, he had his best defensive and offensive units to date. Even with all that talent, he still only went 8-4 on the season against a schedule that had only one ranked opponent.
First off, give credit to Fedora. He came into a tough situation and was limited on scholarships.
That, on the whole, hurts depth and makes it harder to compete. With that said, take a look at what Fedora has done.
In four recruiting seasons, he has never brought in a five-star recruit and has never finished in the top 20 overall in classes. His best year came in 2013 when he finished 21st overall. He is currently 19th according to ESPN this season, but still has no five-star recruits and started as high as 10th in the rankings.
Additionally, he has never brought in the top player from the state of North Carolina. In those same four seasons, he has only brought in six total recruits from the top-10 in the state and last season he brought in zero.
This season he does have four, which is big, but once again lost the No. 1 recruit to another school. Good teams recruit their states better than any other schools. Ask Texas, LSU, and Alabama.
His most talented team in 2012, was recruited by Butch Davis. Most of those players came from classes that ranked in the top 20.
So if not Fedora, then who? The in-house option is Gene Chizik.
Chizik is 38-38 in six seasons as a head coach. That includes a 14-0 season that ended with a National Championship. However, if you take out that one season where he had reigning MVP Cam Newton, Chizik is only 24-38 in five seasons.
That is not good. I give him credit for winning it all with the talent he had but so did Barry Switzer with the Cowboys.
Chizik is a great defensive coordinator. And that's something that doesn't get talked about enough. With the talent he has had and the pace the Heels offense plays at, Chizik has done an incredible job. With a pro style offense, Chizik would have a top 25 defense. However, he is a mediocre head coach, at best.
The Big name option would be Les Miles. He too has a national Championship and is 141-55 record in 16 seasons as a head coach. He definitely knows how to recruit and win. However, he lost his job at LSU for not being relatable and for not being willing to change on offense.
His defenses were always solid, but his offensives have been a joke the last few seasons. After five years of run and gun, I'm not sure that would go over well with the Carolina faithful. Especially when the Basketball team also runs at such a fast pace.
The best option is Western Michigan's P.J. Fleck. The coach is currently 13-0 and knocked off a couple of Big Ten schools this season. He has a receiver who is No. 1 in NCAA history in receiving yards and a quarterback who has 30 touchdowns and just one interception.
His team is 3rd in points per game and 14th in yards, which means he runs a great offense.
The biggest selling point though is that his players love him. Three seasons ago, his first year with the program in 2013, his team went 1-11. He told his guys that if they stick with him, they would do great things.
Again, the team is 13-0 and won the MAC championship. They're also playing in a  New Year Six Bowl game against Wisconsin.
The guy can flat out coach.
So is UNC better off without Fedora?
I guess the real question is what kind of team does UNC want to be?
If they want to be 8-4 most seasons with a chance at a Coastal Championship, then Fedora should do just fine.
If they want to be better than that and actually challenge for national championships, then Fedora might not be the answer.
So maybe it is time to say, "Farewell Fedora". If he doesn't leave this season, he may not have a choice next year.
More from Keeping It Heel
This article originally appeared on