UNC Football: Helmet stickers for loss to Georgia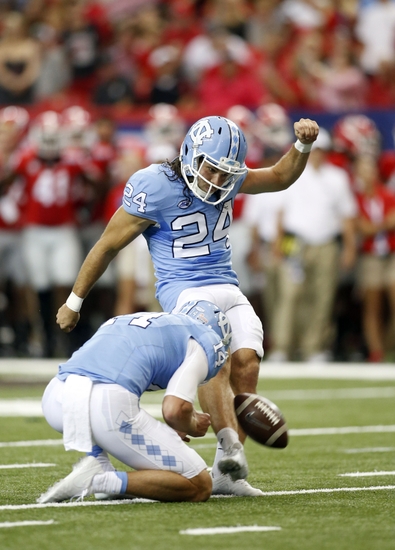 The North Carolina Tar Heels didn't get the result they wanted when they played Georgia in Atlanta on Saturday.
Despite leading by 10 points in the second half, the Tar Heels failed to close the door on the Bulldogs attack led by Nick Chubb. Instead, the Bulldogs rallied off 19 points to earn the season-opening victory.
Despite the negative feeling Tar Heels fans might be having following the game, there were still some positives. Each week, we will attempt to give out at least 3 helmet stickers based on UNC's performance.
Here are the Tar Heels who earned our three helmet stickers for the season opener against Georgia.
Helmet Sticker #1 —  T.J. Logan
That didn't leave much action for the Tar Heels secondary.
Although freshman sensation Jacob Eason entered the game and took some shots down the field, the Tar Heels secondary as a unit played well. Freshman Patrice Rene had a few bad pass interference penalties, but other than that it wasn't too bad.
Cornerback M.J. Stewart was one of the bright spots in that secondary.
Stewart made one of the biggest plays for the Tar Heels secondary in the game, forcing a fumble in the second quarter with the Bulldogs marching down the field. The fumble was recovered by defensive end Tomon Fox, but the Tar Heels couldn't convert the turnover into points.
Let's see if Illinois decides to challenge Stewart next week.
Helmet Sticker #3 — Special teams
A unit earning a helmet sticker? Yep.
The Tar Heels special teams unit was no doubt their best unit on the day. With Logan's touchdown return, a missed field goal by the Bulldogs, Nick Weiler's field goal and even Tom Sheldon, they played pretty damn good.
Sheldon, a freshman out of Australia, played in his first college game on Saturday and had six punts total on the day. Sheldon averaged 42 yards per punt in his debut with a long of 44 yards on the day. He also had a nice punt following the Tar Heels safety.
Kicker Nick Weiler had all of his kicks go for touchbacks and he converted on his only field goal attempt of the game.
Keep an eye on this unit this year. With the two kickers, returners Logan and Ryan Switzer, they really can play a big role for the Tar Heels in 2016.
More from Keeping It Heel
This article originally appeared on