UNC Football: Blue Devils stun Tar Heels to win Victory Bell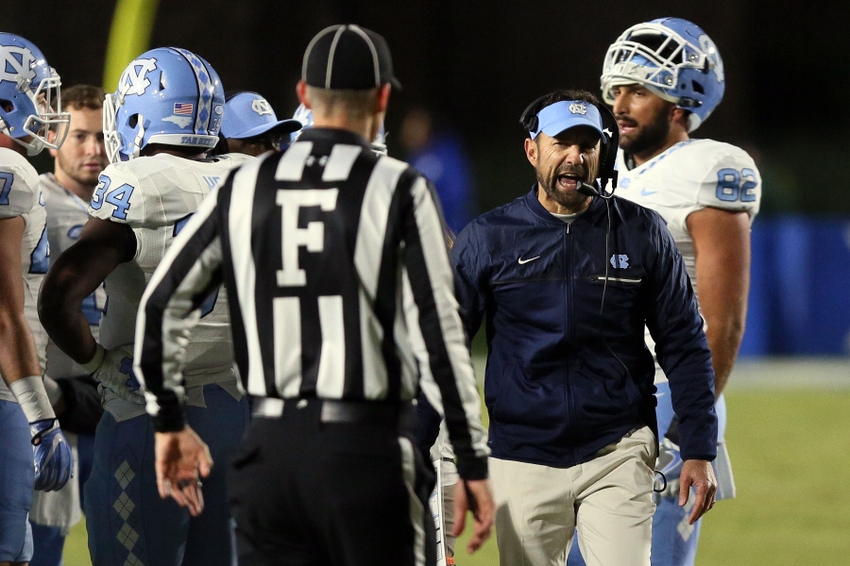 UNC drops a heartbreaker to rival Duke after jumping ahead in the first half
Well, that was frustrating.
The North Carolina Tar Heels went into Durham with the chance to keep pace in the ACC Coastal Division and improve to 8-2 on the season. That didn't happen.
Instead, the Duke Blue Devils pulled off a 28-27 upset on senior night and ended any hope for a Tar Heels return to the ACC Championship Game.
The Tar Heels started off fast, jumping out to a 14-0 lead behind two touchdown passes from quarterback Mitch Trubisky. But after that, it was all Duke.
Led by freshman Daniel Jones, the Blue Devils fought back to tie it at 14 all. The Tar Heels couldn't stop the Blue Devils attack led by the read option.
UNC scored TDs on 3 of first 4 possessions. After that: 2 FGs, 3 punts, 2 INT.

— InsideCarolina (@InsideCarolina) November 11, 2016
They were fooled several times as Jones rushed for two touchdowns and threw for another in the upset.
It was a frustrating night for the Tar Heels, to say the least. Despite jumping out to a 14-0 first half lead, they couldn't put the Blue Devils away.
Twice they started drives at midfield or better and only came away with three total points from those drives. They also couldn't convert on third downs, finishing the game just 4-for-10.
But the biggest difference came in time of possession.
Duke dominated the time of possession 36:51 to 22:21 and ran 89 plays compared to just 60 for UNC.  The Tar Heels never got anything going offensively in the second half and couldn't keep Duke off of the field.
The loss gives the Tar Heels two conference losses on the season and now another loss or a Virginia Tech win clinches the Coastal for the Hokies.
UNC has no one to blame for themselves as they looked uninspired after jumping out to a double-digit lead. Hope is not lost for the season because the Tar Heels will make it to a bowl game, it's just not the one they envisioned.
Check back with Keeping It Heel for more on the Tar Heels football team.
More from Keeping It Heel
This article originally appeared on