UNC Football: Black helmets and jerseys making a return in 2016?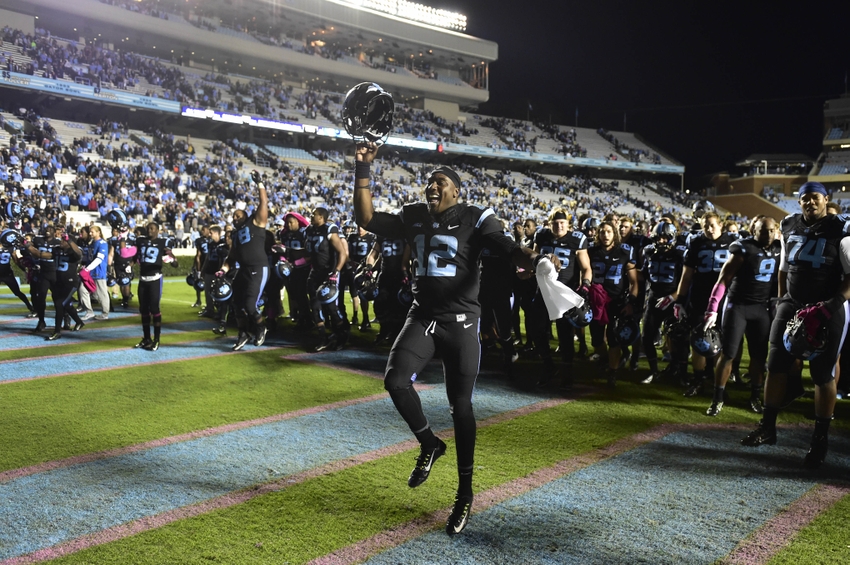 Is UNC bringing back the black jersey combo for their game against North Carolina State?
The North Carolina Tar Heels could be bringing back a jersey that some fans have been raving about for a few years now.
On Friday, defensive tackle Jeremiah Clarke aka Fat Melo on Twitter shared a photo of himself trying on a black UNC helmet via the social media platform. As soon as he sent it out, the speculation began.
Check out the photo below:
Now we don't want to jump to conclusions but if there was ever a time for the black to make a comeback, why not on Black Friday? And why not against one of your rivals in North Carolina State?
The game could mean a lot for the Tar Heels. They need a win, then some help from Virginia who will look to upset Virginia Tech the next day. If that happens, UNC would reach the ACC Championship Game for the second-straight season.
UNC hasn't worn the black helmets or jerseys since the 2014 season. They wore the jersey twice, once with the black helmet and once with a blue helmet and black stripe.
They wore the black helmet three times that season, including the bowl game against Rutgers.
We don't know for sure if it's coming back but with the equipment account tweeting this out, the odds are good:
The question of what combo they will be using is also up in the air. Will it be a blackout game on Black Friday? Just the black helmets? Just the black jerseys?
Stay tuned.
More from Keeping It Heel
This article originally appeared on