UNC Football: 3 Keys to a North Carolina win over Duke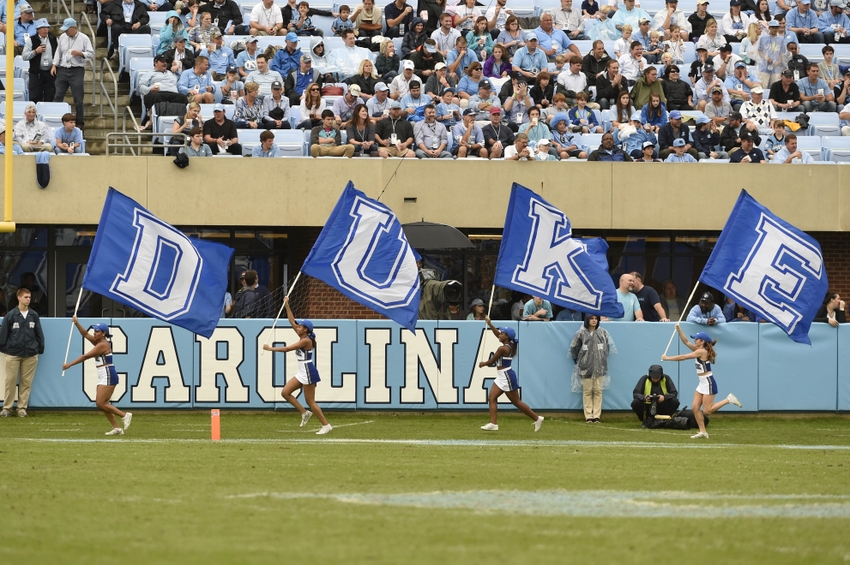 The No. 21-ranked North Carolina Tar Heels (7-2, 5-1) face their arch rival Duke Blue Devils (3-6, 0-5) this Thursday night at 7:30pm EST on ESPN.
North Carolina has the odds to win this game by double figures. Whenever these two teams play each other, it is personal.
The Tar Heels come into this game with a three-game winning streak. UNC quarterback Mitch Trubisky has had an impressive year leading the Tar Heels.
On the other hand, Duke is the only ACC team without a conference victory. Their desperation for a much-needed ACC win will be a factor Thursday night.
There are three keys to a North Carolina victory over Duke. They are…
Establish Elijah Hood EARLY!
Elijah Hood is back!
Earlier this season, Hood was in a slump. His rushing yards were below his norm (from last season) and he overcame an injury.
Last weekend against Georgia Tech, Hood rushed 12 times for 168 yards and three touchdowns. Hood rushed seven times for 114 yards and two touchdowns in the first quarter. His performance against Ga. Tech is a great sign for the Tar Heels for several reasons.
One, it means that Hood is healthy enough to shoulder the rushing load. Two, the Tar Heels can lean more on him instead of relying on the passing game to fuel the offense. Three, Hood alleviates pressure off the quarterback and wide receivers to produce.
Elijah Hood was the best player on North Carolina's team last season.
Although Mitch Trubisky has become the face of the Tar Heels football team, Hood remains an integral component of this team's success.
Hood's power style of running suits this time of the year. It would behoove North Carolina to impose their will on Duke early with Hood, similar to how they dominated Georgia Tech last week.
If it isn't broken, then don't fix it. Ride Hood until the wheels fall off!
Stop Daniel Jones and Jela Duncan!
You can call Daniel Jones and Jela Duncan, Duke's "Queen City Connection." Both players are from Charlotte, North Carolina, similar to North Carolina's Elijah Hood.
North Carolina's run defense has been abused in several games this season. They struggle with opposing running backs that have average or above average skills.
Duke's Jela Duncan represents another challenge for UNC's defense. Duncan is one of Duke's best players. This season, Duncan has rushed 88 times for 450 yards and six touchdowns, along with five receptions for 33 yards.
Duncan averages 5.1 yards per carry and 6.6 yards per catch. If North Carolina underestimates Duke, in particular Duncan, then they will have a long Thursday night in Wallace Wade Stadium.
If North Carolina shuts down the run, then this forces Duke to pass the ball. Duke's quarterback, Daniel Jones is true freshman quarterback.
Jones has had a solid season that has been overshadowed by numerous losses. He has had fair games in Duke's two toughest games this season.
Against Louisville, Jones completed 14 of 21 passes for 129 yards along with two touchdowns and seven rushes for 24 yards.
When Duke faced Virginia Tech, Jones completed18 of 31 passes for 148 yards and 18 carries for 99 yards and two touchdowns).
Despite losing both games, Jones showed a great deal of poise in the pocket. He has the moxy and skill set to give Carolina problems.
Let Mitch be Mitch!
I cannot say enough about Mitch Trubisky. This season has been a pleasant surprise. Mitch can do it all. He can run and throw the ball very well.
On Thursday night, Mitch Trubisky will have the opportunity to have the big stage on Thursday night. All of the attention will belong to North Carolina and Duke, since they will be the highlighted game on ESPN.
Trubisky will not disappoint when UNC plays Duke. His skill set and football IQ have not been seen in North Carolina's football program until now.
I expect nothing short of a 300-yard game and multiple touchdowns from Trubisky.
Here is the interesting thing. If he impresses NFL scouts with a showcase on Thursday night against Duke, then Trubisky's name will be thrust into the Heisman Trophy discussion AND 2017 NFL Draft talks.
Trubisky should not look too far ahead of this game. However, we can all agree that the future is bright for this young man.
UNC head coach Larry Fedora should allow him to call his own plays. Unleash Mitch and see how high his ceiling is.
More from Keeping It Heel
This article originally appeared on