UNC Football: 3 key stats from loss at Duke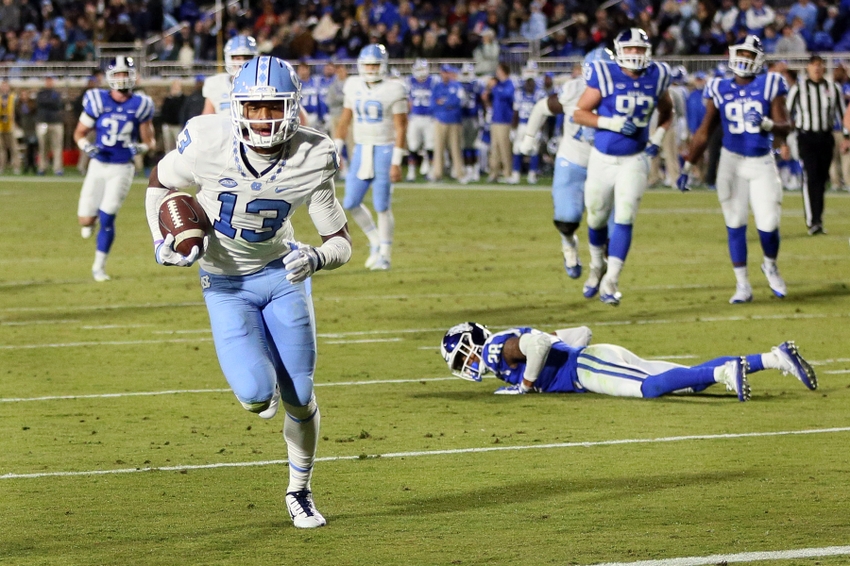 UNC suffered a disappointing loss at Duke Thursday night which put a rest to their ACC Title Game hopes
North Carolina saw any chance of returning to the ACC Championship Game disappear with a 28-27 loss to Duke on Thursday night.
The Blue Devils stunned the Tar Heels, outscoring them 28-13 after falling behind 14-0 in the first half. With the win, Duke retained the Victory Bell which was a hot topic leading into the game.
You have to wonder if that distraction set something off for the Tar Heels as they prepared earlier in the week.
For UNC, it's a heart-breaker. Losing a game to a team that entered 0-5 in conference play. It now puts them in a spot where they will fall in the AP poll and College Football Playoff rankings which will be released next week.
It also means no shot at a big bowl game.
There's a lot of things that went wrong Thursday night. Let's break down three key stats from that loss and see where it all went bad.
13 carries
That's how many carries UNC running back Elijah Hood had in Thursday's loss. I'll say it again. 13.
That is unacceptable. The workhorse running back needs to touch the ball more than that. The Tar Heels had a nice offensive flow the first two drives as quarterback Mitch Trubisky played well. But they never really established the run.
Duke packed the box against UNC early, focusing their gameplan on stopping the run early and often.
With UNC's passing offense entering the game red hot, it should have continued and it should have opened up the run game. Especially after Hood had a big game against Georgia Tech just five days prior.
Except it didn't.
Hood got going with big runs in the fourth quarter as UNC tried to mount scoring drives. For some reason, they stopped giving him the ball and the offense fell flat on its face.
I feel like we've said this before but you need to get your star running back the ball. Run him down hill and attack the defense.
Hood finished the game with 74 yards.
2 Interceptions
Trubisky has played at a high-level all season long for UNC.
There's been two big hiccups coming in ACC play, however. Against Virginia Tech Trubisky threw two interceptions in Hurricane-like conditions. The Tar Heels lost by 31.
On Thursday against the Blue Devils, Trubisky threw two more interceptions which doubled his season total to four.
The Tar Heels lost by 1.
It's a shame we are talking about a loss and two mistakes by Trubisky as he got off to a hot start.
He opened the game going 12-of-15 for 200 yards and two touchdowns. The Tar Heels offense was rolling and so was Mitch.
It was destined to be another blowout for the Tar Heels until the offense went stale. Trubisky's first interception came off a tipped pass in Duke territory.
The second came on the Tar Heels final offensive play as he and receiver Bug Howard were not on the same page.
Let's see if Mitch can rebound against The Citadel.
15:18
That number is how many more minutes Duke had the ball than North Carolina on Thursday.
The Blue Devils dominated time of possession, having the ball for 37:39 compared to UNC's 22:21 for the stat. Duke's defense played a big role in that, getting off the field in key situations and holding UNC to just  4-of-10 on third downs.
The UNC defense?
Well, they did the opposite. The Tar Heels defense couldn't get a stop to save their lives on Thursday allowing Duke to convert 10 third downs.
Quarterback Daniel Jones burned the Tar Heels on the read option several times as UNC failed to get a QB spy on him.
Duke also ran 89 plays compared to UNC's 60 plays on the game. The Blue Devils had a gameplan and executed it.
More from Keeping It Heel
This article originally appeared on