UGA's Nick Chubb's status still up in the air for big test against UT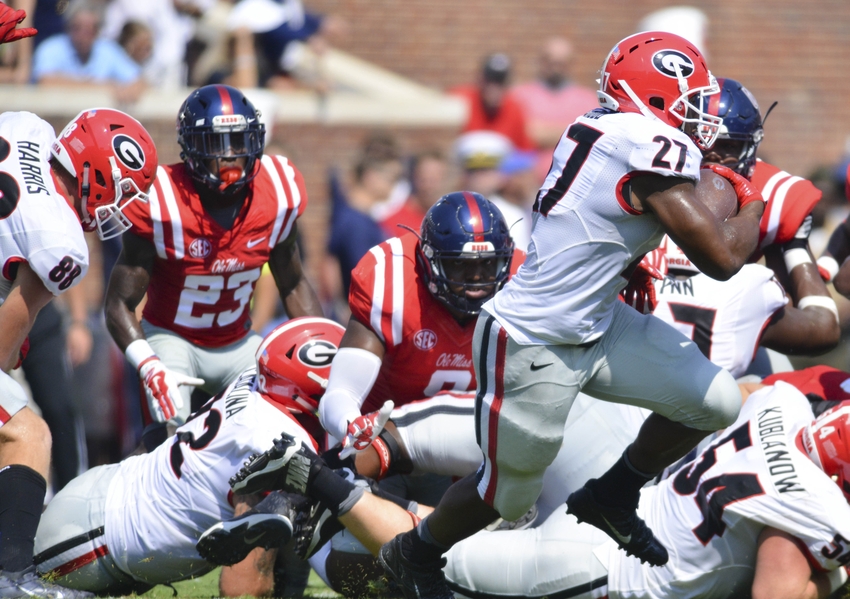 UGA star running back Nick Chubb's health status is still an unknown.
Chubb is a key part of this Georgia team, as the run game is the basis of the Georgia offense and is dynamic, particularly when the Georgia offensive line does not completely suck.
The O-line has been awful over the first four weeks of the season (besides the UNC game). However, if they can get things together, the running game will be in a position to flourish.
Georgia will be playing one of their toughest games of the season this Saturday when they host No. 11 Tennessee, who appears to be the team to beat in the division after their second-half domination in a 38-28 win over Florida. The Bulldogs come into this game after having their tails whipped by Ole Miss this past Saturday.
No In-Editor Preview for 120 Sports Videos
Video Details
ID: 203631592
Source: 120 Sports
UGA needs to have Chubb (injured ankle in second quarter of Ole Miss game and did not return) back for this huge game, in which the Volunteers are obviously favored. However, UGA head coach Kirby Smart and Co. do not know if he will be available for this game yet although they are hopeful.
"He's gonna continue to rehab really hard. We're obviously hopeful he'll be able to do something. But we won't know more until later in the week," said Smart according to Dawg Nation.
More from Dawn of the Dawg
If there is any way Chubb can get on the field, there should be no doubt he will. After all, he has to have in the back of his mind that it was against Tennessee that he suffered his season-ending knee injury in 2015. That has to be a huge motivator for the star running back.
This article originally appeared on