UGA-OIe Miss: 5 keys to a Georgia victory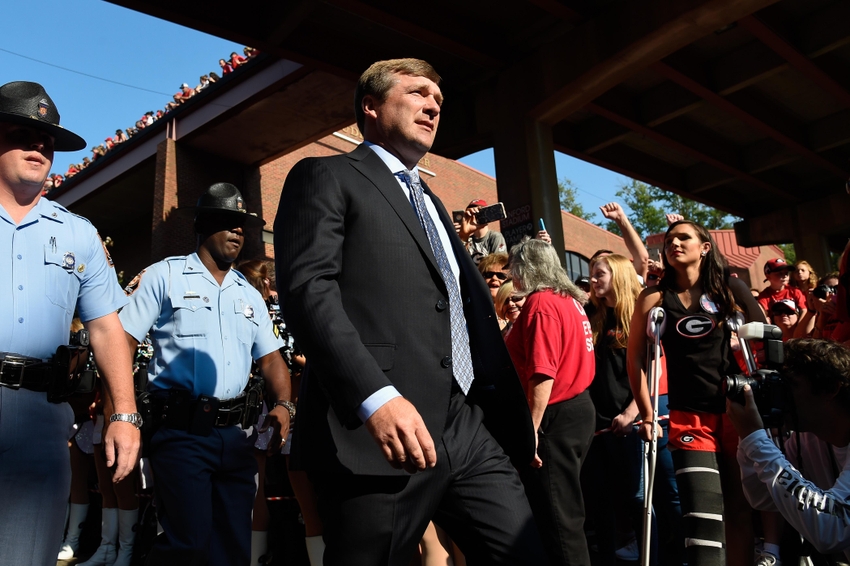 Georgia Football has a tough test this weekend as they travel to Oxford to take on the No. 23 Ole Miss Rebels.
Although Ole Miss is ranked lower than UGA, they are a seven-point favorite over the Dawgs and for good reason. The Rebels have to be the best two-loss team in the country. They have an explosive offense and are better than Georgia at most positions.
Georgia is definitely going to have an uphill battle at high noon eastern in Oxford. Here are the five keys for the Bulldogs to pull off the upset.
5. Jacob Eason
I think Georgia fans, by and large, feel good about the way Eason is playing right now. However, even though he is developing well, he is still young, and we should expect mistakes.
Nevertheless, Eason needs to have the best game of his collegiate career so far, as he will face his stiffest test to date against the "Landshark" defense of Ole Miss. Eason was thrown to the wolves last week against Missouri and carried his team to victory. He will have to put up a similar performance if the Dawgs are to advance to 4-0.
4. The Wide Receiving Corps
Receiver Isaiah McKenzie has been unbelievable so far, and he needs to have another big game, as he is Eason's go-to target. However, McKenzie cannot do it all, and other receivers must step up. There have been multiple drops and receivers, who cannot get separation. That cannot happen in this game.
If the Georgia run game gets stifled like it was last week, the passing game will be all the more important. It is not fair to Eason to not have dependable passing targets. Guys like Terry Godwin (played decently last week), Reggie Davis, Michael Chigbu and Jayson Stanley have to step up in this game, or it could bode for a long afternoon on Saturday.
3. Secondary Play
The Georgia secondary did not play well last week, as Drew Lock and the Missouri Tigers torched them through the air. While the unit did make some critical interceptions and plays particularly in the second half, they have not looked like a strong suit for the Bulldogs so far. It should not be that way. The secondary is one of the most experienced units on the team and returns virtually everyone from 2015's No. 1 passing defense in the nation.
Granted, Georgia has not generated the pass rush it did last year, but the unit still has to step up. Their job is going to be even more difficult as Ole Miss has a deep, strong and physical receiving corps led by Damore'ea Stringfellow, Quincy Adeboyejo, Van Jefferson, A.J. Brown, and the list goes on. Do not forget that the Rebels also have the best tight end in the SEC in athletic speedster Evan Engram and, arguably, the best quarterback in the conference in Chad Kelly throwing guys the rock.
Yeah, the UGA secondary is in for a tough test on Saturday. The play of the defensive backs will be a huge key to the Dawgs' success.
2. Special Teams
The Georgia kicking game is atrocious. There has been an open competition for the place kicking job in practice this week. William Ham missed two easy chip-shot field goals last week, and the Georgia kicking game is not in a good place. Kirby Smart inherited a bad situation at kicker, as it was too late to sign a good kicker in his first recruiting cycle, so Georgia is stuck with what they have.
Georgia will just have to make the best of it for now. Anyway, Rodrigo Blankenship, who handles kickoffs, has to get more distance on his kicks as well. Basically, Georgia needs to improve in all facets on special teams, and it would not hurt to have some big kick returns as well. If the Bulldogs somehow keep this game close, special teams could be the decider. That does not instill a lot of confidence among Dawg fans.
1. Offensive Line 
This is the biggest key of the game. If this unit does not improve, there is no way Georgia will win this game. The line will have to block against one of the best defenses in the conference and a defensive line that is as good if not better than Missouri's line. The Rebels are led up front by pass-rushing specialist Marquis Haynes at defensive end (All-SEC second team selection in 2015), monster tackles Isaac Gross and D.J. Jones, end John Youngblood, etc.
More from Dawn of the Dawg
The Rebels also have a slew of talent throughout the rest of their defense including DeMarquis Gates at inside linebacker, so the Dawgs will have to do a much better job on run blocking to free up Nick Chubb and the rest of UGA's backs to do their thing. Also, protecting Eason will be critical as well.
This article originally appeared on