UGA 2017 position battles: Quarterback
Alistair Penny/FanSided via Dawn of the Dawg

Fansided
With the 2017 recruiting class now in the books, we're going to start looking into how the new signees are going to fit into their position groups. First up, the one everybody focuses on, the quarterback:
Players competing:
If Ramsey doesn't transfer (which is a possibility according to Chip Towers) he will be the likely backup for the year. A former 4-star prospect, Ramsey has never really lived up to the heights expected but he has added the ability to punt to his resume while at UGA. Last year, he featured as the backup punter and the 3rd quarterback. Because he will graduate this summer, he will be eligible to become a graduate transfer and play at another school if he wants to.
While starting 12 games as a true freshman, Eason had an up and down season. The former 5 star prospect was the Gatorade National high school player of the year in 2015 and is built like a future NFL star. Accuracy was an issue in his 1st season, he completed only 55% of his passes but he threw a 2-1 TD to INT ratio, an impressive mark for such a young player.
Fromm comes in as one of the highest graded QBs in the 2017 class. Rivals graded him as a 5 star prospect and he looks set to push Eason throughout his first season. If Eason holds him off and Ramsey stays, he is a likely redshirt candidate, giving him an opportunity to extend his eligibility.
The only none scholarship player on the list, Bennett is a 2 star QB from Pierce County. While he's only 6-0, he might be the most athletic QB of the bunch and he turned down 4 full scholarship offers to attend UGA.
Who will be the starter:
On the outside, it looks like the player who started 12 games last year and will only be a sophomore will have a clear shot at the starting job. Jacob Eason played ok, led some big drives and importantly, avoided bad mistakes for much of the 2016 season. That being said, he often missed wide open wide receivers on several occasions and struggled to throw them open while clearly showing a need to improve his anticipation and accuracy.
More from Dawn of the Dawg
His arm talent is by far the best of the bunch and can make throws few others can, but he clearly has areas that he needs to work on. Enter Fromm, a recruit who does not quite have the prototypical size Eason does but makes up for his with other skills. Accuracy, intangibles and an ability to find his spots are considered to be his strongest qualities and that should help Eason improve.
Despite Fromm's strengths, and his arriving on campus as an early enrollee, the starts job should stay in Eason's hands for at least the 2017 season. His raw talent and time in the system should give him a strong advantage but Fromm is going to push him. Kirby Smart has talked about having competition in everything and this is another example. Even in the SEC, there are probably 10 schools where Jacob Eason would be a clear cut starter, with nobody to challenge him. At UGA, he's going to have to grind it out to win that spot, just like everybody else.
Who is going to win the backup spot:
If Ramsey stays, it should be a fascinating battle between him and Fromm this spring. Although never achieving on his potential, Ramsey has been a good solider to the UGA program and he won't surrender a spot easily. Fromm certainly has the hype and talent to blow past him this season but if Eason takes a step forward, he is unlikely to see the field.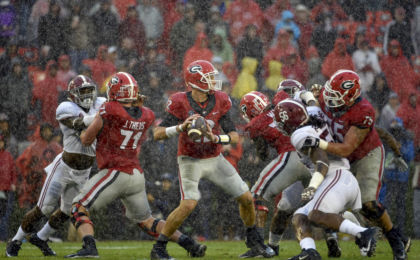 Bennett is very much the underdog of the group and is unlikely to jump over any of the other 3 prospects. That being said, the fact that he would rather work with the UGA scout team and give it a shot, rather than go to a smaller program shows how competitive he is. His ability to run should also not be underestimated and he will likely be a big asset to the team whenever they prepare for a dual threat QB.
An ideal scenario for the coaching staff would likely be that Ramsey hangs around and this gives them the chance to redshirt Fromm. So long as Eason stays healthy and shows clear improvement, there will be no need to play either freshmen this season. Few in the program would deny Ramsey the opportunity to play sparingly in any mop up action and young QB's often benefit from a year on the sidelines.
2017 Projected Depth Chart:
3: Jake Fromm, Fr (Redshirted)
4: Stetson Bennett IV, Fr (Scout team)
One of the most exciting things about the team that Kirby is trying to build at UGA is the way he pushes for competition. Even with an exciting player like Jacob Eason, he has gone out there and brought in genuine competition in the form of Jake Fromm. He's also found a creative way to have depth at the position and that's going to be a theme as we go on. The addition of Bennett was an under the radar move that generated little buzz but is worth noticing. Finding creative ways to have a talent full roster is how Saban and Meyer built their dynasties, it's great to see Smart doing the same at UGA.
This article originally appeared on