CFB AM: UConn's Husky issued charity challenge to UGA's Bulldog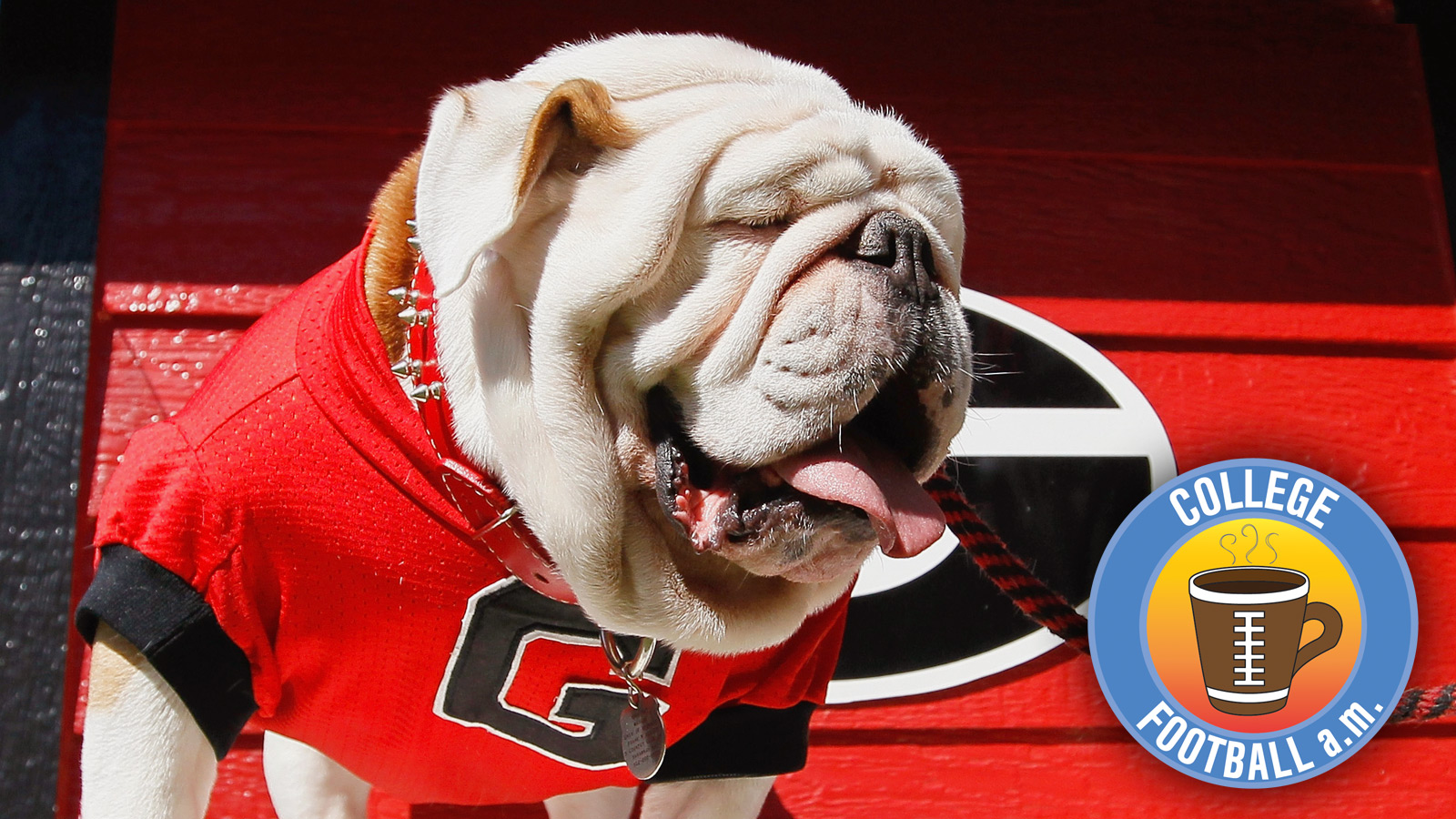 Question: How do you know when the Ice Bucket Challenge has officially jumped the shark?
When Texas A&M's boss Kevin Sumlin calls out rapper Rick Ross?
Nah, not quite.
How about when official team mascot dogs start issuing the challenge to each other?
Yep – I think we're there.
Recently, Northern Illinois' Mission issued the charity challenge to two other Husky mascots – Washington's Dubs and UConn's Jonathan XIV – with this:
Jonathan XIV quickly responded to the challenge and called out Georgia's Uga IX:
What shouldn't be lost in all the fun of dumping ice water over our heads is the whole point of this challenge is to donate to ALS, which you can do here.
(h/t Dr. Saturday)
THREE THINGS YOU NEED TO KNOW
1. If you read nothing else in today's post, please read this item:
Air Force running back Devin Rushing suffered a Grade 2 ankle sprain in the Oklahoma drill – made popular by the act of players lining up and knocking the hell out of each other – and missed 10 days of practice. When he returned, he had temporarily lost his starting spot and his No. 31 jersey. "They took my jersey," Rushing told the Gazette. "I talked to the equipment manager and he said my jersey is still in there with Rushing written on the back, but I've got to earn it back."
Said coach Troy Calhoun on the subject of players inevitably getting injured in a violent sport: "I think at every position we're going to have tough, durable guys. If you aren't, you're going to get us beat. I think the other thing is you have a built-in alibi if you're a guy who gets hurt easily. If you're a guy who gets hurt easily, you need to find another activity where there's not contact involved."
From the story:
When a player under Calhoun is injured he wears a red jersey and does not participate in practice. In fact, he's not generally in the same vicinity as the team practices as injured players often rehab in separate facilities. During a scrimmage at Falcon Stadium on Friday, those in red sat in the stands instead of standing close enough to hear instructions from coaches.
Any coach would want to weed out guys who search for aches to prevent them from working with the team, but there might be value in allowing a key player who suffers a legitimate injury to continue to learn from watching teammates up close and gaining instruction. But that's not how it's done at the academy.
"They go to meetings," Calhoun said. "I just think you either add to the chemistry or take from the chemistry. There's no in between. If you're a red jersey, I just don't want anybody sucking the life out of everybody else who is working. Who is able to go out there even if they have an itch somewhere?"
One more Calhoun quote when he was asked if there's something wrong with his practice of excluding injured players from the team: "I think a warrior wants to be in battle, and we want warriors."
OK. If you don't mind, a few thoughts:
In college, I had a couple baseball coaches reference false hustle. Diving for balls you have zero chance of getting to, sliding into bases when there's no chance of a play — you know, doing anything unnecessary to make it look like you're playing hard. Calhoun's comments above are the coaching equivalent of false hustle – or false toughness, in this case.
Jay Bilas, former Duke hoops player and current broadcaster, wrote a book on the subject of toughness and writes:
Early in my college career, I thought toughness was about being physical, and based upon how much physical punishment I could dish out, and how much physical punishment I could take. Up to that point, I thought I was pretty tough. I quickly found out that I wasn't as tough as I thought I was. And I wasn't nearly as tough as I needed to be.
Toughness isn't physical. It has nothing to do with size, physical strength or athleticism. It's an intangible, an attitude, a philosophy. Some people may be born with the aptitude to be tougher than others, but I believe that true toughness is a skill that can be developed and improved in everyone.
Calhoun, I believe, has good intentions. Like every coach, he wants to develop "tough" players who push through challenges. What's baffling is his belief that embarrassing a player by taking away his jersey number for missing practice time, belittling the injured by banishing them to the stands and communicating a message that getting genuinely hurt in a severely violent game is something with which you should carry guilt is the proper way to build toughness. It's even more shocking this is what would be taught at a military academy – a place that develops literally some of the toughest men and women in the world – where there are probably 100 leaders on campus who laugh at some of the surface-level definitions of "toughness" and "resilience" and "character" we often offer in sports, because they understand all of those things come paired with intelligence and humility, not brashness and a bravado-driven lack of perspective.
What bothered me so much about this story is that it's not a Calhoun or Air Force thing – we see examples of unintelligent false toughness all the time in sports – but it's so egregious that it must be called out. We wonder why football's concussion and CTE problem traveled so far down the road before being seriously accounted for; it's because messages (you've failed if you miss practice for any reason) and consequences (loss of playing time) like Calhoun's are continually drilled into players brainwashed to be good soldiers.
"[RB Jacobi Owens] is running with the 1s, I'm with the 2s," Rushing told the Gazette. "I can't hate the coaches for it. I've been gone; he's been scrimmaging. Props to him. That's what they do. I feel like it's all a process to make you want to get back faster and get back on the field and get back everything I had. I want it all back. That's just how it is."
Rushing, and most all players, will never say anything different. They want to be good teammates and not go against the locker room, and clearly there's a real threat of losing playing time – the only thing that really resonates with athletes – if the player challenges the coach. But everyone else who loves sports and respects hard competition – coaches, administrators, parents, fans, media and everyone else – doesn't have the same excuse.
At Ohio State, Urban Meyer is taking an idea from Chip Kelly and constantly testing the hydration levels of players so he knows when one needs to be put aside and given fluids before he suffers an injury. At Tennessee, Butch Jones has players wearing tracking devices that monitor their levels of exertion so the Vols strength and conditioning staff understands who is at risk. At Miami, practice on Thursday was cut short due to extreme humidity. All of these are examples of programs using intelligence and common sense in regards to the well-being of their players. None of them, surely, are sacrificing toughness.
As Bilas writes, toughness is an attitude, one sharpened and refined through a constant pursuit of mental discipline. After Tweeting out this Air Force story on Thursday, responses calling Calhoun "atrocious" and "dangerous" came rolling in. While negligence is surely dangerous, I don't want to go that far and make this one incident a judgment of Calhoun. I don't know him personally and have never heard bad things about him; he could be a good man. Trashing his character here without fully understanding him is as pointless as his stripping of Rushing's jersey number and belittling the player for missing time due to a severe ankle sprain, as none of it accomplishes anything.
Instead, consider this exactly what it is: a public and vehement disagreement to the tired, misguided tactics sports uses to "develop men." From the coaches and figures who initiate these messages to those who glorify and disseminate them, we need to be better than this.
Now, for the rest of today's post …
2. Texas Tech finally relented and gave Oklahoma permission to put transfer QB Baker Mayfield on scholarship, although TTU still supports the transfer rule of having to sit out one season. The only issue? The Red Raiders waited too long to "approve" of Mayfield getting a scholarship, so the Sooners don't have one available for him and Mayfield still can't play this fall. While we're in the era of improving player benefits, isn't it time the NCAA just allows them to transfer freely and participate immediately like coaches do each offseason?
3. We released our 2014 preseason All-America Team on Thursday – check it out if you get a chance. Florida State and Oregon are among the most well-represented teams.
THREE THINGS YOU SHOULD KNOW
1. Steve Spurrier will be immortalized with a massive photo outside of South Carolina's stadium. What a portrait:
2. A five-star recruit has locked in official visits with Notre Dame, Florida State, LSU and Michigan. He just can't decide on his fifth and final one between Texas and Oklahoma. So what did he do? He opened the floor to let Longhorns and Sooners fans to decide for him.
3. On Thursday, we began a new daily idea we're trying out called "On Campus" — a concept that gathers the vast majority of content our regional sites produce each day and is designed to give you a feel of dropping in around the country. It'll be updated multiple times per day with current news, practice notes, analysis and features. Hopefully, it makes catching up on a bunch of teams more convenient for you. Let us know if you like it, hate it, want to see something else, whatever. My Twitter and email info are at the bottom of this post.
THREE THINGS YOU MAY WANT TO KNOW
1. Kent State players will wear No. 54 on their helmets this season in honor of Jason Bitsko, the team's starting center who was found dead Wednesday morning in his apartment. Continued thoughts with his family and the Kent State program.
2. Bruce Feldman and Stewart Mandel preview the Big Ten, where the league has become more interesting in the wake of the Braxton Miller news. Meanwhile, Pete Thamel wonders if Ohio State's tempo system can mitigate some of the negative impact of Miller's injury.
3. Daniel Uthman has a good story on the habits of Oregon's star QB, Marcus Mariota.
LASTLY
* Paul Finebaum dropped by Outkick the Podcast to talk SEC football and his career.
* Here's Mark Schlabach on the guys behind the numbers the CFB Playoff committee will use.
* Why Arizona State coach Todd Graham makes his players keep pictures of loved ones in their lockers.
Have a great weekend, all.
Teddy Mitrosilis is an editor and writer for FOXSports.com. Follow him on Twitter @TMitrosilis and email him at tmitrosilis@gmail.com.
Finished version of the banner going up on Williams-Brice today! #Gamecocks #HBC #HereSC pic.twitter.com/4lQcDFrUPZ

— Gamecock Athletics (@GamecocksOnline) August 21, 2014