UCLA vs BYU preview, predictions, live stream info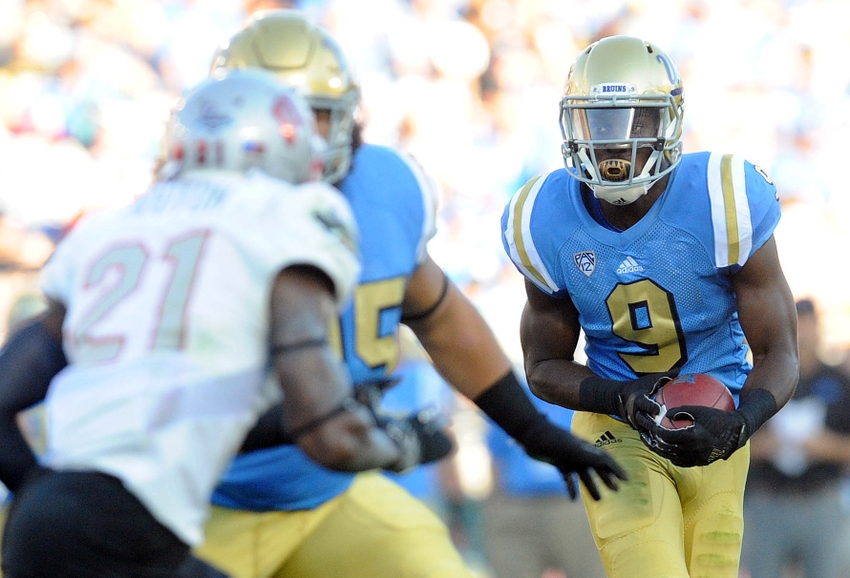 Previewing the game between the UCLA Bruins and the BYU Cougars at LaVell Edwards Stadium in Provo on September 17.
Before the season began, some Pac-12 aficionados referred to UCLA's Week 3 matchup against BYU as a "trap game." Then, the season began. In Week 1, BYU beat Rich Rodriguez's Arizona Wildcats. And last week, the Cougars took on new head coach Kilani Sitake's former coaching mentor Kyle Whittingham in the Holy War against the Utah Utes. BYU's defense took the ball away from Utah six times and came within a two-point conversion of victory. In other words, the term "trap game," which seemed apt two week ago, now no longer applies. This will be BYU's third straight game against the Pac-12 conference in 2016, and the Cougars (1-1) have proven that they can play with anyone.
Last weekend, the UCLA Bruins found the bulk of their success in the 2nd and 4th quarters to win 42-21 over UNLV. After dropping the season opener in overtime to Texas A&M, the Bruins were thrilled to rebound at the Rose Bowl. Running back Soso Jamabo gashed the Rebels for three rushing touchdowns. Quarterback Josh Rosen returned to form, throwing for one touchdown and also running for one. This Saturday, Jim Mora's Bruins (1-1) look to take their first-win momentum to Provo, avoiding the open and all-too-visible trap in LaVell Edwards Stadium.
Details for Saturday's game are below:
Date: Saturday, September 17
Start Time: 10:15 PM ET
Location: Provo, UT
Stadium: LaVell Edwards Stadium
TV Info: ESPN2
Live Stream: Watch ESPN
Keys to Victory
On offense, the Bruins must continue to see a rise in third down conversions. Crucial to these conversions will be Jamabo, whose increasing influence (averaging 5.3 yards per carry) expands the playbook on later downs for Rosen and offensive coordinator Kennedy Polamalu. Defensively, UCLA must stop BYU's dual rushing attack of running back Jamaal Williams and quarterback Taysom Hill, both of whom are averaging over five yards per carry. The Bruins need to make Hill throw the football, especially since the Cougar quarterback has only one touchdown pass against three interceptions this season.
First-year offensive coordinator Ty Detmer knows that BYU's offensive line must play better than they did against Utah, particularly against the pass rush. The Cougars also need to get Williams involved early and often, and all of Provo hopes he'll be healthy enough to run after suffering a leg injury last Saturday. On defense, safety Kai Nacua has to do what he does, which is to be, miraculously, everywhere at once. The senior already has three interceptions in 2016, snatching two of them from the Utes this past weekend. Sophomore linebacker Butch Pau'u looks strong, and he will have to be to square off against Jamabo at the point of attack.
Turnovers: the bane of offenses, the boon of defenses. The BYU defense intercepted Arizona twice, and then followed that up with three interceptions and three fumble recoveries against Utah. Offensively, Hill, however, threw three interceptions of his own last Saturday. To win, BYU's defense must continue its trend of forcing turnovers while Hill and the Cougar offense refuse to let the Bruins anywhere near the football when its in their possession.
Prediction
When the two teams met last season, UCLA squeaked past BYU by 1 point (24-23), and it was the rushing attack that won the game. In that game, Rosen threw three interceptions, one of them to Nacua in the end zone. This time I think UCLA will try to play keep-away from Nacua in the passing game. Look for wide receiver Eldridge Massington to emerge as one of Rosen's favorite targets in pressure situations while fellow receivers Ishmael Adams and Kenneth Walker III threaten the Cougars short and long.
There's no question that BYU's Hill can run with the football, but he struggles at times with throwing accuracy. Hill will keep at least one eye out for UCLA's Randall Goforth, who had two interceptions last week against UNLV. Hill cannot rely on his legs to win this contest. If his accuracy doesn't improve, Hill and BYU will struggle to keep up with UCLA.
BYU's defense has been its strength, and it will be again this Saturday night. Even so, I think UCLA's offensive will move the ball more consistently than BYU's in this game. By the final whistle, I predict the Bruin offense will deliver a fourth quarter touchdown that bests the Cougars.
Final Score: UCLA Bruins: 27, BYU Cougars: 20
This article originally appeared on