UCLA Football: What This Latest USC Loss Means to the Bruins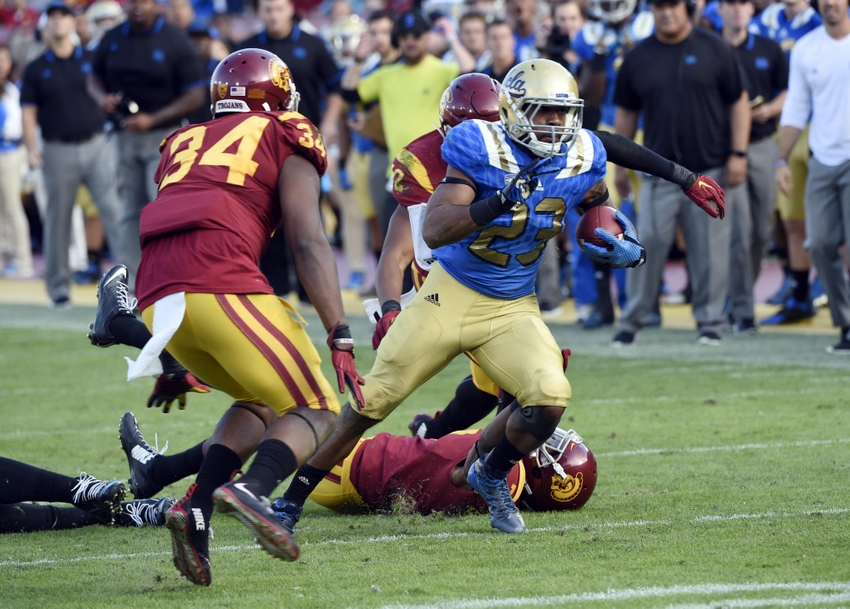 With the USC Football program having a few issues, the UCLA Football team can capitalize on their misfortunes… as long as they do not screw up themselves.
USC lost to Utah last night, 31-27. That is a good thing for the UCLA Football team.
It is not just the fact that the Bruin's crosstown rivals are wallowing in misery right now after their third loss of the season. It helps, but there is more to it. Long term.
The overall drama that is occurring at USC it's going to affect the Trojans in several different ways for several seasons. But the immediate impact of USC losing to Utah is advantageous for UCLA.
USC is 1-3 overall this season and 0–2 in Pac-12 play. Already the Trojans have put themselves in a hole in the division.
Although a Utah loss would have helped UCLA as well — making it harder for the Utes to get out of an early conference stumble — USC flailing early will help the Bruins on their march to winning the South Division.
Even if UCLA loses to Stanford, the Bruins are only one game down with eight more to go in conference. That is enough time for UCLA to turn things around.
At the same time, USC can turn things around, but looking at their trajectory, it does not look good.  Although the Trojan's schedule eases up a bit with games against ASU, Colorado, Arizona and Cal, there are other problems, and that will last well beyond the limits of this season.
There are talks of mass transfers, the fans want Head Coach Clay Helton fired, there are horrible decisions being made with the starting quarterback and USC only has one win out of six in the Helton era. Needless to say, USC will not return to national prominence for a long time.
This is a sinking ship and everyone across the nation can see that. If UCLA does not screw things up in their own way, the Bruins can capitalize on the downtrodden Trojans.
In addition to taking advantage on the football field (which we hope happens later in the season), UCLA will also be able to take advantage in recruiting.
Despite the Trojans being able to get almost any recruit just by flashing the three letters "U-S-C", the program is starting to look less and less attractive. UCLA and USC will always be in a tight battle for several recruits every year, but as we saw last season with the firing of Steve Sarkisian, the Bruins were able to lure away 5-star LB Mique Juarez.
But enough about USC, they are leading themselves over a cliff. The Bruins need to take care of their own business.
UCLA made coaching and schematic adjustments in the off-season to improve off of last year. They have come out of the non-conference season with a 2-1 record and had their share of ups and downs, but now it is time to take control.
If UCLA can beat Stanford today and handle what needs to be done the rest of the season, they will improve their standing on a national level. USC would just be helping them out. Go Bruins!
This article originally appeared on