UCLA Football vs. USC: Three Keys to Victory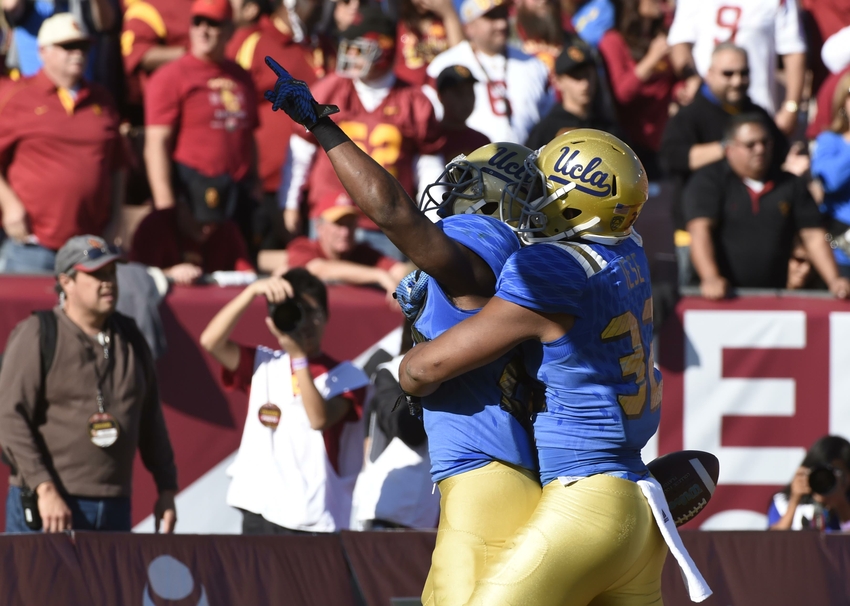 UCLA Football hosts #13 USC on Saturday night, and the Bruins are going to need a lot of breaks and their best performance to compete.
UCLA Football hasn't had the kind of season we all hoped for. Preseason hype had the Bruins and the Trojans entering this weekend's rivalry tilt with the Pac-12 South on the line. Four weeks into the season, with USC looking locked into a death spiral, Bruins fans were licking their chops looking ahead to this game.
Yeah, about that…
The Trojans' schedule eased up, they made a change at quarterback, and they built confidence and momentum, culminating in a road upset of #4 Washington last week. Meanwhile the Bruins' inability to either run or catch the ball became undeniable as UCLA went on a month-long losing streak, limping into the rivalry game with their only conference wins over 2-8 Arizona and 2-8 Oregon State.
Now, we go into this game with the team we have, so it won't do any good to list 'be a better football team' as a key to the game. More specifically, I'm not going to be including keys like 'establish the run,' 'protect the quarterback,' or 'eliminate dropped passes.' Those would all be incredibly helpful, but this team has given no indication that they're capable of doing any of them.
Instead, here are the three things that the Bruins already do that they need to double-down on and prioritize if they want to shape Saturday's game so as to give them a decent shot at pulling off the upset.
Eliminate Interceptions
Mike Fafaul is currently averaging an interception roughly every 20 pass attempts, which averages out to about two per start. Two interceptions would kill UCLA's chances on Saturday, plain and simple.
Two factors make this a more difficult task than it otherwise could be.
First, the Bruins will mount no running game to speak of to keep the defense honest. Do not let 163 yards rushing on 29 attempts last week against Oregon State tempt you into thinking that the running game is back. Yes, 163 yards is more than the Bruins got on the ground in the previous four games, but keep in mind that this is Oregon State, the nation's 122nd ranked rush defense, and 163 yards is nonetheless a very underwhelming team rushing total. Do not expect even this level of mediocrity against USC's 7th ranked rush defense. This means that Fafaul will be throwing the ball into 6-, 7-, 8-man coverage schemes. Open receivers will be hard to come by.
Second, USC has the nation's 9th ranked pass defense, headlined by all-world athlete Adoree Jackson and the incredibly talented Iman Marshall. These are guys that know how to capitalize on an overwhelmed quarterback's mistakes and make it hurt. Kenny Walker III, Darren Andrews, Jordan Lasley – these guys, even if they could catch balls thrown their way, will wear the Trojan secondary like a blanket.
So the key will be to rely heavily on screens, both out in the flats and across the middle beneath the linebacker coverage, and to create favorable matchups in space between UCLA playmakers with the ball in their hands and USC's linebackers and nickelbacks. In other words, this is a key opportunity for Soso Jamabo to have the kind of game he's built for.
Pressure Darnold
Takkarist McKinley is having one of the best individual defensive seasons I can remember from any UCLA player. He's got 10 sacks, 46 tackles, 18 tackles for loss, three forced fumbles, and a fumble recovery – but these don't measure the way his presence impacts the offense's scheme and mobility behind the line. He gets in the head of opposing quarterbacks and runningbacks and makes them miserable for three hours, even when he doesn't touch the ball-carrier.
Linebackers Jayon Brown and Kenny Young and defensive lineman Eddie Vanderdoes have largely handled the run defense this year. They'll have a tall task reining in Ronald Jones and Justin Davis, but their job will be made easier with Takk in the backfield, crashing the mesh-point between Trojan quarterback Sam Darnold and his runningbacks, closing off the outside running lane, and funneling the play back up the middle.
Takk will be helped by the excellent play of UCLA's secondary with ball hawk Adarius Pickett, hard hitters Tahaan Goodman and Jaleel Wadood, and shut-down corner Fabian Moreau. Moreau, in particular, has the mix of athleticism, technique, and smarts to shut down Juju Smith-Schuster and quietly eliminate him from the Trojans' gameplan. These guys will be aided by Takk and the D-line getting pressure on Darnold and will help generate that pressure by not letting USC's receivers get open and making Darnold hold onto the ball.
In short, the entire defense has the personnel and ability to allow for Takk to have a huge game, pressuring Darnold, rattling the redshirt freshman, and taking the Trojan offense out of rhythm.
Tackle Punt/Kick Returners
All three of these keys are working to the same end. When you're a team with an excellent defense and a barely-functioning offense, your key to success is to slow every game down into a physical field-position contest. It's essentially the blueprint to the 2006 13-9 upset that we all remember so fondly.
A key part of that, though, is special teams, particularly preventing long returns. Head coach Jim Mora has to pick one punter and stick with him and emphasize high kicks with long hang-time to create fair catches or quick tackles of the returner. The defining play of last year's loss to USC was the line-drive punt by Matt Mengel straight to Adoree Jackson, who ran it back almost untouched for a back-breaking touchdown.
Similarly, the game against Colorado was essentially lost on an Isaiah Oliver punt return touchdown that put the game out of reach. That game essentially looks a lot like what the Bruins are going to want to do to USC: make it slow, ugly, physical, low-scoring, and close. And in this type of game, preventing big special teams plays is critical.
UCLA Football is much more talented in 2016 than they were in 2006, but because of some questionable coaching decisions on offense, they've had a nightmare of a season and face a similar task against USC to what that 2006 team faced: drag the Trojans down into the mud and beat them with rocks – metaphorically speaking, of course.
It's not often that a team essentially running a neutered air raid offense tries to slow a game down and win on defense and field position, but that's the Bruins' best path to success. Eliminate turnovers in the passing game, get pressure on USC's young signal-caller, and prevent big special teams mistakes – do all this, and UCLA has a chance to pull off an upset reminiscent of the heroic 13-9 effort in 2006.
This article originally appeared on