UCLA Football vs. USC Halftime Report: Bruins Starts Strong, Trojans Take Over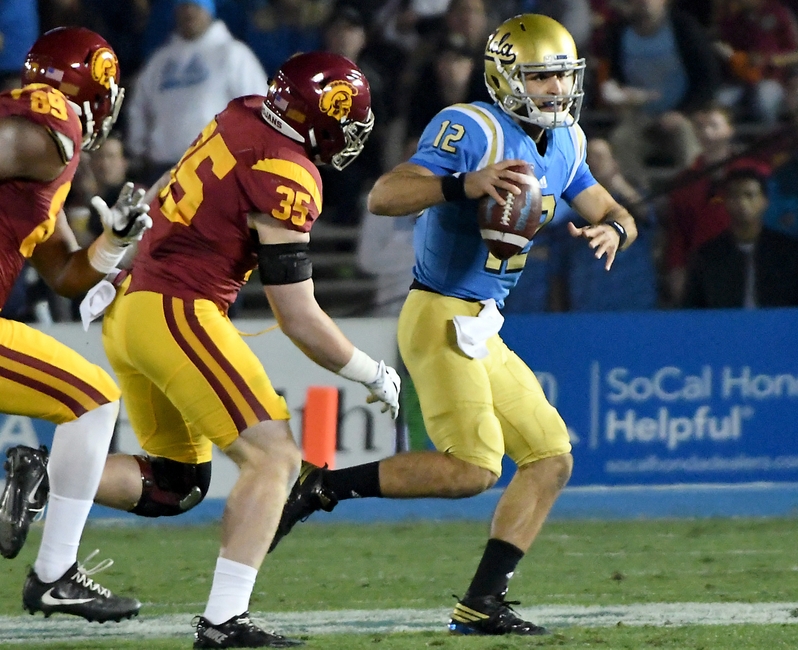 The UCLA Football team had a strong start, but were taken over by USC to end the first half of the Crosstown Showdown, 23-14.
UCLA scored on their opening driving killing a minute and half. It was full of efficient runs and was topped off with a Jordan Lasley touchdown. He had a huge half as he scored both of the Bruins first half touchdowns. We will get to the second in a moment.
The Bruins defense was doing everything they could to pressure USC QB Sam Darnold and the offense, but the Trojans were successful with their weapons.
Ronald Jones punched in a short untouched run as he put the cherry on top of a methodical 9-play drive by USC.
Now getting back to Lasley, he pulled in a beautiful fingertip grab that was tightly defended. It was beautiful. Unfortunately, those were the only two receptions he had in the half and the only UCLA scores.
USC then took over behind a mobile Darnold. He had 163 yards passing and 24 yards running. But it was another runner that gave UCLA fits in the first. Jones got his second touchdown of the game on a 60-yard run. He ended the half with 95 yards.
They added a touchdown from Matt Boermeester who caught the rock in between two Bruins in the end zone. A field goal to end the half capped the scoring as USC leads 23-14 at halftime.
After Lasley's second touchdown, UCLA had three straight punts. The Bruins slowed significantly in the second quarter. They only had 19 total yards.
Let us hope adjustments have been made.
This article originally appeared on