UCLA Football vs. USC: Game Day Info – TV, Radio, Live Stream, Odds and More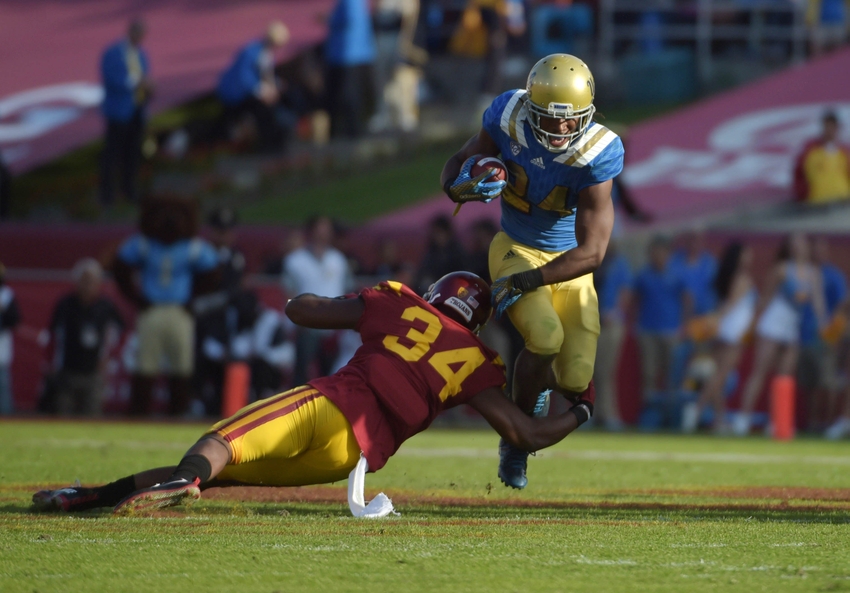 Here is all of your game day information for everything regarding the UCLA Football in the Crosstown Showdown against the USC Trojans, including TV, radio, odds, history and more.
The UCLA Football team has not had the greatest season, but all of that is out the window. Why is that? Because today is a rivalry game.
UCLA and USC once again meet in their annual slugfest which has post-season implications for both. A win and UCLA is still in the hunt for bowl eligibility. For USC, the possibility of winning the South Division.
Here is all you need to know about UCLA vs. USC:
Location: Rose Bowl, Pasadena, CA (Cap.: 92,542)
Kickoff: 7:30 p.m. PT
Ticket Information: UCLABruins.com
TV: ESPN
Live Stream: WatchESPN
Radio: AM 1150 (Los Angeles)
Internet Radio: Tune-In/IMG Network
Satellite Radio: Sirius 81, XM 81
Betting Line: UCLA -13.5, O/U: 52.5
Weather:

Go Joe Bruin Headlines:
Records: UCLA 4-6, 2-5 (5th South Div.), #13 USC 7-3, 6-2 (2nd South Div.)
Last Game: UCLA d. Oregon State, 38-24 | #20 USC d. #4 Washington, 26-13
Head Coaches: UCLA – Jim Mora, USC – Clay Helton
History:
It is USC. Bruin fans everywhere want UCLA to smash them. LAst season, USC ran over UCLA. Thought he Bruins are down, they are not out and will fight, fight, fight to the end. Go Bruins!
Stats provided by Winsipedia
USC leads the series 45-31-7
USC holds the current win streak at 1 game (2015)
UCLA's largest margin of victory: 59 points, 59-0 in 1950
USC's largest margin of victory: 76 points, 76-0 in 1929
UCLA's longest win streak: 8 games from 1991-98
USC's longest win streak: 5 games from 1999-2003
In the last meeting, USC defeated UCLA, 40-21 (2015)
Previews and Predictions:
Go Joe Bruin Predicts the Game
Go Bruins!
This article originally appeared on