UCLA Football vs. Stanford: Statistically Similar, Realistically Not (Or Are They?)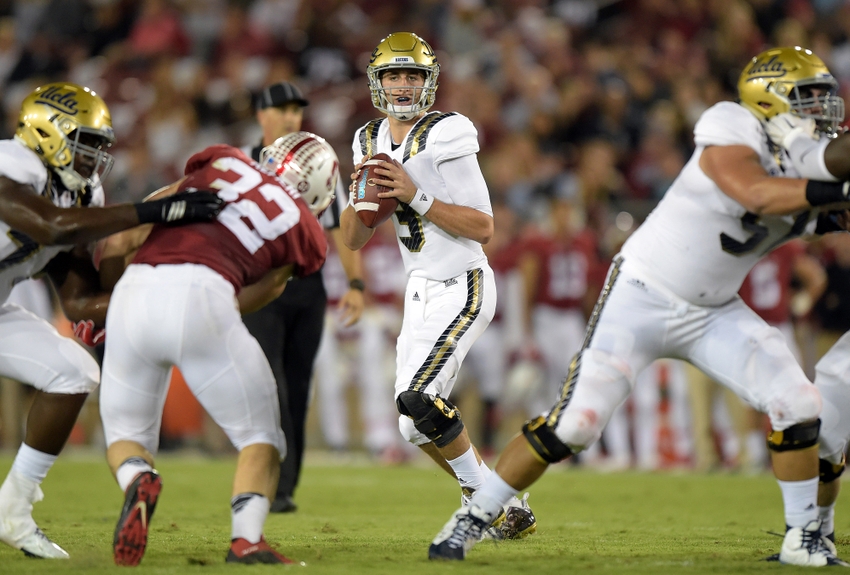 The UCLA Football team is statistically similar to Stanford in several categories, but on the field it is a different story.
I don't want to remind you of the streak, because that is the past. Like the UCLA Football team, we need to look toward the future.
By the way, that future is now if you didn't need notice.
We are already 1/4 of the way through the regular season. Pac-12 play begins for the UCLA Football team and the race for the conference title begins now. The Bruins start Pac-12 play with Stanford and Head Coach Jim Mora has to find a way to get the "W" against an unbeatable foe.
In the first three weekends we have already seen a lot from both teams. UCLA has played three games (Texas A&M, UNLV and BYU) and Stanford has played two (Kansas State and USC), and there is plenty to take away from these Pac-12 powerhouses.
Here at Go Joe Bruin, we have been analyzing UCLA and Stanford all week. But for this specific article, I look at the team statistics between the two and found that there are a lot of similarities.
UCLA-Stanford Team Stats Comparison
| Team Stat | STANFORD | Advantage | UCLA |
| --- | --- | --- | --- |
| Scoring Off | 26.5 (10th in Pac-12) | UCLA | 27.7 (9th in Pac-12) |
| Total Off. | 338.0 (11) | UCLA | 441.3 (7) |
| Rush Off. | 203.5 (4) | Stan | 131.3 (9) |
| Pass Off. | 134.5 (12) | UCLA | 310.0 (3) |
| Scoring Def. | 11.5 (2) | Stan | 22.0 (6) |
| Total Def. | 344.0 (5) | Stan | 347.7 (6) |
| Rush Def. |  104.5 (4) | Stan | 133.7 (7) |
| Pass Def. | 239.5 (9) | UCLA | 214.0 (7) |
These are just numbers but they give some insight into how both teams compare to each other. Aside from the different offensive approaches, scoring and total offense have some similarities. The same can be said about total and passing defense.
From this I take that both teams are methodical offensively and tough defensively, but they are just numbers.
This is good to be aware of but for those that have seen both teams, they know both are still very different squads, despite UCLA's off-season tweaks.
Different or Similar?
As we can tell from stats and "the eye test", Stanford is still Stanford. They have the best running back in the country in Christian McCaffrey, they are disciplined and have a stout defense. The knocks against them is inexperience with their new QB Ryan Burns, a potential McCaffrey injury and giving up a lot of passing yards.
But UCLA has their own issues. With the implementation of more power elements, it has taken the Bruins a while to get into rhythm. The running back rotation is slapdash, there is no go-to receiver and QB Josh Rosen hasn't been consistent.  Not horrible, just not consistent.
On the upside, UCLA does have some stellar running backs, their special-teams are solid and the defense showed a lot of promise last Saturday against BYU. The Bruin run defense only allowed 23 total yards on the ground. We have not seen that type of defensive production in a long time.
Bearing this in mind, this is possibly the first time in a while that UCLA will properly match up with Stanford. Still, there are questions and they will be answered Saturday.
Stanford has an identity and UCLA is still finding theirs. The good thing for UCLA is that they can be unpredictable. Unfortunately, they still need to battle a Stanford team who they will know will be that Stanford team that has beat them in eight straight games. UCLA has altered their style to take on Stanford, but will the Cardinal be ready for it?
I expect UCLA to make the proper adjustments to finally put up a fight against the Cardinal. UCLA's offense can use power and the defense can contain. If they do not, it will be another Stanford blow out.
This article originally appeared on