UCLA Football vs. Colorado Buffaloes: Go Joe Bruin Predicts the Game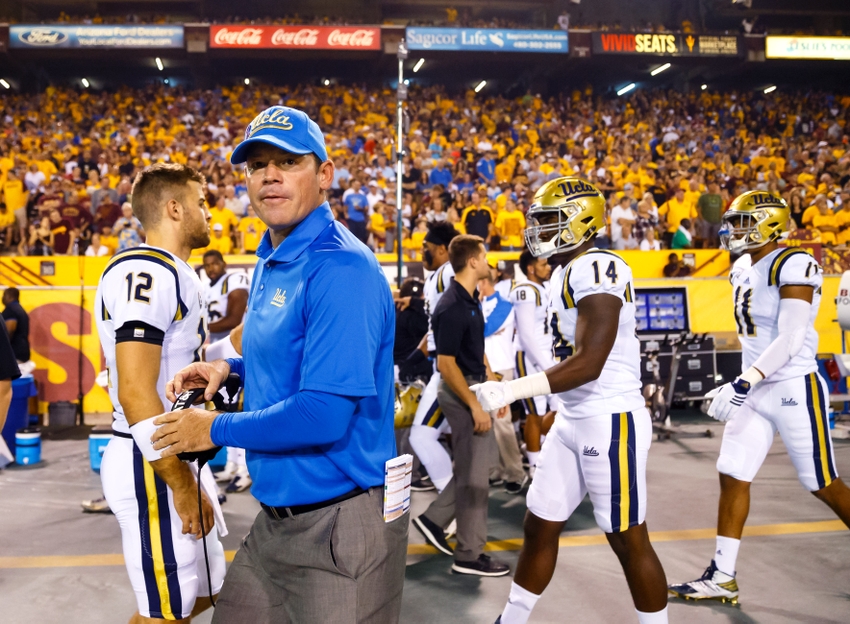 The UCLA Football team limps into Boulder to face the Colorado Buffaloes, a team that is turning a lot of heads this season. Go Joe Bruin tells you what might happen as we predict the game.
There are only four games left for the UCLA Football team and that begins Thursday night against the Colorado Buffaloes.
Now, Colorado is very good this season and UCLA is not very good. The Bruins have been struggling to get their offense in gear while the Buffs have been clicking on all cylinders all season long.
So with that, the writers of Go Joe Bruin give their takes on how this contest will end up.
Michael Chavez
The Bruins come out with some fight but with the combination of a porous O-line, Colorado's secondary which is diggitty dope, no Josh Rosen and no run game, the Bruins are again ineffective on offense until garbage time and drop another one.
Colorado 27 – UCLA 14
Aleks Dostanic
The offense finally comes back down to earth, managing to pull off a couple first downs here or there but ultimately struggling to put points on the board. The defense manages to return to form as well, limiting Colorado for a good portion of the game, before the Bruin offense crumbles once again and leaves the defense stranded. Colorado runs away with it towards the end, but UCLA kept it close for 3 quarters
Colorado 24 – UCLA 10
Nathan Eberhardt
In an aerial battle in Boulder, Mike Fafaul is tested by the resurgent Buffaloes defense. Yet again, he acquits himself well but has several killer turnovers that quash any Bruin hopes for a road upset.
Colorado 31 – UCLA 20
Andrew Goodman
UCLA's defense plays well, but the offense doesn't hold their own weight (again). Bruins need to find a way to keep the defense off the field un this one.
Colorado 28 – UCLA 14
Michael Hanna
The better coached team hungry to show out on its first national stage of the year puts on a show as the Buffs boat race a mentally beaten down Bruin squad.
Colorado 45 – UCLA 24
Ashley Tellier
I have said it before, and I'll say it again: we are witnessing the Year of the Buff. In just a few years since joining the conference, Colorado is finally showing it belongs. UCLA on the other hand is regressing. With news of Josh Rosen being maybe out for the season, backup QB Mike Fafaul will be left again with the overwhelming task to get the win. The Bruin defense will do what they can but spending so much time on the field will ultimately cause them to tire and get overrun again.
Colorado 35 – UCLA 27
Mike Regalado
Even with a back up quarterback, the Bruins are not getting blown out. Hopefully the defensive lapse against Utah was an anomaly and we see a better run D. The offense seems, sans the running game, that they can put up a lot of yards and points. But will they be able to do that again is this very good Colorado Buffaloes team?
I think the Bruins will stay competitive with Colorado and finish in another close game. One that is pulled out in the last minute by UCLA.
UCLA 31 – Colorado 30
This article originally appeared on