UCLA Football vs. Cal: Go Joe Bruin Predicts the Game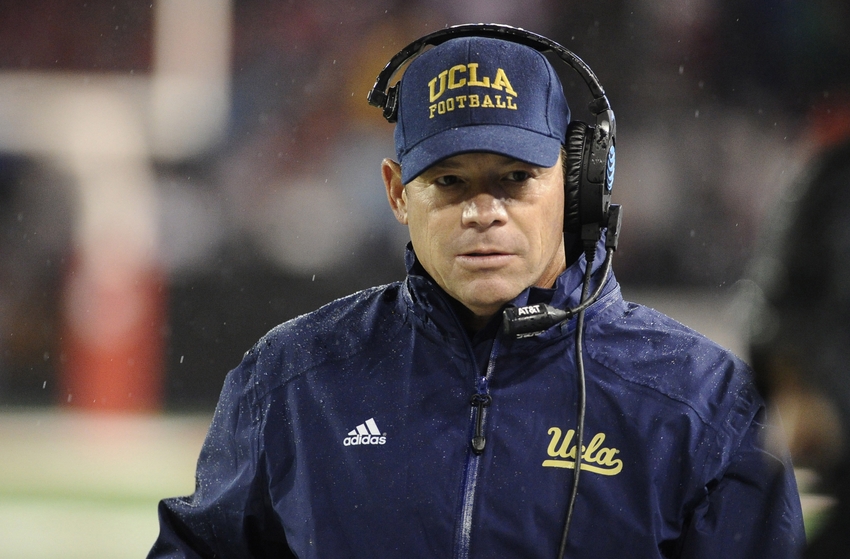 Go Joe Bruin takes on final stab at predicting this week's UCLA Football game as they face the California Golden Bears.
Here it is UCLA Football fans… the last game of the season. For some it is bittersweet, for others, it has not come quick enough.
Both the Bruins and Bears are fighting for UC pride and a possible spot in a bowl (pending enough room and a high APR).
Will this game go UCLA's way or will Big Brother put a merciless end to the Bruin's forgettable season?
Michael Chavez
The Bruins are able to make the case that they deserve the bowl waiver. This offensive line, RBs and QB Mike Fafaul have a very solid showing against a poor defense and turn the game into a score fest. On the other side. This defense takes out some frustrations and is able to make life hell for the Cal offense. Takkarist McKinley gets after it and ends the game with 2 sacks and 3 TFL. Fafaul throws for over 250 and 2 scores and WR Jordan Lasley carries his momentum into this game.
UCLA 35 – Cal 20
Aleks Dostanic
The offense picks it back up against a terrible Cal defense, but the defense isn't able to keep up with QB Davis Webb and the high flying Cal offense. After a couple of UCLA 3 and outs in the 4th quarter, Cal pulls away for the win.
Cal 41 – UCLA 31
Nathan Eberhardt
Like they did against Oregon State, the running game finds some success. The defense bottles up Cal's running game and forces Webb to throw all day, earning a couple of interceptions along the way. Tied late, the Bruins finally get that winning drive that has eluded them all year long as JJ Molson boots in the winner.
UCLA 31 – Cal 28
Andrew Goodman
UCLA scores 2 TD's on the ground, and the defense forces a few turnovers. Cal prevails in the end because they have a QB who isn't named Mike Fafaul.
Cal 28 – UCLA 21
Michael Hanna
The season comes to a merciful end in the only way it can, with the Bruin defense doing its best to hold down a strong opposing offense but being let down in the end by abysmal offensive and special teams play. A huge winter of soul searching begins in earnest Saturday night once the clock hits 0:00 in Strawberry Canyon
Cal 31 – UCLa 20
Ashley Tellier
Cal will keep it close, but QB Mike Fafaul will play the game of his career to show being a backup for so long and not leaving when he should have left was totally worth it.
UCLA 45 – Cal 41
Mike Regalado
The Bruins have one last hurrah in a battle of underachievers. The offense still will still have some inconsistencies, but manage to do a few things against the horrendous Cal defense. The Bears' offense will make some moves, but UCLA's stout D will limit them.
UCLA 30 – Cal 10
This article originally appeared on