UCLA Football: USC Going to the Rose Bowl Should Motivate the Bruins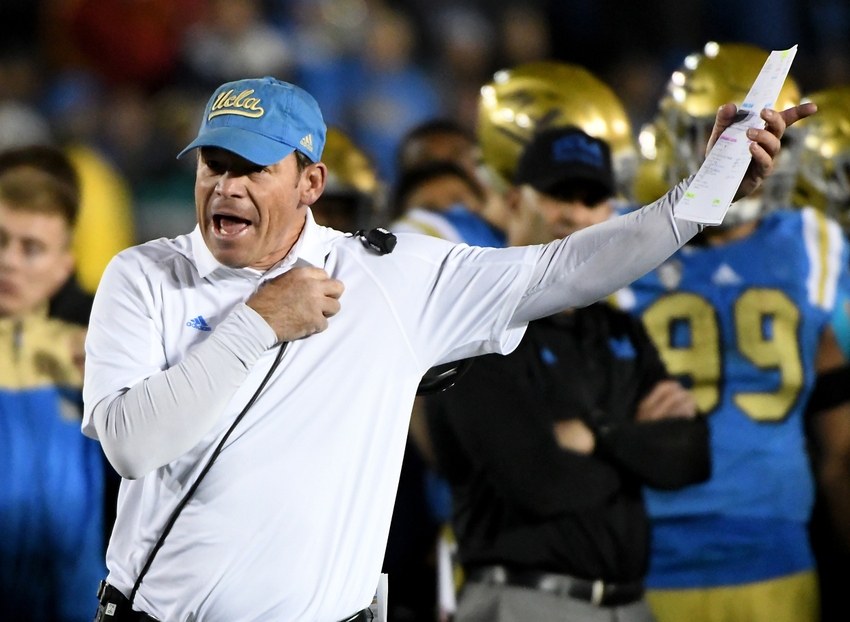 The UCLA Football team is on the outside looking in at bowl season and after USC got a bump to go to the Rose Bowl, this should motivate the Bruins for next year.
There was nothing more infuriating to UCLA Football fans during the Karl Dorrell and Rick Neuheisel years than to see the USC Trojans beat the Bruins, get selected for a really good bowl and win said bowl, insuring another year of heartache for UCLA while they either lose in a crappy bowl or worse… miss out on bowl season all together.
We seem to be back in that scenario as UCLA ended their season a week ago and only have spring practice to look forward to.
All the while, the Prom King USC Trojans get selected over the more deserving Colorado Buffaloes who will miss out on the Rose Bowl (can you feel the USC hate growing after that last sentence?).
Either way, the point is that UCLA did not make any bowl after being expected to win the South Division before the season.
At the start of 2016, UCLA was the hot team while USC was questioning whether Clay Helton was a good choice as Head Coach. It turns out he was as the Trojans had an amazing second-half of the season behind QB Sam Darnold, though USC had an easy schedule of weak teams mid-season which gave the illusion of a top team.
Unfortunately, they backed that up with a win over Washington in Seattle and pounded UCLA at home.
So I guess USC might have a case to be in a New Year's Six Bowl. Either way, I hope they lose big to Penn State, but that is not what the is about.
This is about UCLA dropping the ball once again (get it? Receivers? Never mind), as the Bruins have to watch the Trojans revel in their success while the Bruins lick their wounds from a 4-8 season. It might get worse, too.
There is no guarantee QB Josh Rosen will be back after shoulder surgery, the Bruins currently do not have an offensive coordinator and have no identity.
That needs to change this offseason. The Bruins need to take a long hard look at this situation and get mad. They should be mad that it is not them in the Rose Bowl. They should get mad that USC is the talk of the town. They should be mad that their talent-laden squad could only muster four wins.
They need to get mad and find a way to put themselves in a better position for next year. If not, there cold be wholesale changes to the coaching staff and not just a couple position coaches. Bottom line, UCLA has no one to name but themselves… now they need to use that as motivation for 2017.
This article originally appeared on