UCLA Football: The Top 5 Wins Over USC in the Last 20 Years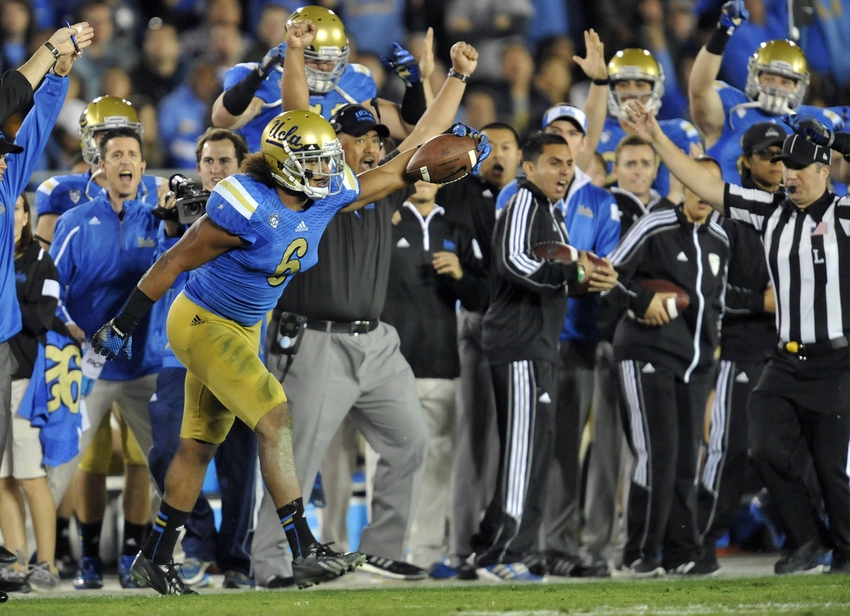 With the spirit of rivalry week in mind, Go Joe Bruin brings you the Top 5 wins the UCLA Football team has over USC in the last 20 years.
What do you think of when you hear USC vs. UCLA Football? Hate? Disgust? The utter destruction of that school across town?
If you answered yes to any of these, then you know what it is like to be a part of the Crosstown Showdown.
Sure, USC leads the all-time series, 45-31-7, but when these two teams get together, all records and stats get thrown out the window.
That is the case with some of these UCLA victories in the last 20 years. Though the Bruins have had some down seasons, especially in the Pete Carroll years, the Bruins have been able to fight, fight, fight.
There have also been some flat out beat downs of the Trojans. That is always good for a laugh. So which ones made our list? FInd out now!
2013: UCLA 35 – USC 14
USC had a chip on their shoulder. They were not going to be subjected to the result of the previous year. A loss that ended with Anthony Barr knocking Matt Barkley out of the game.
USC was going through a transformation. One that injected some life into the season after Lane Kiffin was fired on a tarmac on that early Sunday morning, leading Ed Orgeron to take over.
Orgeron puts some fire into the Trojans leading them to believe they could beat UCLA. He said, "Come Saturday night, we're gonna let those little boys from across town into our stadium and we're gonna lock the gates".
Creepy.
Anyway, that didn't happen. Behind Brett Hundley and Myles Jack, USC were humbled in their own home and lost to UCLA for the second straight year.
That is when UCLA ran LA.
2004: USC 29 – UCLA 24, 2005: USC 66 – UCLA 19, VACATED!!
Ok, granted, these are not wins, but they are not losses either. Not anymore. The Trojans originally got wins in these contests, but the NCAA took them away because the Trojans were caught cheating. Again.
You can thank your boy Reggie Bush for that, USC fans.
The important thing here is that these are no longer wins for the Trojans. Call them what you want, but they are not recognized by the NCAA.
The moral of the story: don't cheat. And don't go to USC. It's just not right.
FYI, this slide was purely troll. Moving on…
2012: UCLA 38 – USC 28
This will go down as one of the more memorable wins in recent history, solely because of one play. The "USC's offensive line makes a huge mistake and allows Anthony Barr to rush Matt Barkley untouched and end his college career" play.
It was a beautiful play. And a beautiful game.
In Hundley and Head Coach Jim Mora's first year, the Bruins had a bit of a revolution which was put into motion.
One season after the infamous 50-0, UCLA fought back to shock Barkley and company and broke a 5-game losing streak. It was a back-and-forth affair that not only showed the Bruins were on the rise, it started the decline of USC Football.
1996: UCLA 48 – USC 42 (2OT)
Freshman year. UCLA. My first football game as a student. It looked like it would be a bad decision as USC was putting a beating on the Bruins. Did I made a mistake?
Nope. I made the right decision.
Down 17 points in the 4th quarter, UCLA rallied to tie the game in regulation. This forced the first ever overtime in the crosstown rivalry.
Exciting did not describe the game. "Freaking amazing" did.
It took two overtimes, but UCLA was able to pull out the win and my UCLA Football fandom was solidified.
2006: UCLA 13 – USC 9
I wrote about this game earlier this week, which you can read about here. But to summarize, here is why this game is the best victory over USC in the last 20 years.
The cocky and robust #2 USC Trojans thought this was going to be easy. They thought it was going to be a win. If they beat UCLA, they would be headed to the BCS National Championship Game.
UCLA won this game with defense. They limited the high-scoring Trojans to just one touchdown.
The offense did enough with a touchdown and two field goals by their own.
The game changer occurred in a late drive by USC. Down 13-9, USC was methodically marching down the field and confident they would score.
LB Eric McNeal had other ideas as he tipped a John David Booty pass up in the air, caught it for the interception and sealed the victory.
Troy fell and were not able to tie UCLA's streak of eight straight wins in the Crosstown Showdown. It was a great day to be a Bruin. It was a great day for America.
This article originally appeared on