UCLA Football: The Bruins Can Beat USC If They Can Catch The Ball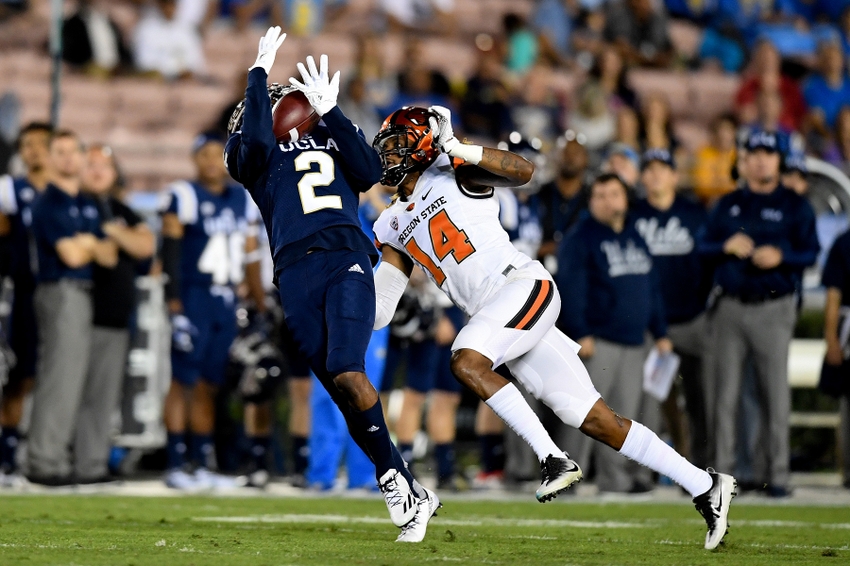 One of the biggest weaknesses of the UCLA Football team is the receiving game as they are plagued by dropped balls. If they can cut down on this problem, they could beat USC.
It says something about the UCLA Football team when dropped passes are more talked about than penalties. Though the Bruins have had their fair share of flags this season, the dropped passes situation has irked UCLA fans just a little bit more.
This cannot exactly be put on backup QB Mike Fafaul. Though he takes a few more risks than the injured Josh Rosen and have had his mistakes, the plague of dropped ball has been with the Bruins all season.
Rosen had to deal with in the first half of the season. Despite the fact that he had receivers that could not hold onto the ball, he still threw for 319.1 yards per game with a 59.3 pass completion percentage with 10 touchdowns and 5 interceptions.
Fafaul has not been that bad either. He is averaging 155.6 yards per game, completing 56.4% of his passes and has 9 touchdowns, though his 10 interceptions do not help. These are not bad numbers for each player, so just think about how much better the perception of UCLA Football would be with the receivers doing their jobs. Imagine how many more wins they could have logged.
Imagine Eldridge Massington actually catching a touchdown when it is in his hands in the end zone. Imagine Austin Roberts catching an undefended pass when cutting across the middle of the field. Imagine Ishmael Adams holding onto the ball that is put right in between the numbers.
My point is, UCLA has set themselves up for success, only to "drop the ball" (literally and metaphorically) in the game. It is the little things such as these that hamstringing UCLA.
UCLA has talent and if the Bruins have a renewed sense of purpose against USC, then they can do some damage against a Trojan squad that is not the best at defending the mid-to-long range passes.
With that in mind, Offensive Coordinator Kennedy Polamalu needs to continue with the plan of attack he instituted against Oregon State: play Theo Howard more, get his tight ends opens, get the ball to Darren Andrews and put Jordan Lasley in the best position to make plays. It is a simple plan, but one that could give UCLA the edge. The Bruins' defense is doing fine and should give the USC offense some trouble, so that means the Bruin offense has to step up.
If the Bruins can just "hang on", there is a real possibility they can win this Crosstown Showdown. Go Bruins!
This article originally appeared on