UCLA Football Recruiting: 4-Star DT Greg Rogers Commits To UCLA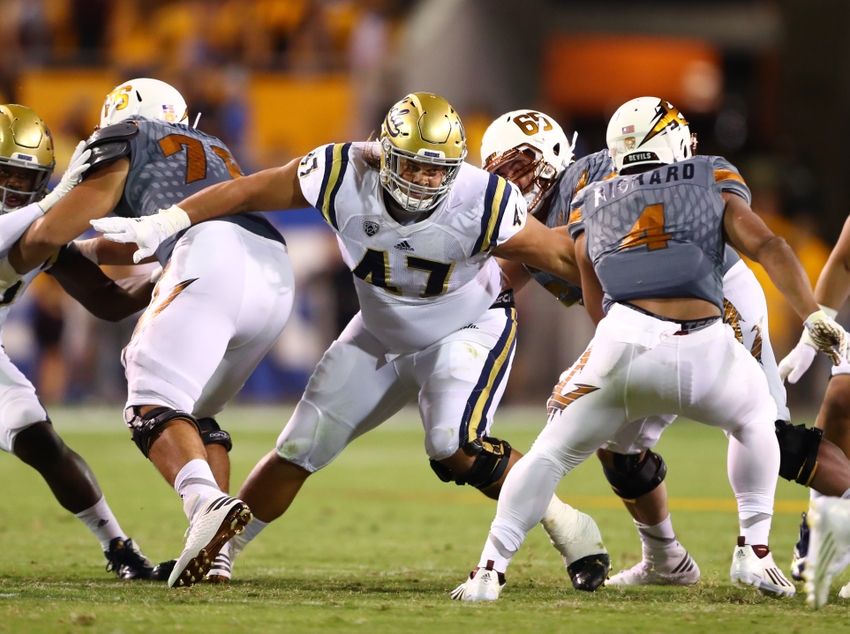 UCLA football picked up a big commitment for its 2017 recruiting class as blue-chip defensive tackle recruit Greg Rogers committed to the Bruins on Monday afternoon.
Coming off a rough weekend, UCLA Football needed some good news, which it received on Monday afternoon when 4-star defensive tackle and longtime priority recruit Greg Rogers (Las Vegas, NV/Arbor View) committed to UCLA in a slickly-produced Bleacher Report video.
Rogers, a defensive tackle from Las Vegas, has been one of UCLA's top targets in the 2017 recruiting class for two years now and the dogged recruiting efforts of defensive line coach Angus McClure and linebackers coach Scott White paid off when he landed the top defensive tackle on his board. The uproarious reaction from fellow Bruin commits and players should tell the fans everything they need to know about the importance of this pickup for the future of UCLA's defensive line:
From a physical standpoint, Rogers has all the tools to develop into an unblockable force on the interior of the defensive line. At 6-foot-3, 305 pounds, Rogers has the size to overpower blockers as a bull-rusher. But it is Rogers's athleticism at that size that makes him a truly unique recruit. He moves very nimbly for a mammoth interior lineman, has tremendous explosion out of his three-point stance, and uses his hands very well already as a high school player.
Bruin fans can expect to see Rogers on the field in true blue and gold as a true freshman, but in limited minutes as he learns to play lower, as his height can be a disadvantage for interior linemen when they play high and provide a large target for blockers to engage and divert. If Rogers can learn to play with proper leverage on the Power Five level, there's nothing stopping him from becoming a Kenny Clark or Brian Price-type force for the Bruins from the defensive tackle spot.
Coming into Westwood with fellow Bruin defensive line commit and consensus 5-star recruit Jaelan Phillips, that dynamic duo should join the likes of Boss Tagaloa and Rick Wade as the building blocks upon which a tremendous Bruin defensive line can be built in the near future.

Welcome to Westwood, Greg!
This article originally appeared on