UCLA Football Position Group Analysis – Quarterbacks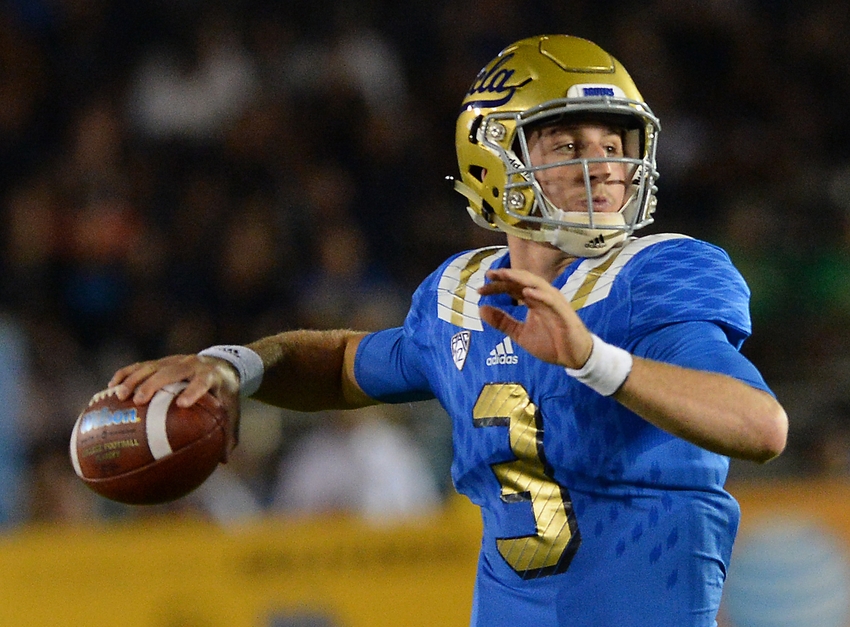 Go Joe Bruin takes a position-by-position look at the UCLA Football team as they end 2016 and look toward 2017. Today we start with the quarterbacks.
The 2016 season came to a way-too-sudden end for the UCLA Football team. After going 4-8, the Bruins have no postseason to look forward to, only spring practice.
It is a sad state, but one that we have to embrace.
So as the Bruins head from one season to another, let us look at what is in store for the Bruins next season at quarterback.
The State of the Quarterbacks
It was a rough year for the UCLA quarterbacks. Returning starter Josh Rosen was expected to lift the Bruins to new heights, but failed to do so with an inept offense that had no ground game or air attack. It also did not help that six games in, Rosen was injured and out for the season.
That forced the Bruins to play walk-on Mike Fafaul which came at the same time that former Offensive Coordinator Kennedy Polamalu decided to abandoned the run for a pass-heavy offense. It did not work.
Fafaul only won one of the six games he started. At that point, UCLA's offensive game plan was fueled by hope, which is what the Bruins have going into next season without a lot of certainties.
2016 Stats
Josh Rosen: QBR 138.9, 137/231, 59.3% comp, 1,915 yds, 319.2 ypg, 10 TD, 5 INT
Mike Fafaul: QBR 10.9, 135/259, 52.1%, 1,602 yds, 160.2 ypg, 12 TD, 11 INT
Key Losses
Mike Fafaul – graduation
2017 Recruits
Austin Burton, 3*, West Orange HS/Winter Garden, FL, 6'3″, 203 lbs.
Potential 2017 Depth Chart
1. Josh Rosen, Jr, 2. Devon Modster, R-Fr, 3. Matt Lynch, R-Fr, 4. Dymond Lee, R-Fr, 5. Austin Burton, Fr, 6. Craig Myers, R-Jr, 7. Justin Saleh, R-Fr
What's Working
If Rosen is at full strength, he will be the driving force behind the offense. Despite no run game and receivers dropping passes, he still managed to throw for 319.2 yards per game in 2016. After rehabilitating his shoulder, he should return with a sense of purpose and continue to display his talents.
Now if all the other tools around him worked (OL, RB, WR, etc.), the Bruins could have a very good offense, whatever that may be as Head Coach Jim Mora is in the process of hiring a new offensive coordinator (we might need to revisit this analysis after the OC is hired).
What Needs To Improve
UCLA needs to develop their back up quarterbacks. Things did not work out with Fafaul, and it bit UCLA in the behind. With no proper backup, UCLA struggled on offense when Rosen went down. Try as he might, Fafaul was not a good replacement for Rosen. Although he does deserve credit for breaking the school's single-game completion record against Uath with 40.
Next season, there is no Fafaul, just two athletic QBs that should have gotten a look last season. I understand Mora's hesitation to burn a redshirt, but something should have been done ahead of time to develop Matt Lynch and Devon Modster and prevent the Great 2016 Meltdown.
Next season, no matter what, the priority at this position has to be getting a solid back up QB. The Bruins have the off-season to get Rosen, Lynch and Modster (and possibly Lee) into game shape (depending on the new OC and the style) and finally make this offense work.
UCLA has talent, they just need to make sure it is up to par because as we saw last season, if Rosen goes down, so will the offense.
This article originally appeared on