UCLA Football Position Group Analysis – Offensive Line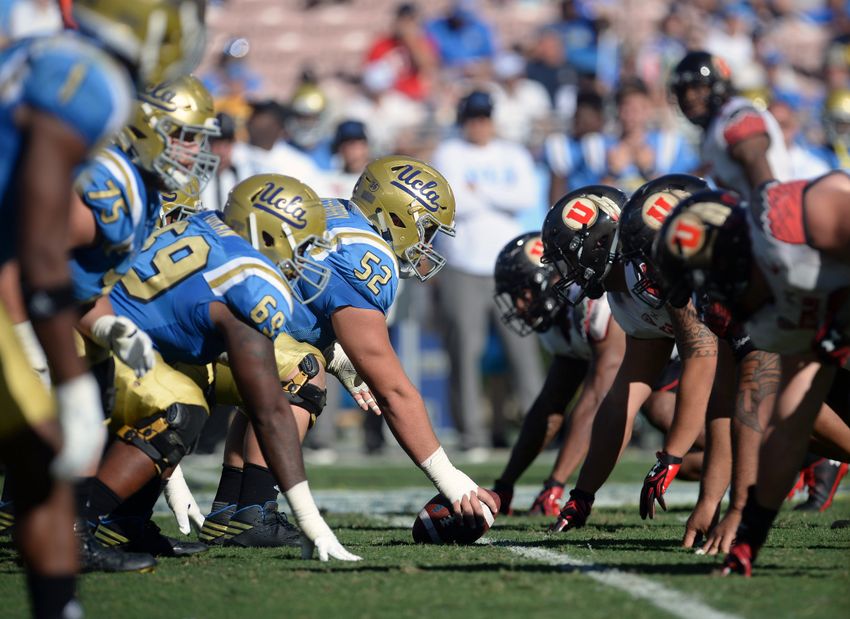 Go Joe Bruin continues the position group analysis of the UCLA Football team post-2016 as we now examine the offensive line heading into 2017.
There was a lot of hope going into the 2016 season, but things quickly went awry for the UCLA Football team, especially up front on offense.
RELATED STORY: Position Group Analysis – Quarterbacks, Running Backs, Receivers
The offensive line lost three starting linemen and a possible transfer. Though the writing was on the wall, not a lot of people saw how bad the Bruins would be up front this season. Well, maybe Go Joe Bruin writer Michael Hanna did in his article The Philosophical Gamble That Could Define the Jim Mora Era.
The State of the Offensive Line
The state of the O-line is in limbo. After 2015, the Bruins lost three starters and graduate transfer Jake Raulerson was denied admission. The Bruins were scrambling to put together a solid line that was strong at some positions and weak at others.
Tackles Conor McDermott and Kolton Miller were hands-down the best linemen, but there was not much depth behind them. The interior linemen had depth, but the talent needed to be developed.
Add that to a sudden change in philosophy and things went a little haywire.
The result… UCLA could not run the ball to save their lives and the weak QB protection got Josh Rosen knocked out of Game 6 and the season. Miller was also injured midseason and did not see anymore playing time and now UCLA has to deal with McDermott graduating and possibly off to the NFL.
Oh yeah, and there is that little issue with OL coach Adrian Klemm. What does the future hold for a coach that had such bad production with his line and now has a show cause label on him?
Key Losses
LT Conor McDermott – graduation
C Cristian Garcia – graduation
2017 Recruits
Jaxson Kirkland – 3*, Jesuit HS/Portland, OR, 6'7″, 305 lbs.
Kanan Ray – 3*, Sierra Canyon School/Chatsworth, CA, 6'4″, 275 lbs.
Ronald Rudd – 3*, Chaffey College/Rancho Cucamonga, CA, 6'7″, 308 lbs.
Potential 2017 Depth Chart
LT: Kolton Miller, Zach Bateman
LG: Kenny Lacy, Josh Wairboko-Alali
C: Scott Quessenberry, Kanan Ray
RG: Najee Toran, Poasi Moala
RT: Andre James, Kolton Miller
What's Working
Surprisingly, the O-line has been able to do well when the Bruins are passing the ball. Both Rosen and Mike Fafaul were able to average 295.6 yards per game, third best in the Pac-12. Against ASU, Rosen threw for 400 yards and against Utah, Fafaul threw for 464 yards and broke single-game records for passes completed (40) and pass attempted (70).
So they have that, but for some reason UCLA could not get their running game going, which is why former Offensive Coordinator Kennedy Polamalu reverted back to more spread-based plays late in the season. The offensive line was able to hold back defenses with this faster style of offense, which they have been accustomed to the previous four years under Noel Mazzone. But since they do not currently have an OC, it is unclear what the Bruins will do next season.
What Needs To Improve
Going to more power-based formations was a good idea, in theory, but UCLA needed to ease into it, which did not happen. Polamalu went full speed ahead with his offense and the Bruins paid the price.
UCLA was not able to hold defenses back, especially against the run. The Bruins were trying to push forward, while attempting to create gaps, but often got pushed back or penetrated. Youth, a thin depth chart and inexperience was a recipe for disaster.
Moving forward, Head Coach Jim Mora has to hire a new OC that can work with the players UCLA has. The Bruins have a lot of big guys on their roster, which will help for power football in the future (if they choose to do that), but they are young and need time to develop.
Until then, Mora has to figure out what he wants his offense to do. Will they still use power formations, go full-on with the spread or use elements of both?
Unfortunately, we will not know a thing until the new OC comes into town, which has the offensive line waiting in limbo.
This article originally appeared on