UCLA Football: Outlook on the Second Half of the Season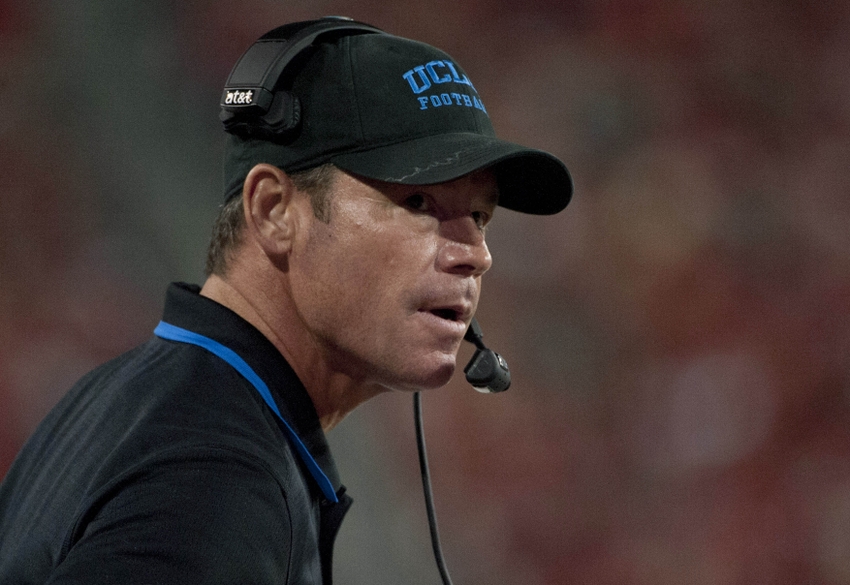 The UCLA Football team is in a hole halfway through the season which is making for a bleak outlook on the rest of the year.
Being 3-3 at the halfway point was not what UCLA Football fans had in mind entering the 2016 season. After winning 9 and 10 games in previous seasons, the hope was that Head Coach Jim Mora could return the Bruins back to that level of success.
But with three losses, UCLA needs to win out their final six games just to get to nine wins.  Unfortunately, the way things are going, it might not end that way.
The offense is really struggling and it might have gotten even worse as quarterback Josh Rosen was injured twice last Saturday against Arizona State. Mora confirmed that Rosen had an upper body injury but added that he was hopeful that he would play this Saturday against Washington State.
UCLA Football: Jim Mora Not Counting Josh Rosen Out vs. Washington State
And that is another concern, the Pac-12 itself. There is so much calamity this season that teams that were expected to be cellar dwellers are thriving while the bluebloods are taking weekly gut punches.
With that in mind, how is the season going to end for the Bruins? Let us first take a look at the remaining schedule: At Wazzu, vs Utah, at Colorado, vs Oregon State, vs USC and at Cal.
In all honesty, UCLA can lose five of these games. The only one that I would take as a victory would be against Oregon State (yet there are reservations about that game as well). That would put the Bruins at a dreadful 4-8 mark.
Oppositely, if UCLA was to win any of these games, it's quite possible they only win four at the most (losing to Utah and Colorado). That would put them at 7-5. Sure they will be bowl eligible, but it's not going to be a high profile bowl they go to.
Though I still have hope UCLA can improve, it's not looking good. If the Bruins have any sort of turnaround they better start producing beginning this Saturday. If not, it will be a rocky off-season.
More from Go Joe Bruin
This article originally appeared on