UCLA Football: Mike Fafaul Breaks Completions and Attempts Record, Is This Good or Bad for the Offense?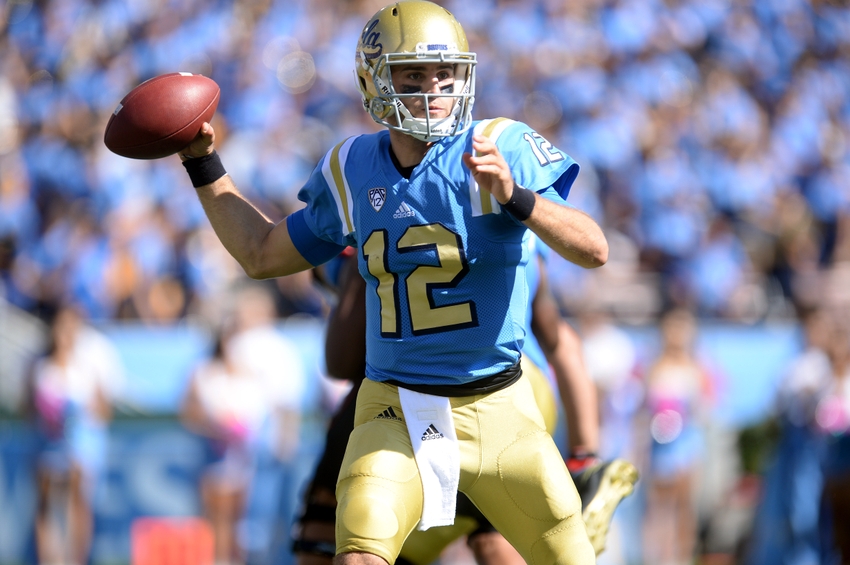 In his second career start, UCLA Football backup QB Mike Fafaul breaks both the completions and attempts record for a single-game. Is this good or bad for an offense that is struggling?
UCLA Football backup quarterback Mike Fafaul has been given a lot of responsibility. So much that he is passing the ball more than starter Josh Rosen.
Today, Fafaul broke two records in only his second career start. He connected on 40 throws on 70 attempts, both new UCLA Football records. First off, congratulations to Fafaul. With those throws, he threw for 464 yards with 5 touchdowns. The Bruin passing game has not skipped a beat with him replacing Rosen.
Unfortunately, he is not the answer to all the offense's problems.
Now let us go back to the stats, Fafaul threw the ball 70 times. The Bruins only ran the ball a total of 16 times. That means Offensive Coordinator Kennedy Polamalu called for run plays only 5.4% of the time.
In this game, Bolu Olorunfunmi was the primary back with 9 runs for 24 yards and one touchdown. Fafaul had the second most with 23 on six attempts. Soso Jamabo… he had one run for -1 yard. Nate Starks was no where to be seen.
That is not going to put a lot of confidence in the running backs. To only give your true running backs only 10 tries to run the ball will not help the run game. Now let us go back to that for a bit.
Did the abundance of passes help the offense out or hurt it?
Connecting on 40 passes is great. Missing on 30 is not, and that includes four interceptions. Yes, he had five TDs and 464 yards, but when you pass that much a variety of things can happen, especially when 30 passes are dropped, over thrown, inaccurate or intercepted. THIRTY!
That is 30 opportunities for the run to improve, which brings us back to that topic.
The run is not working and has not been working. The RBs are talented but struggling… and it is not all their fault. The offensive line is not helping. How they can protect Fafaul 70 times but can't protect the backs is a mystery. The run game can't get things done, but with the minimal amount of plays called for them, are they even given a chance?
Fafaul did a fantastic job, again. Unfortunately, the bottom line is that UCLA landed themselves another "L".
There is a problem with the offense. The passing game is not part of that. Receiving yes. Offensive line, yes. Running, yes. With all these problems, the OC needs to find answers not just put a passing band-aid on everything because sooner or later, good pass defense teams are going to violently rip it off.
This article originally appeared on