UCLA Football: Josh Rosen Strikes Again, With Words Not Touchdowns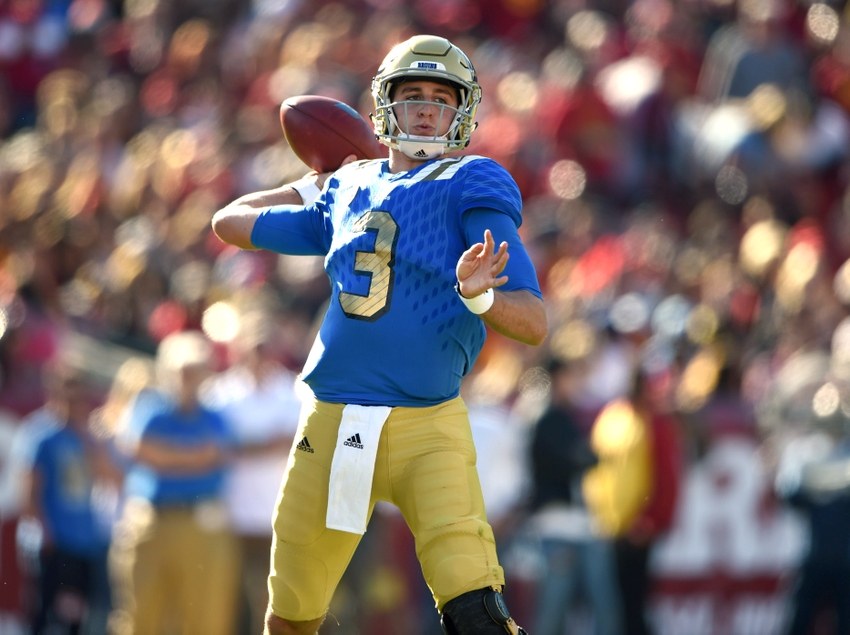 UCLA Football's star Josh Rosen speaks out again about college football and how the system affects young players.
It's been a while since UCLA Football has had a Bruin getting as much attention as sophomore quarterback Josh Rosen has. This is especially true considering the attention stems from off-the-field actions.
The good news for UCLA Football is that Rosen is not often in the news for necessarily bad things, such as assaulting women or fabricating stories to cover how he got injured the night before practice.
Instead, Rosen seeks and gets the spotlight for speaking about the industry that is college football.
He wants to "own the world," the young signal caller said in an interview with CBS Sports. He wants to speak for teammates who can barely afford rent. Rosen understands that he's been given a platform, and he intends to use it.
But is he using it properly?
Rosen clearly has a lot of thoughts, and he's not afraid to voice them to whoever is willing to listen. But even he acknowledges that he needs to win more in order to get more bargaining power.
The bad news is that he doesn't necessarily have that now. The young QB is currently, at best, average. Yes, he is talented, and yes, he's been on the cover of Sports Illustrated. But with every loss in football comes a loss of listeners. Rosen's outspokenness has made NFL Scouts nervous, and it's made UCLA Football fans angry. This wouldn't be happening if Rosen were dominating in the game, but he's not.
Rosen has a point though. It's not fair that college football brings in so much money for universities while the players see none of it. Well, they see some, but not nearly enough. The problem is that although the sophomore has no difficulty highlighting the flaws of the system, he has yet to offer solutions. This is where his message keeps getting lost.
There's no question NCAA's amateurism rules are inconsistent. All of the collegiate Olympians who earned money in Rio got to keep it. Yet, a football player could get sanctioned for selling his autographs. How does that make any sense?
There's nothing necessarily wrong with Rosen's desire to play Robin Hood. He can. He should. But not at the cost of his performance.
His message will never have the weight he wants it to have unless he's winning games and providing solutions. And right now, this just isn't the case.
We all have ideas. But it's those with solutions whom we want to hear about. Rosen needs to absolutely concentrate on his game. Actually win big. Then, and only then, should he come out with his big plan to fix college football.
He'll get another chance tonight against BYU to prove he's for real. If he wants to win a national championship and earn his chance to be heard as he so desires, then he should know UCLA Football cannot afford another loss this season.
How badly does Rosen want to fight for others? We will find out tonight.
Go Bruins! #BeatBYU
This article originally appeared on