UCLA Football: If Rosen Isn't Ready, Can Backup Quarterback Mike Fafaul Beat Utah?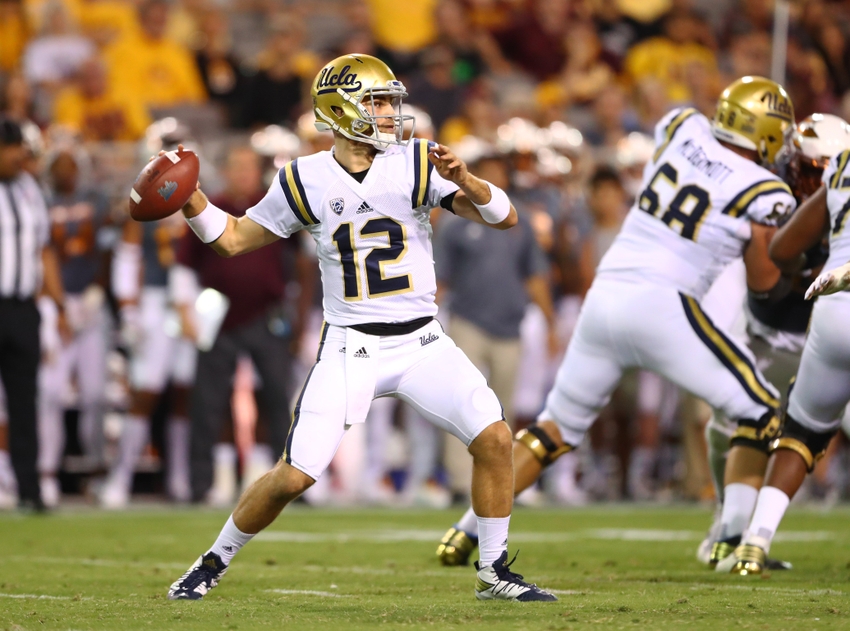 If UCLA Football starting quarterback Josh Rosen cannot play against Utah, does backup Mike Fafaul have a chance to beat the Utes?
Mike Fafaul did a good job leading the UCLA Football team into battle last week against Washington State. Yes, the Bruins lost and yes Fafaul threw a critical late interception on a drive that could have tied the game, but if it wasn't for Fafaul (and few receivers and the defense), the Bruins would have lost by a bigger margin.
The point is, with no one thinking Fafaul could be as efficient as Rosen, he came in did a valiant job steering the offense though the treacherous seas of the Palouse. Of course there are still major issues with the offense — like the run game — but that is not on Fafaul.
The Washington State defense is the best it has been in the Mike Leach-era and they were relentless against UCLA. They limited the Bruins to only 44 total rushing yards.
With that much aggression, you would think it would rattle a guy like Fafaul who had his first career start against the Cougars. In fact, it was just the opposite.
Fafaul was cool under pressure. He was poised in the pocket, was able to elude the pass rush and even had the know-how to get out from beteween the tackles and pass on the run. He didn't look like a backup, he looked like a senior leader.
He did well enough to keep the Bruins in the game, but was that a one-time deal?
In the previous week, Fafaul was heavily pressured and looked out of his element against Arizona State. Against Wazzu, he was poised. Hopefully that can be attributed to the week of preparation as the starting QB.
Because of that, the UCLA coaches should once again have Fafaul ready in case Rosen is still not up to the task of performing. So far, as Head Coach Jim Mora stated, the Bruins probably will not know if Rosen can play until Saturday. If that is the case, once again Fafaul needs to practice as if he has the green light.
That brings us to Utah. Fafaul did very well against WSU, but Utah is a different beast.
Utah is in the top four in the Pac-12 in scoring defense, total defense and run defense. That means, unless UCLA has some drastic improvements to the overall offensive scheme, we will see the same type of game we have seen all season from the Bruins.
Luckily for UCLA, the Utes are a middle-of-the-road passing defense team. That doesn't mean they are horrendous, but if Fafaul can have the same focus as he did against WSU, he should be able to get the down field through the air against Utah.
Right now, the Bruins can only rely on their passing game. Though the Bruins need to run, if it comes down to it, Fafaul should have a decent game passing the ball against Utah. Now can he get the win? Anything is possible
This article originally appeared on