UCLA Football Halftime Report: UCLA Defense Holds Back BYU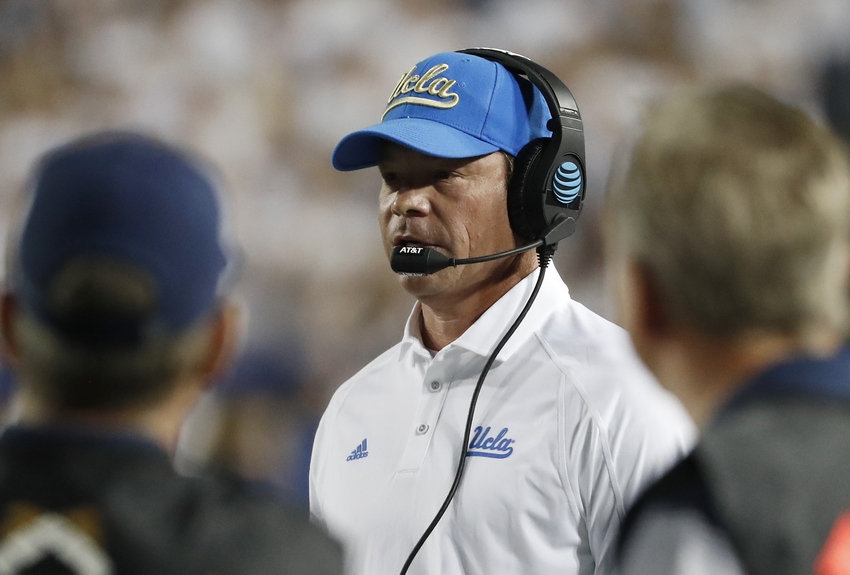 The UCLA Football makes a defensive statement in the first half of their battle with the BYU Cougars to take the lead going into the locker room, 10-0.
The UCLA Football team took some time to get some points on the board, which we will get into in a second, but the story of the half was how the Bruin defense shut out the BYU Cougars.
BYU has not had much luck getting big plays into their repertoire and the UCLA defense made sure that continued during the first half.
UCLA had limited BYU quarterback Taysom Hill to 88 yards through the air on 10-for-22 passing, but that did not equal the total yards for the Cougars in the half. With BYU having -9 rushing yards through two quarters, the Cougars totaled 79 total yards in the half.
UCLA has had issues stopping the run as they gave up 5.0 yards per carry in their first two games. That changed in the first half against BYU as the Bruins put up a wall against the Cougars.
In addition to that, UCLA had 4 sacks. In their previous two games, they only collected one.
As for the UCLA offense, it started slow with some questionable play-calling, but improved in the second quarter.
Despite UCLA QB Josh Rosen throwing an early pick and looking stagnate on 11-for-20 passing, he was able to connect with fullback Cameron Griffin in the redone in the second quarter for a touchdown. UCLA kicker JJ Molson added a field goal which helped UCLA go up 10-0 into the half.
Stay with Go Joe Bruin as we conitnue to update on their battle with BYU.
This article originally appeared on