UCLA Football: Going Forward WIth Josh Rosen Done For Season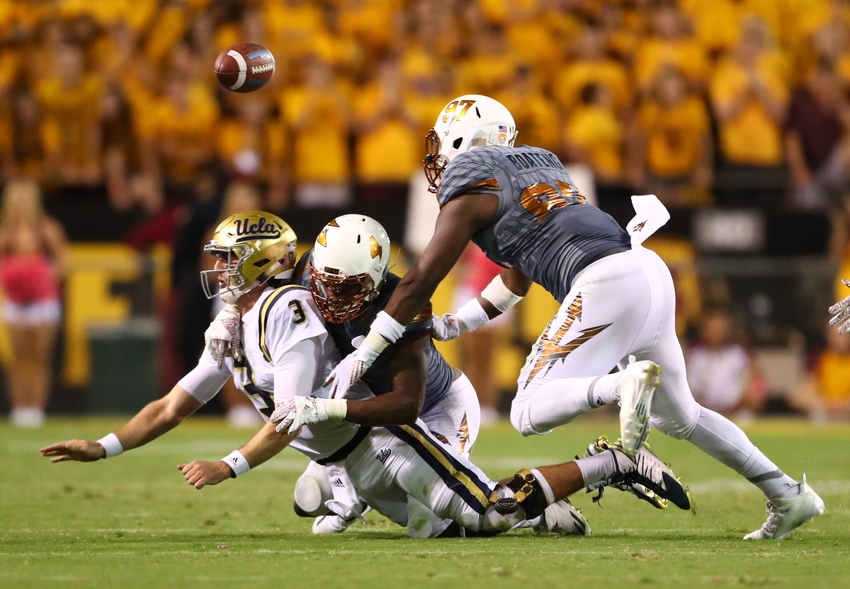 What should the UCLA Football team do with quarterback Josh Rosen potentially out for the season? Hold on and wait for next year.
UCLA Football's prized possession, sophomore quarterback Josh Rosen will possibly miss the rest of the season with nerve damage in his shoulder. He suffered the injury earlier this season against Arizona State.
Shutting him down makes sense for the Bruins, as this injury could potentially be career threatening. This is a lost season for the Bruins, so hopefully Rosen will return to 100% health at the start of next year.
UCLA Football Head Coach Jim Mora has been playing a game of chess with the media regarding the status of the injured quarterback. Mora did not officially rule Rosen out for season.
If there is any slim chance that quarterback Josh Rosen will play, it would be a very poor decision and one the Bruins could regret.
Nerve damage in the shoulder is never a good sign, and the longer Josh Rosen is out, the more cloudy his return is.
The damage is so extensive that he has only been throwing passes left handed during warm-ups. Clearly not a good sign for the Bruins. UCLA must be smart handling this injury, save Josh Rosen for next season in hopes he makes a clean recovery.
With four games left, Mike Fafaul will start in place of Rosen. At this point Bruin fans hope UCLA can at least become bowl eligible and maybe beat USC. But as it stands, this underachieving season was flawed from the start.
With Rosen out, this is the cherry on top of the season Bruin fans would love to forget. As much as they love their football team, it seems several just want to fast forward to next year,
This article originally appeared on