UCLA Football: Drop Passes and O-Line Play Sink Bruins in Loss to Washington State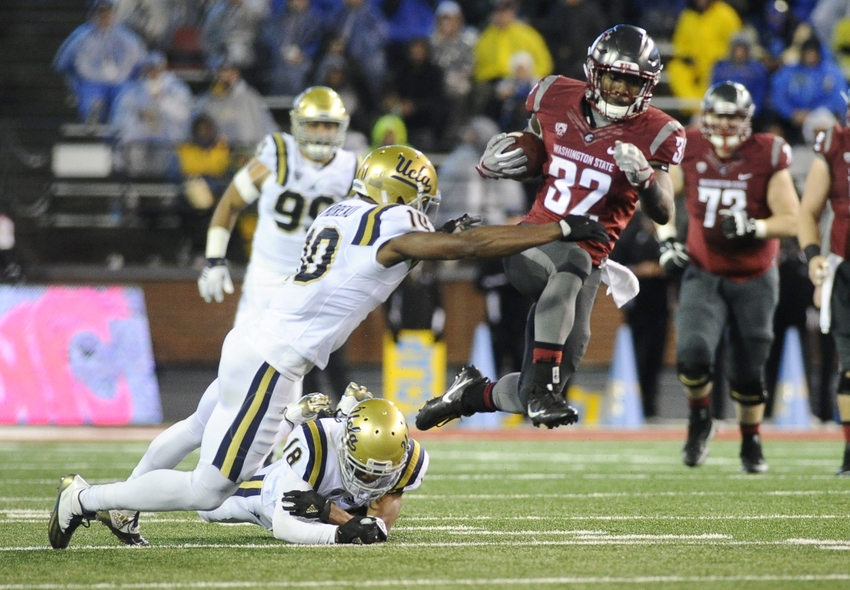 The UCLA Football team suffered another loss due to the same problems on offense that are occurring every week, namely the receivers and offensive line.
All week, UCLA Football Head Coach Jim Mora did not let any information out about quarterback Josh Rosen playing against Washington State, but he did not have to.
Rosen did not play due to an injury suffered last week against Arizona State. In his place came Mike Fafaul who had a performance to forget in that game.

21
27
That did not give Bruin fans much hope for this contest, but he came out and did a decent job leading this team. He ended with 24-for-40 passing, 258 yards and 3 touchdowns. I have to admit, I would never would have guessed he would pull off those stats, but it happened.
He also threw two interceptions, the second on the Bruins final drive. If Fafaul could have taken the Bruins downfield for the score, it would have been a very Jerry Neuheisel-esque performance. That didn't happen.
But Fafaul was not the reason the Bruins lost. Bad offensive line play and (once again) dropped passes plagued the offense, having it sputter through the game at the worst times.
Kenny Walker seems to have reverted back to his 2014 self as he was unable to reel in several late passes. Ishmael Adams did not look reliable the entire game. Eldridge Massington, Nate Iese and Austin Roberts had a few good catches, but not a lot thrown their way.
Fafaul was doing good job getting the ball to his receivers and they would either have it slip off their fingers or not go to the ball at the end of their route.
The same can be said about the run. Though there was progress (they got positive yardage today, BOOM!), UCLA only ran for 43 yards.  A lot of that can be attributed to how the offensive line played. Poorly.
They once again allowed one too many defenders into the back field and could not open holes for the run game. It was a good thing Fafaul had the wherewithal to notice the blitzes and pressure and get out of the pocket when he needed to or he could have been in Rosen's position.
[recnetposts]
With UCLA not being able to move the ball efficiently, they once again left yards and points out on the field. And just like that, UCLA is 3-4, 1-3 and sitting uncomfortably in 5th place in the South Division. UCLA may be two games out of first place, but it might not matter. The Bruins cannot get wins, the coaches cannot make changes and the season is ending quickly.
This article originally appeared on